PITTSBURG, Kan. — Pittsburg State University seniors in the School of Construction are gaining real-world construction management experience through an annual project that will last in the community long after they graduate.
For the past two decades, seniors in the construction program have tackled hands-on projects around the city of Pittsburg, such as sidewalks and pavilions. The projects allow students to apply the curriculum they learn out in the real world and see the processes involved from start to finish.
This educational opportunity is a win-win for both the community and the university, said Christopher Pross, assistant professor.
"We've been doing projects like these for about 25 years now," he said. "It started out as community service projects and ways to give back. It kills two birds with one stone in the fact that not only do our students get real-life experience rather than being in a classroom (but) the community gets a huge benefit out of it as well."
Six students were hard at work earlier this week building a pavilion in Schlanger Park between the basketball courts and the play equipment. The shade structure will have concrete columns, a concrete slab, a wood superstructure with decking and a red roof. An identical pavilion will also be built by another group of PSU students at St. Mary's Colgan Catholic School this fall.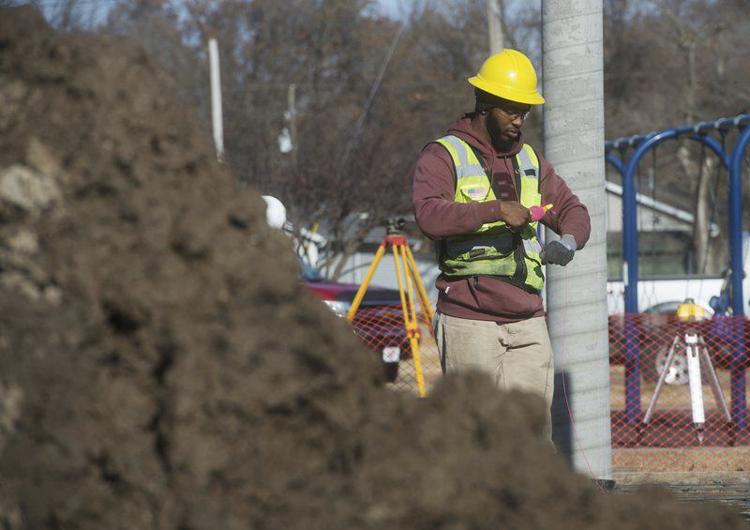 Nathaniel Simmons, 21, of Kansas City, Missouri, is a senior who's majoring in construction engineering technology. He serves as superintendent of the Schlanger Park project, managing his classmates' schedules and overseeing field work. He'll graduate in December and already has a job lined up with Garney Construction in Houston, Texas.
Even though he won't be around when the pavilion is completed, Simmons said he looks forward to seeing the final product when he comes back to visit.
"I don't get to actually complete it, but when I come back for alumni events, I'll be able to come to the park and see that we made an impact," he said. "I didn't realize that Schlanger Park was this active until I started working here every day at the job site, so I know it's going to be used by a lot of people."
Simmons said his team ran into a few difficulties when it first began the project because the level of the ground had shifted, but it was a valuable learning experience to see the steps involved in a change order.
"What makes projects like these so good is that you run into real-world problems, and you learn how to handle them and deal with problem-solving," he said. "We actually had to make some big decisions on certain things when it came to cost. For example, this concrete slab was a foot lower than what it is now. We ended up having to change that design because of water issues."
Logan McArthur, 23, of Lamar, is a senior majoring in construction management. He also will graduate next month and currently serves as a field engineer on the Schlanger pavilion.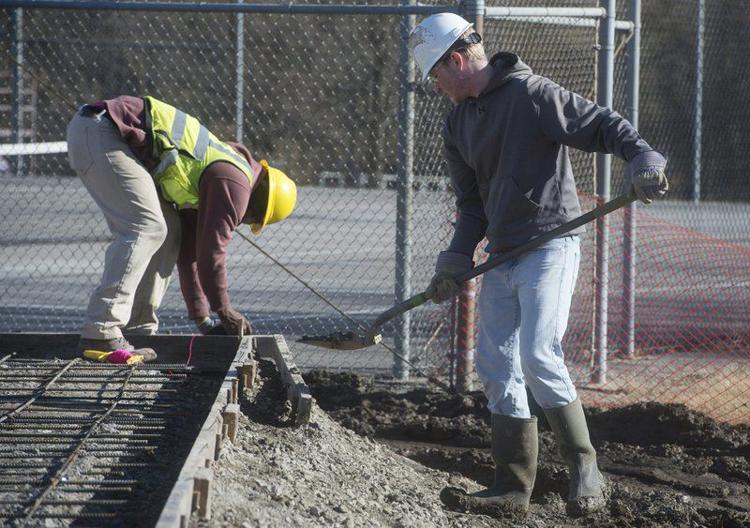 McArthur said the hands-on experience taught him how to be a team player and how to cope with real-life situations. He plans to work with Eby Construction in Wichita, Kansas, after graduation.
"I like how we took what we learn from the classroom and applied it out here, all while being able to serve the community at the same time," he said. "It's a pretty special feeling. I think this project better prepares me for the future."
Community response
The community also ends up benefiting from the projects. If the pavilion were to be bid on by a contractor, it would cost the city an estimated $50,000 to $60,000, according to Pross. The PSU School of Construction only charges for the cost of materials. The labor and management are free.
Jamie Compton, of Pittsburg, was at the park with her three children recently while the students were working on the pavilion. After learning what they were adding, she said she was excited because she thinks a new pavilion has been needed for some time. The family visits Schlanger Park in the summer at least once a week.
"We come here a lot, and it's one of our favorite parks," Compton said. "With a pavilion being right there, birthday parties are going to be perfect because we're all in the same area. It gets so hot during the summer, and we needed some shaded areas. We come here a lot for lunches, and we always sit under the slides where the shade is."