When Richard Garrett first learned on Monday that Missouri's COVID-19 vaccination process had opened up to individuals 65 and older, he immediately jumped online to register.
It didn't take long, however, for his initial optimism to sour. Soon, frustration set in. What he saw at the state and local levels, he said on Friday, was akin to a "free-for-all" scrum.
"So far in the distribution process — hospital (workers), doctors, care facilities, police, those types of things — it's been an organizational distribution that has leadership saying, 'Come on over and get your shot tomorrow; we've got you all covered,'" Garrett said.
And therein lies the problem, Garrett said: As the vaccination process shifts from groups to individuals, "we (senior citizens) are not a part of a bigger organization that's telling us, 'Hey, come on in on Tuesday.' And so we're like, 'Where do we go? What do we do?'"
After nearly a month vaccinating patient-facing health care workers and nursing home residents and staff under Phase 1A of the state's COVID-19 vaccine rollout plan, Missouri officials recently rolled out the first two tiers of Phase 1B, covering people older than 65, pregnant women, first responders, people with chronic health conditions and others with various comorbidities.
But for many newly eligible residents seeking a vaccine, it hasn't been easy. Garrett visited the Missouri Department of Health and Senior Services website, and his eyes glazed over at the barrage of information he had to wade through, including a lengthy list of pharmacies and drugstores. The list of vaccinators is available at www.MOstopsCOVID.com, and it includes a map with 25 sites within Joplin and Webb City at hospitals and pharmacies.
Garrett, of Carl Junction, then phoned his personal doctor and asked him what he should do. When the doctor's response was essentially that he didn't know, Garrett called the Jasper County Health Department and was told that department officials would call when vaccines are available.
"Well, I think they've too many phone calls to make as it is," Garrett said about the area's health departments. "I can't imagine doing this on a telephone-call basis. That just seems to be too much. But I did throw my name in there, and they said they would let me know — but I don't know what that means."
Garrett finally visited his pharmacy's website and added his name to its COVID-19 vaccine request list. He believes he'll be notified as soon as supplies are available for a vaccination appointment.
But ultimately, he said, "the entire distribution and communication process has got to change a lot. There's a lot of information out there, but it doesn't hit the common citizen who's sitting out here saying, 'What do I do?' That's the frustrating part."
Supply and demand
What's happening is basic economics: The demand for the vaccine far outweighs the current supply. And nowhere else in the area is that struggle seen more visibly on a weekly basis than at Joplin's two regional medical centers.
Freeman Health System is still trying to inoculate everyone from Phase 1A — primarily health care workers. With more than 3,000 employees, Freeman is Joplin's single largest employer, and officials are also vaccinating critical health care workers who aren't part of the Freeman system.
"We give everything we get," said Jeff Thompson, vice president of pharmacy services for Freeman, "but that has been a very small supply. Right now, the supply is just not there to open up and do more people. It's a lot of people."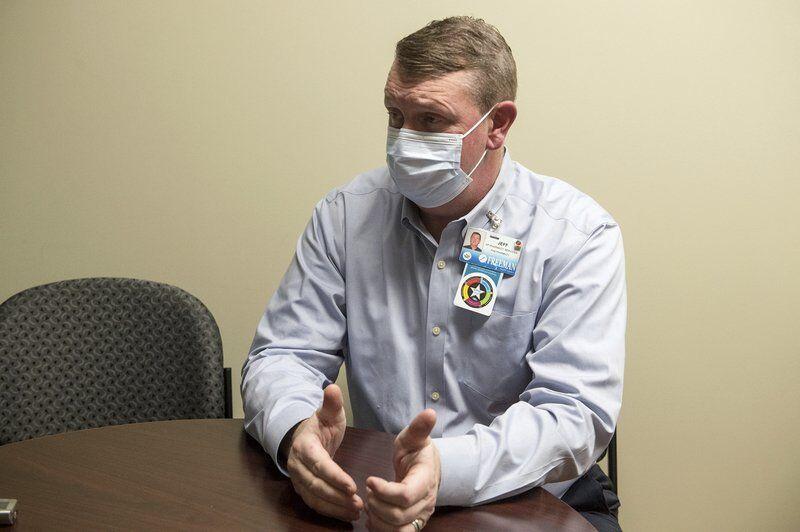 Thompson hopes to have "the bulk" of Freeman employees vaccinated with their second doses sometime this week. Once the hospital complete its Phase 1A duties, it can begin prepping for individuals who fall under Phase 1B. But it won't be signing people up and putting them on a waiting list in the near future.
"I know people are really in a hurry. They want it, and I'm glad there's a lot of people who want to get the vaccine," Thompson said. "But the problem is that we don't really want to sign people up because ... until we know we can vaccinate you, (we) don't want someone sitting there, waiting ... and become frustrated. It could be weeks to months before we could get to them."
Simply put, Thompson said, "we have no idea what we are getting until we actually get it. We're at the mercy of the federal government."
Freeman typically receives weekly shipments of 975 vials of the Pfizer drug. When the hospital receives a new batch of vaccines, "we're going to put it into people's arms. Nothing is thrown away. But right now, supply is very tight," Thompson said.
Forging ahead
Mercy Hospital Joplin officials have completed their Phase 1A vaccinations and have switched their focus to Phase 1B recipients, including senior citizens and residents at greater risk of severe cases of COVID-19.
Robert Corn, former men's basketball coach at Missouri Southern State University, was resting in a chair at the hospital on Thursday, just minutes after receiving the first of his two vaccine shots to the left arm. Also getting shots were his wife, who has diabetes and kidney issues, and son, who has Down syndrome.
Before he found out about Mercy's available vaccination shots through www.mercy.net, "I had checked around, and we were told it may be May before we'd be able to get (our shots)," Corn said. "We were really excited when we found out about this."
While Mercy had been expecting the state to open vaccinations up to Phase 1B, "it came earlier than we'd anticipated," said Sarah Boyd, Mercy's director of pharmacy. "But at the same time, we welcomed it as well. ... We are utilizing our supply as quickly as possible, are waiting on additional supplies from the state and requested additional supply to meet the demand of the community as well."
Mercy Joplin has already signed up and vaccinated 1,000 community members who are either senior citizens or at high risk, and based on the latest information Boyd had received, the hospital had around 3,000 people on a waiting list. As additional vaccine doses come in, more people on that waiting list will be scheduled for shots.
To determine eligibility according to the state's vaccination effort and to register to get the vaccine through Mercy, visit mercy.net/MOVaccine.
"Many of our callers we're receiving with the switchboard may not have internet access or email, so we are working on an alternative source that will meet their needs as well," Boyd said.
More critical workers vaccinated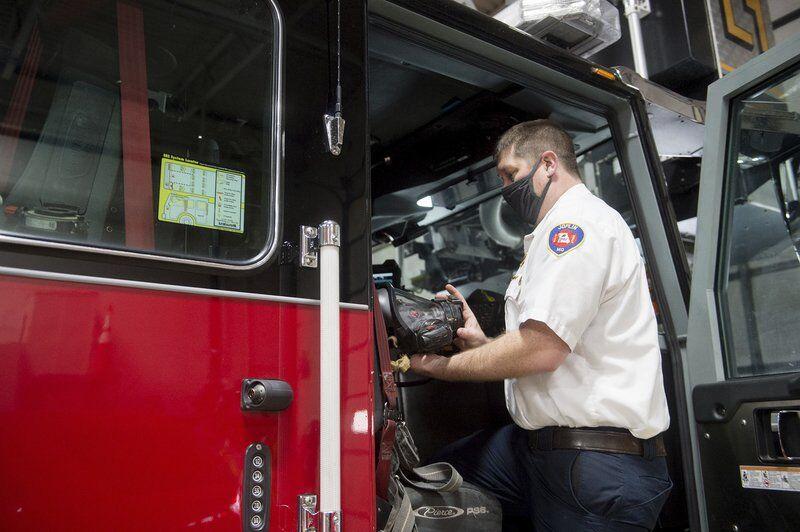 A portion of Joplin's first responders, including firefighters, police officers and jail staff, are in the process of getting vaccinated through the newly activated Phase 1B.
Joplin fire Chief Jim Furgerson received the shot to his right arm on Jan. 12 through Freeman Health System. Men and women from both departments have received their shots from both regional hospitals.
"I'm glad they opened it up finally to the first responder group," he said. "Anything we can do to add that extra layer of protection, we're glad to see."
Brian Lewis, assistant chief of the Joplin Police Department, agreed.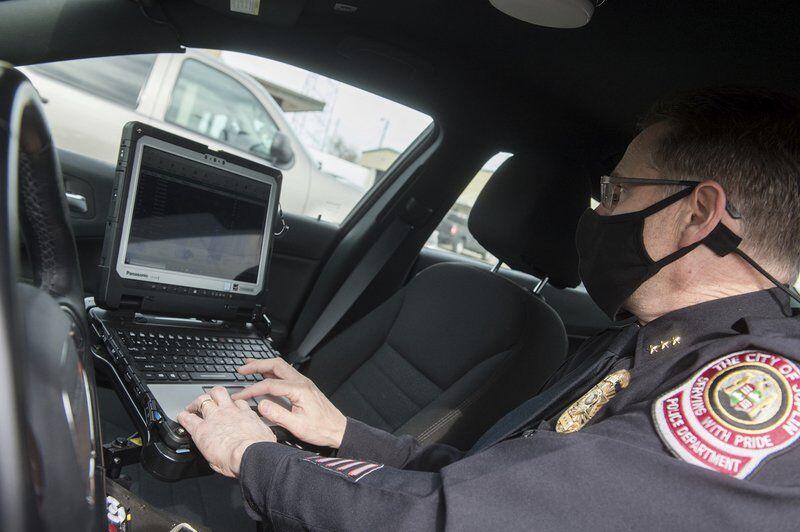 Police officers "are as careful as they can be, but on the law enforcement side, you don't always have the benefit of time to get the mask on quickly or to do the other things like that — depending on the situation around town. So (the vaccine) is an added method of safeguarding our folks," he said.
The duration of the pandemic, nearing the 12-month point, "has really taxed some of our folks," Furgerson said, adding that the fire department directly dealt with roughly 350 COVID-19 patients since last March.
Health departments responding
As of Friday morning, officials with the health departments in Joplin, Jasper County and Newton County had not received any vaccines from the state or federal governments, nor did they have any updated shipment dates.
"At present time, we do not have enough vaccine in the community or state to meet the needs of everyone that is eligible," Joplin Health Department Director Ryan Talken said Friday morning. "The vaccine is in very short supply all across the state."
In short, he's urging patience. Missouri officials are "telling us that more vaccine will become available soon," he said. "There have not been any numbers or specific dates given as to when to expect this."
The health departments continue to work closely with area health care partners to establish community clinics that will provide residents with their vaccine shots when supplies are available. In the Joplin area, those partners include the Jasper County Health Department, Freeman Health System, Mercy Hospital Joplin, Kansas City University College of Osteopathic Medicine, Access Family Care, Community Clinic of Southwest Missouri and the University of Missouri Extension in Jasper County.
"We all are anxiously awaiting the time when the vaccine supply becomes more available," Talken said. "The supply of vaccine is the current limiting factor. I do not know the intricacies of the supply and distribution chain upstream of our position. The decisions and changes that occur at the federal level make their way to the state level and eventually impact what happens on the ground at the local vaccinator level."
Talken encourages residents to stay updated by visiting www.joplinmo.org or www.facebook.com/joplincity; by calling the Jasper County Health Department at 417-358-3111; or by emailing administration@newtoncountyhealth.org or calling the Newton County Health Department at 417-451-3743.