NEOSHO, Mo. — More than 150 high school students from 11 area schools on Wednesday traveled to Crowder College for its first Engineering Day, participating in various competitions and learning more about Crowder science, technology, engineering and math programs.
"I think that events like this are a great way to promote those STEM activities and let the students have some fun," said Melissa Oates, Crowder MARET Center director and event organizer. "They can build projects, they can compete against their peers, and it's not for a grade. It's just for fun. It's firsthand experience where they can see these activities and learn for themselves."
Throughout the morning, high school students rotated to different competition stations where they could build balsa wood bridges, build simple motors, design and fly paper airplanes, build boats using tinfoil to test how many pennies they could hold, and assemble the components of a computer to create an operable, internet-capable machine.
"I think this is really important for students," Oates said, "letting them see that they can involve themselves in these contests, these projects, and have a measure of success."
Oates said that the event also helped the college recruit students who might be interested in STEM or other programs the school offers.
"We have a lot to offer here at Crowder, and we don't want to keep it a secret," she said.
Monett High School students Gregory Brown, a senior, and Moo Shee, a junior, said that they were enjoying competing against their peers Wednesday.
"I think it's really fun competing with other people," Shee said. "You're given the same task, and it's really cool to see other ideas from different groups."
Shee and Brown partnered to build a boat out of a square foot of aluminum foil, which was tested on how many pennies could be added to it until it sank to the bottom of a water-filled bucket.
"I don't know if we're going to win or not, but we were holding 167 pennies," Brown said. "It took over 10 minutes for them to put all the pennies into the boat."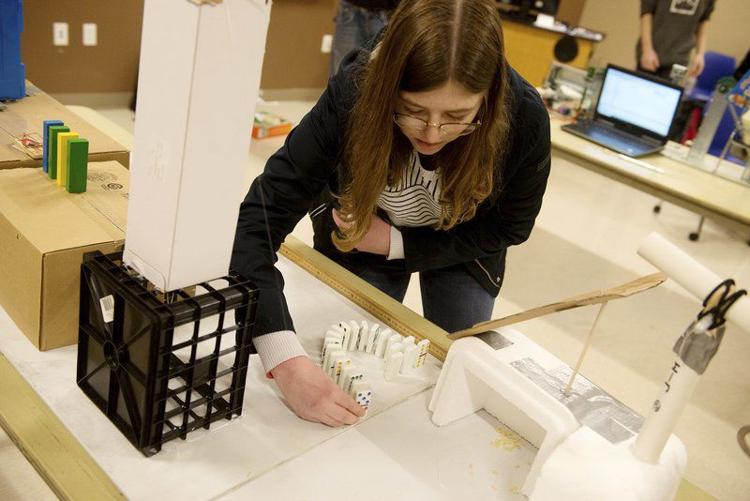 Brown said he is already enrolled in Crowder College for the 2019 fall semester and that he plans to transfer from there to Missouri University of Science and Technology to study mechanical engineering. Shee said that he does not know what his plans for after high school are.
"I'm really interested in making things and working with machines," he said. "So engineering might be a fun thing to do."
Austyn Guthrie, a Neosho High School senior, participated in both the motor- and computer-building competitions.
"It's been pretty fun so far," she said. "The computer was a lot of fun, and everybody here is really nice and patient."
Guthrie plans to go to the University of Arkansas to study digital and graphic design, and then transfer to Full Sail University to complete her digital design studies, she said. However, she is interested in doing STEM activities for fun.
Pam Peterson, Wheaton High School math and STEM teacher, said that Engineering Day was interesting and exciting for the teachers who attended.
"I wish this had been available way back when, when I was in high school," she said. "I think this is an incredible opportunity for these kids to see what is out there, to see what science and math can really do for them when they get out of high school."
Peterson was also glad that students were able to hear about other programs Crowder offers and things such as the A+ program, she said.
"The A+ program is a great incentive for these kids," she said. "It's just a great scholarship opportunity."
Christopher Huhn, Carl Junction High School engineering teacher, said that the competition atmosphere gave students and teachers an opportunity to see where they stand with engineering students from other schools.
"There needs to be more of this happening for high school kids," he said. "It needs to be more available in the Joplin area."