Betty Nageotte was at home in Neosho this time.
When her home at 800 Riverside Drive flooded in 2017, she was away. On Sunday, she was asleep when her brother burst in and said they had to get out. Their floors were already wet, and by the end of the day, their home held 6 inches of water and an inch of mud.
Down the street at 924 Riverside, Bethanie Knoll on Sunday morning noticed her backyard had water in it. Less than an hour later, she saw her neighbors hurriedly working, packing overnight bags and telling her she should do the same thing. Then, 10 minutes later, city officials blocked off roads and firefighters helped evacuate residents.
"It was less than an hour," Knoll said, stunned by the speed of floodwaters. "As spring approached, everyone around me asked me to let them know where the water was at if they weren't going to be home, and told me they'd do the same for me. Everyone around here is concerned every time it rains."
While floodwaters did not rise as high as they did in 2017, they still caused damage. On Tuesday piles of carpet, padding and appliances rested near mailboxes and curbs.
The same feeling of having been through it before struck Anderson residents along Beaver Branch. Only this time, the floodwaters were higher than they were in 2017.
David Britt, at 312 N. Jefferson St., said his house was flooded with about 2 feet of water Sunday — about 6 inches more than he saw in 2017.
On Tuesday, he worked on removing furniture and debris from his home. He is preparing to start from scratch a renovation project that started after 2017's floods. It should be easier this time, he said — part of Federal Emergency Management Agency benefits from the previous instance included three years of flood insurance.
But it's not a project he wants to take on by hand.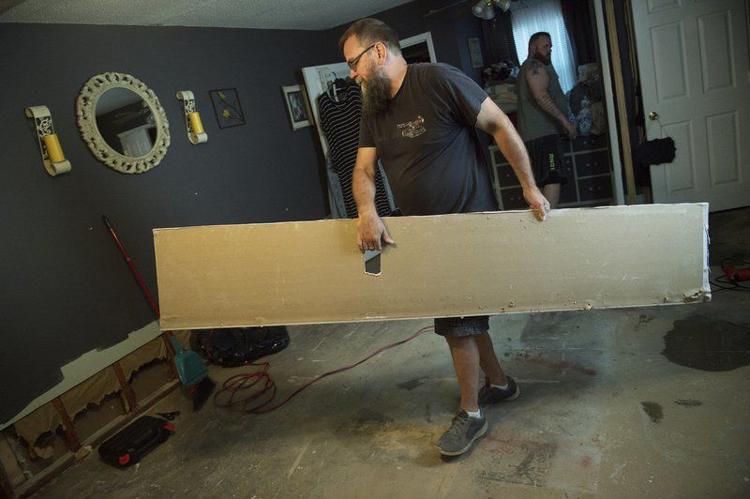 "I don't want to do all this work again," Britt said. "Been there, done that. Spent a lot of money, all wasted."
About 30 or 40 homes were flooded in Neosho, City Manager Leland Butcher said. Flooding caused an estimated $150,000 to $160,000 damage to city properties alone, including damage to Morse Park and city roads.
Anderson Mayer John Sellers said about 80 residences and businesses, as well as the city's water and wastewater system, were damaged. A bridge on Main Street was destroyed when flooding swept away its western supports.
Repairs to the city's water system were completed Tuesday, leading Sellers to believe that a boil order could be lifted as early as Thursday night. Work is still being done on the city's wastewater system, and Sellers said repair of the bridge could cost about $53,000 — a similar price tag from when the bridge was damaged in 2017.
"2017 was bad enough, but this is 2017 times two," Sellers said.
He showed appreciation for the area's volunteer firefighters, police officers and other emergency workers, who have worked hard to get services restored and assist residents any way they could — all while searching for a missing woman.
Efforts to find an Anderson woman, believed to have been inside a house that was swept away, shifted from search and rescue to recovery on Tuesday. Anderson police Chief Seth Daniels said that cadaver dogs are being called in to assist with recovery efforts.
"You always hold out hope in situations like this," Daniels said. "But it's been more than 36 hours, and we're going on 48, so we've transitioned into a recovery mode."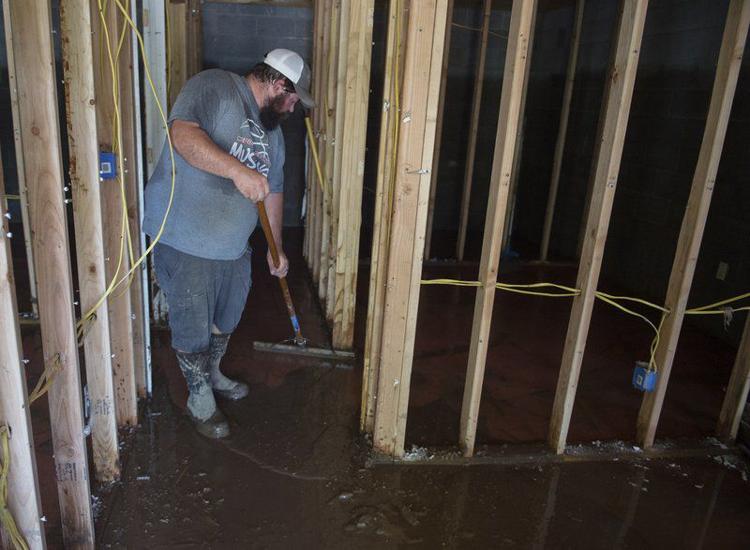 Cleanup efforts will soon mobilize in both towns, Sellers and Butcher said. During Saturday's Celebrate Neosho event, Butcher said, workers at the city's booth will be available to hear from victims about what they need. An event to pair victims with volunteer services is still being arranged, he said.
"We see a bigger need for those who don't have flood insurance, including renters, but we don't know what those needs are unless they share them with us," Butcher said. "We're working to identify resources to help people, but that takes time."
In Anderson, the city will set up two large trash bins in the parking lot of First Christian Church, where people can pitch debris.
Residents have already begun the work of cleaning up. Knoll on Tuesday worked on painting concrete floors in her house, with the hopes of being able to set up beds. She and her son pitched a tent on their home's driveway and camped out Monday.
A trampoline she owned was somehow shoved underneath a shed. On Tuesday, she was much more concerned with things inside the shed, including "baby stuff" from her son, Logan, now 10.
She, like others, felt "defeat and sadness."
"We were just about done with the remodeling from the last flood," Knoll said. "All that time, money and energy is now gone."
Nageotte awaited news from nurses Tuesday. She has a lung condition that requires the use of oxygen. If moisture can't be controlled from growing mold inside, she will not be able to stay, she said.
And that leads to a bigger question for people dealing with their second flood in just as many years: What next?
"I'm 66, and my brother is 59," Nageotte said. "I don't know what we are going to do."
Knoll said she plans on staying in the house, which is owned by her grandmother, for about another year, but she does not want to endure a flood ever again.
"My grandmother allowing us to live here has been a huge blessing," Knoll said. "We came from having nothing to having a home full of stuff. Logan has been strong through it all, saying that it's just stuff and we can get it again."