Journey Through Slime Event Studio — the first business of its kind in Joplin to offer art therapy, sensory toys, slime and sweet treats all in one location — will hold an open house during Third Thursday and officially open its doors this weekend.
The open house is slated from 5 to 9 p.m. Thursday, with the grand opening set for 11 a.m. to 9 p.m. Saturday. Slime-making will be offered during the grand opening but not the open house.
After a few months of renovations to the former Cupcakes By Liz building, owners Travis Bolin and his 11-year-old daughter, Amelia, are ready to offer their services to the community. The father-daughter business is located at 2310 S. Main St. in Joplin.
"I keep hearing that there's nothing like this in the area — slime, ice cream and fidget toys," Bolin said. "Most of the studies you read on fidgeting and playing, it always goes back to the therapy side. Healing can look different in many ways. We just want to help the Joplin area."
Bolin, a provisional licensed professional counselor at Mount Hope Christian Counseling Center in Webb City, was inspired to combine his work in mental health care with his daughter's love for slime. Amelia, who's been nicknamed the "slime expert" by her friends, has been making her own slime at home.
"This was really borne from the whole counseling aspect," Bolin said. "The name Journey Through Slime comes from how we all go through slime in our life, and it's messy, but if we keep journeying through it while playing and reaching out to people, you're a better person and you're stronger for it. A lot of people think counseling is just sitting down and talking about your problems. But really, you can heal while you play."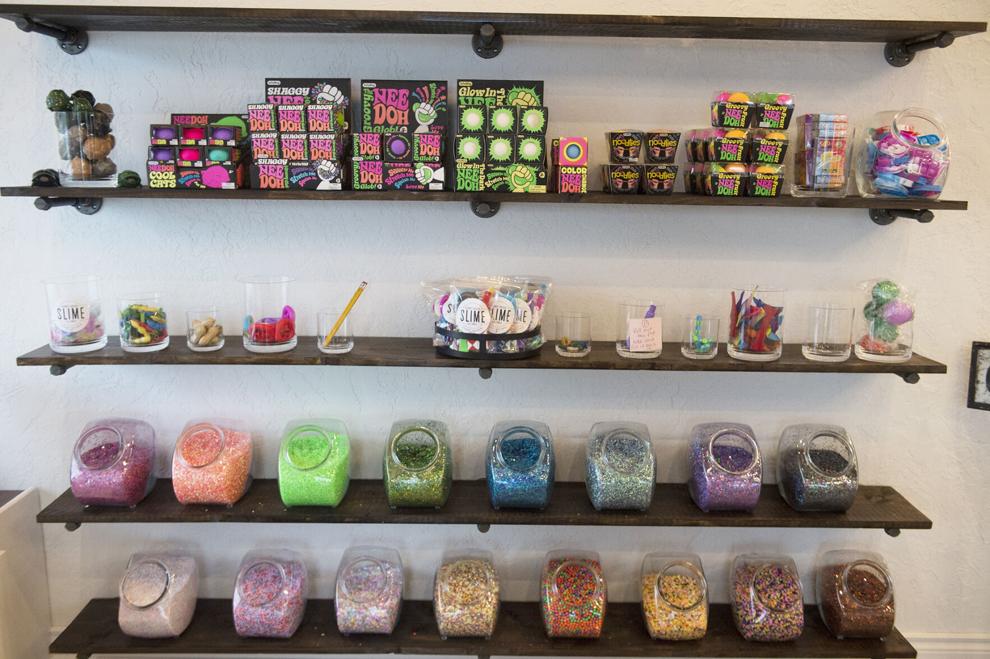 The interactive business combines the power of art therapy and sensory play where patrons of all ages can feed their inner child by making their own slime toy. The substance can be molded from a variety of ingredients including glue, shaving cream and clay.
Similar to a candy store, clear containers of glitter, charms and sparkles line the walls, allowing slime-makers to create a one-of-a-kind toy that can be taken home. Board games, books and sensory toys like fidget spinners are also available for purchase.
"After you order your slime, it comes on a tray with a bowl, a spatula and then you can go over here to the toppings wall," Bolin said. "You can put it in your container. We'll continue to grow the toppings. Then, you can go and make your slime. We're going to have slime recipe cards and an activator."
Fidget and sensory toys can provide sensory stimulation by engaging the user's mental and physical abilities through the senses like sight, touch, smell, sound and movement. Not only can these toys help with stress and anxiety, but they're also entertaining.
"One of our sensory fidget toys is a pencil Pop It case," Bolin said. "It's like bubble wrap, but it lasts a lot longer. We have a fidget toy section, games and books."
If slime or fidget toys don't appeal to you, the studio also features a ice cream shop with 12 flavors, as well as ice cream floats and pints for sale.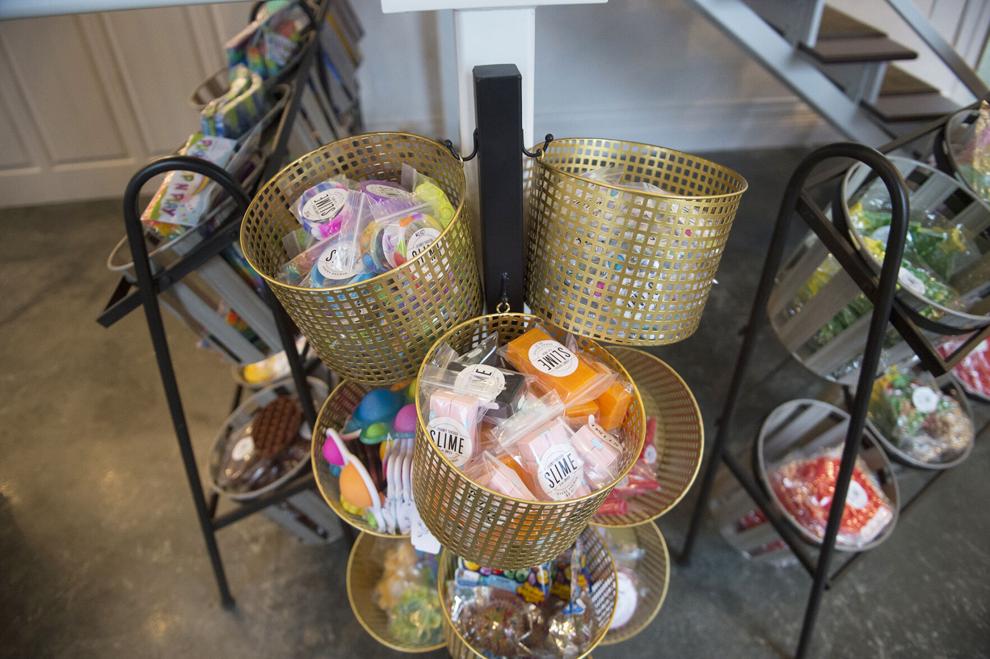 "We're going to have root beer floats and Coke floats," Bolin said. "We'll also have sundaes and toppings. I want there to be a Sundae of the Month like ooey gooey butter cake or peppermint sundaes. We're going to have it on the chalkboard there, and we'll be selling quarts and pints of ice cream."
Play is more than just a form of entertainment; it also plays a vital role in children's development and their understanding of the world around them, according to a clinical report published in Pediatrics, the official journal of the American Academy of Pediatrics.
Research shows that play fosters creativity and social-emotional skills, builds healthy brain connections in children and helps lay the foundation for lifelong learning. According to a report published in Pediatrics, "play is essential to the social, emotional, cognitive, and physical well-being of children beginning in early childhood."
"In order to truly focus, I feel that we have to fidget," Bolin said. "Studies show that when you fidget, it uses the creative side of your (right) brain and forms different connections in the brain. If kids or adults have been through trauma, sometimes in order to get through that trauma and be the best you, people have to play."
Creativity can greatly reduce stress, anxiety and depression. Play can also be beneficial for any age group.
"People are made to create," Bolin said. "As we get older, sometimes we forget, and I'm one of them, that we need to make time to play. Children naturally know how to play, and it's easy to forget as an adult. We think that we have to be so productive, but sometimes to be truly productive, we have to fidget and play."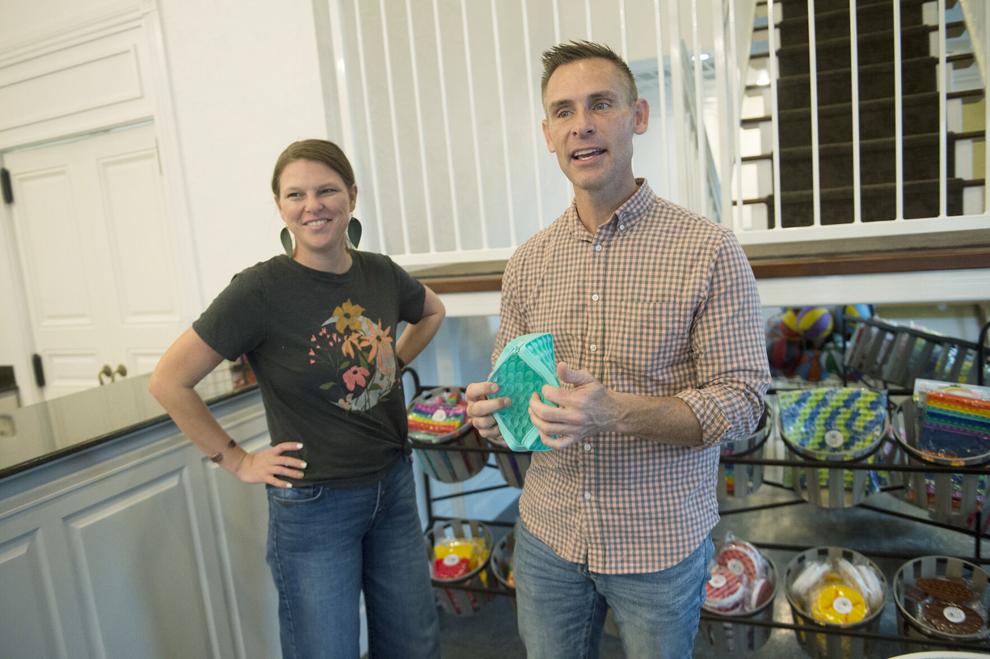 Carlye Daniel, a member of the Slime Team, said the business already has received an overwhelming amount of support from the community, even though it hasn't formally opened yet. They're now known around town as the "Slime Family," she said.
"We want everyone to feel like they're invited and that this is a place where they can come hang out," Daniel said.
The studio plans to host slime parties, team building exercises for businesses and more. Party packages are available for special events. Schools and day cares have also expressed interest in possible field trips.