Head bowed, Joplin's Dr. Erik Martin stood next to a Brooklyn-based hospital bed, a nearby nurse's mobile phone clutched in his hand, as a grieving daughter said goodbye to her dying father.
Under normal circumstances, the man's daughter would have been right there at her father's side, providing comfort. But the COVID-19 pandemic, which has spread like a wild fire across New York City, had completely disrupted routine medical procedures. That explained why Martin stood there with a phone in his hand.
"You can't do that with COVID," he said about families physically meeting with loved ones. "It's an infection. It can spread. We had lots of people in the hospital that were dying, and their families couldn't see them."
Before the coronavirus erupted in New York City, Martin helped sick patients at Freeman's Urgent Care or inside the emergency room at the Mercy Hospital in Lebanon, Missouri. As COVID-19 grew into a nationwide crisis, the Joplin physician couldn't ignore the urge to lend a helping hand. He set his eyes initially on Springfield, which had a rash of early cases, or farther east to St. Louis, which continues to lead Missouri cities in coronavirus cases and deaths. When given the opportunity to travel to the Big Apple to help the city's overwhelmed hospitals staffs, however, "I decided to do it," he said.
He left Joplin on April 4. Two days later, he found himself at ground zero in what has become one of the worst public health disasters in American since the 1918 flu epidemic.
He was assigned to the just-opened COVID field hospital — a temporary hospital set up to accept overflow patients from the city's public hospitals — at the Billie Jean King Tennis Center in Queens, home of the U.S. Open Grand Slam tennis tournament. Because public hospitals were still getting slammed with COVID patients, he was given the chance to work shifts inside Coney Island Hospital's emergency room in Brooklyn.
"I was very eager to do that," he said of his transfer to the 371-bed hospital. "That's what I really wanted to do."
At that time, the surge of COVID-19 cases at the 62 New York City hospitals had already peaked. When Martin arrived at the 145-year-old hospital overlooking Ocean Parkway, the volume of cases was declining, thanks to the help — doctors such as Martin as well as nurses and specialists — pouring into the city from across the country. Still, Martin would treat "hundreds" of COVID-19 patients, even up to his final shift at the hospital a week ago today. Some of those patients would live. Some would die, including a 26-year-old man, the cousin of a nurse who worked with Martin at the hospital.
"When I first got there, the hospital was still really full," Martin said. "There were more patients who needed help than we had beds, so there were still a lot of critical care patients in the ER that were waiting for beds. It got better over time, but it was still very full."
Working as an emergency physician, supervising residents and physician assistants while on duty, Martin pretty much saw it all.
Sickness everywhere
Because loved ones could not physically interact with dying patients inside the ER because of safety protocols, Martin turned to technology to bridge that gap, leading to touching moments, he said.
Some of the hospital's residents "got some of the families and friends to donate iPads so the patients could FaceTime with loved ones, and I did that several times with someone who was obviously at their very end."
In a Facebook post, Martin wrote that, during one particular difficult day in the ER, he had to connect three different dying patients with their families using iPads, "so their families could at least see them in their final moments."
"That was hard," he said. "But it's also what they wanted and needed. They wanted to be with (their families) — that's who you should be with when you're dying."
In a single day at the ER, he saw a 21-year-old with respiratory failure; soon after, he intubated two patients in their 40s, "who will likely die alone on a ventilator in the ICU," he wrote at the time. One patient, a lady with a thick Russian accent — he loved how she said his name — seemed healthy at first, even joking with him. Not long after, she took a dramatic downturn and soon suffered complete lung failure.
"I intubated her and put her on a ventilator," he wrote on his Facebook page; some well-written passages on his page are like a novella in length, at times dramatic and gut-wrenching. "She will probably die on the ventilator."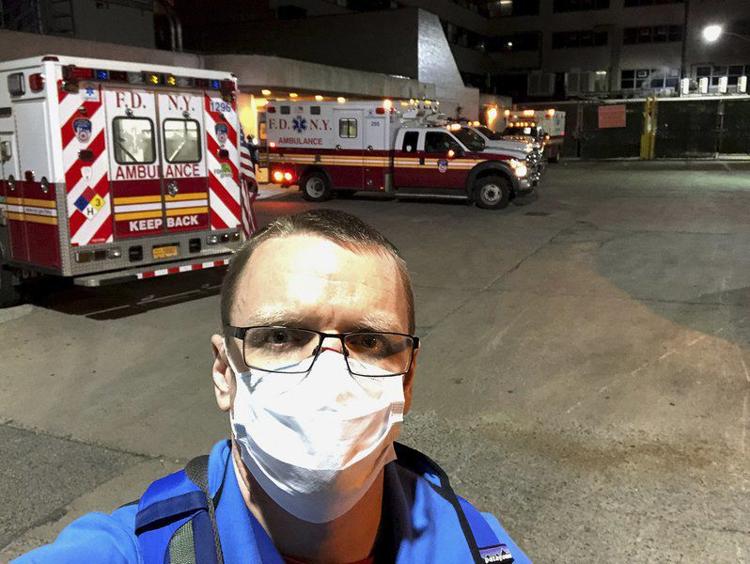 "The virus doesn't care who we are," he continued writing. "It strikes everyone. Black, white, Latino, Middle Eastern, Asian, Russian, American, etc. In just 1 week I have seen everyone with the virus. We are all human, that's all the virus knows. We are the host in which it reproduces itself and spreads itself to others."
Rewards from strangers
New Yorkers embraced and thanked him for coming to the city's aid during his monthlong stay, much as so many Americans did after the 2001 terrorist attack on the World Trade Center.
"There was a lot of gratitude shown toward health care workers and front-line people; a nice outpouring of thanks," Martin said. The care of Uber drivers who drove him to and from the hospital, cards made by a local Boy Scout troop, even a breakfast provided by Martin's brother-in-law's sister to health care workers at the hotel where he was staying made him say, "It was really special."
A wee bit of kindness that touched his heart in a big way occurred when an 11-year-old girl named Leah made lovingly wrapped peanut butter sandwiches for the hospital's break room every couple of days, leaving behind notes thanking them for what they were doing for the thousands of sick people. He would eat two sandwiches — always two — smiling at how the simple sandwiches comforted him.
"Everyone in the ER just loved the fact that a young girl was taking the time to make them for us," he wrote in a post on his personal Facebook page.
When Leah left behind her email address, Martin decided to send her his thanks. Replying, she told him that she wanted to be a doctor when she grew up. After speaking to the girl's mother, Milena, he was able to connect with Leah through FaceTime during one of his shifts; he walked her through the ER where several doctors and a number of nurses got the chance to wave and speak to her. She was thrilled by what he did, Martin said. It was a moment he'll cherish.
"There were a lot of little connections like that that I made that were touching, and it kind of gives you some hope, too, that people can cooperate and can come together and get through this," he said.
That last night
He'd been living out of a hotel room at the Courtyard JFK, taking Uber rides between it and the hospital — he avoided the subway. That was his life. Hospital, Uber, hotel. Hotel, Uber, hospital. Back and forth; day after day.
There wasn't much to do during the downtime between hospital and hotel; the city was shut down by that point, only supermarkets and pharmacies were open, and a vast city of 14 million was "eerily silent," he said.
He would speak to his wife each night, and he would often touch the two stuffed animals that shared the room with him that had been secretly slipped into his suitcase the morning he left by his two children.
Because personal protective equipment used every day by medical professionals was scarce in the early stages of the pandemic, Martin initially had to conserve the lifesaving gear, including N95 masks. "You couldn't just get new ones every day," he said. He would take the smelly equipment back to his hotel room and hang it to dry over a day or two.
"The housekeepers at the hotel wouldn't even come into the room," Martin said jokingly.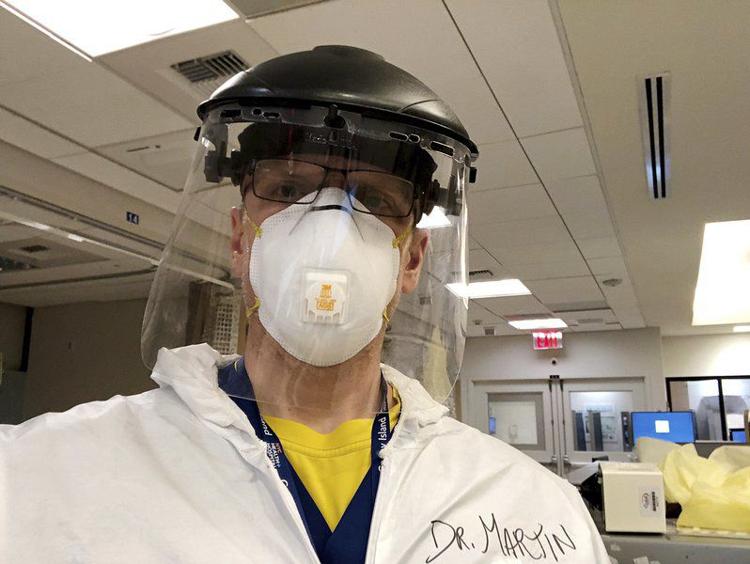 On his final night in New York, a month's worth of agony came bubbling to the surface in a long Facebook post.
"And I just can't stop crying. I can't stop crying," he wrote. "I want to go home. And I will soon. I want to see my beautiful children and my beautiful wife and I want to see my parents too."
Back home
He's now home with his son, daughter and wife, Thomas Jefferson instructor Fang Martin. He's physically rested and mentally healed; a recent walk along Shoal Creek, he said, did wonders for his spirits; a moment of silence and reflection after weeks of controlled chaos among suffering, scared strangers.
"But now I am home," he wrote Thursday on Facebook. "Home in southwestern Missouri where it is warm and sunny and green and humid and where everything feels alive. And I can read to my children again at night, smell their hair, hug them a little longer. Because I missed them so much. And my wife. To hold her again. To feel the soft skin of her face. To be with those I love the most. My wife thought I was going to die in New York, so I had to prove her wrong. 'See I told you so baby, I told you I wouldn't die. I'm home.'"