On May 22, 2011, Kay Johnson and her husband took shelter in a hall closet in their home as an EF5 tornado struck Joplin, killing 161 people and damaging thousands of residences and businesses.
Today, eight years later, the couple say they have a safer place to seek refuge — a community safe room at nearby Kelsey Norman Elementary School, which opens to the public in the case of severe weather.
"I absolutely do" feel safer with access to the shelter, said Johnson, who just retired as the longtime Kelsey Norman secretary. "I never want to have that fear we all had that night. I want to do everything I can to keep my family safe."
Since the 2011 tornado, Joplin has built at least 14 community safe rooms, all constructed to Federal Emergency Management Agency standards and attached to schools and related properties for use by residents in those neighborhoods. They were built with funding from FEMA and the Joplin School District, which saw several of its buildings damaged or destroyed by the 2011 tornado, and most of them opened in 2014.
Many surrounding communities also took advantage of the opportunity to build safe rooms. School districts such as Webb City, Diamond, Neosho and Jasper in Southwest Missouri and Galena and Baxter Springs in Kansas have added community shelters since 2011, with tens of thousands of residents across the region now within perhaps a 10-minute drive to a safe place in which to take refuge from a storm.
Even so, local officials are still trying to increase that access, and several more community safe rooms are being built. In northern McDonald County, for example, Neosho school leaders hope by August to start construction on a FEMA shelter at Goodman Elementary School, which was destroyed by a tornado on April 4, 2017. The school itself is anticipated to open for the fall term, and design work on the community safe room is underway.
Minutes away
In Joplin, the safe rooms — most of which double as gymnasiums for schoolchildren during the day — are opened to the public automatically in the event of a tornado warning for the city. They also can be and have been opened, at the discretion of district officials, before a warning is issued, especially in situations when counties to the west of Joplin are experiencing inclement weather.
The Globe took a few test drives from different areas of Joplin to determine how long it would take, on average, to find the nearest storm shelter.
Residents living near the Joplin Regional Airport would drive about 5 miles, or 12 minutes, to Royal Heights Elementary School — or they could shave down their time by driving about 4 miles, or eight minutes, to Webb City High School. Those living near Schifferdecker Park can drive less than a mile down the road to reach Jefferson Elementary School's community storm shelter, a trip of a minute or less.
On the east side of Joplin, residents living near Missouri Southern State University can travel approximately 2 miles, or seven to eight minutes, to reach safe rooms at Royal Heights or Eastmorland. From the Walmart store at 15th Street and Range Line Road, drivers would reach Eastmorland in less than a minute. And with the temporary closure of the safe room at Columbia, residents of north Joplin would travel about a mile to West Central instead; in stormy conditions, that can be done in five minutes.
In many of those scenarios, it appears that residents could quickly reach a community safe room in Joplin. And tornado warning lead times, the interval between when a warning is issued and when the tornado occurs, continue to improve with the advancement of technology such as next-generation satellites, meteorologists say.
Two decades ago, the average tornado lead time nationwide was about seven and a half minutes, according to the National Weather Service station in Springfield. In 2011, that time frame had increased to 14.5 minutes; in 2013, it was about nine minutes.
Why the decline in recent years? Tornadoes rated EF3 and greater tend to have longer lead times, of 15 to 25 minutes, but the advent of social media and better technology means that smaller tornadoes, which tend to have shorter lead times, are more frequently reported and recorded, driving that average down, said Cory Rothstein, a meteorologist with the Springfield station.
"You have a lot of these weaker tornadoes that may have not been reported before that are now getting reported because people have cameras available and can post it onto Facebook, Twitter, Instagram," he said. "It becomes a lot easier to access information than what we had in the past."
In most instances when a tornado watch is issued, people tend to have a few hours to prepare for bad weather before any potential tornado actually occurs. Rothstein said residents should be watchful of the weather and have multiple ways to receive warnings, whether it's a phone, television or weather radio.
When a warning is issued, residents should shelter in place or, if close to a safe room, go there, Rothstein said. Residents who want to seek shelter in a community safe room should plan to go there immediately.
"Make sure you have multiple ways to receive these reports and know where safe rooms are at," he said.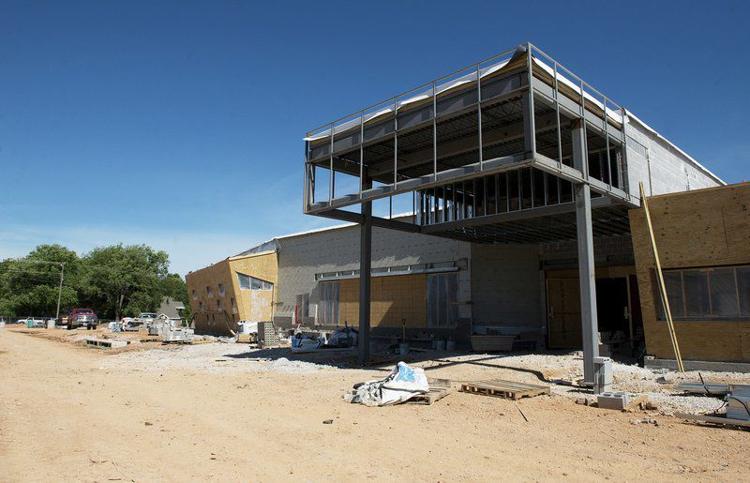 'A great asset'
Hundreds of residents have sought shelter in the Joplin safe rooms since they opened four to five years ago, said Kerry Sachetta, assistant superintendent of operations for the school district.
"I think it has worked well," he said. "I think it's obviously a great asset to the community. We're happy to provide this opportunity for the community because we definitely don't want a repeat of what happened eight years ago."
Outside of school hours, the safe rooms are overseen by a mix of school staff members and community volunteers, dedicated groups of people organized by the principals who can ensure that the structures are being used properly.
Johnson, the retired Kelsey Norman secretary, is one of those volunteers. The Kelsey Norman safe room has been well used by the neighborhood, at one point drawing more than 250 people during one stormy night in its first year of operation, she said.
Last year, she sought shelter there four or five times, and she has taken refuge there at least twice already this spring, she said.
Johnson said she feels that Joplin, as a community, is safer and more tornado-ready than it was eight years ago, in large part because of the community shelters available to residents.
"The memories of that day, we'll never forget," she said. "And we want to be safe."