Despite a strong southerly wind Thursday afternoon, Janie Murphy wasn't budging from her spot outside the Joplin Empire Market.
"Can you smell that?" she asked, closing her eyes as she breathed deeply. "I don't think I'm moving from this spot."
Minutes earlier, Travis Hurley found himself gravitating to the northern end of the public market. Soups from 20 local restaurants were spicing up the air in the 900 block of Fourth Street.
"It's really great," he said with a smile. "Nothing else like it."
Thursday marked Joplin's eighth Empty Bowls event, a fundraiser in which people can purchase a handcrafted bowl and fill it with soup, said Hurley, who serves as the director of advancement for Watered Gardens Ministries. The ministry is now overseeing the local version of the international project dedicated to fighting hunger.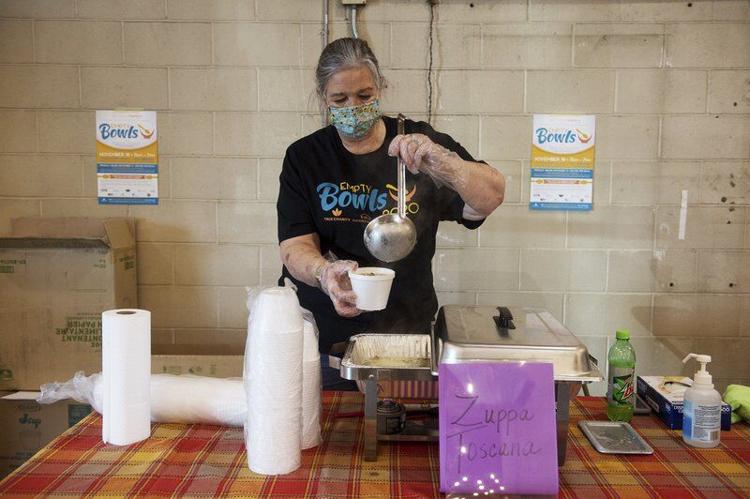 All proceeds from the fundraiser go to Watered Gardens and three other local nonprofits — Mission Joplin, We Care of the Four States and the Neosho-based Hope Kitchen — that will use the money to feed the hungry:
"This is such an exciting day," Hurley said. "This community just loves this event, and it's helping people who are struggling in our community. I just can't think of another event like this where there are so many win-win-wins to them."
Area residents — some driving from as far away as central Oklahoma — made their way to downtown Joplin to purchase one or more bowls, or "keepsakes," as Hurley called them. Each bowl was handcrafted by one of seven professional artists based in studios located in Joplin, Lamar, Diamond and Neosho.
No two bowls were exactly alike, a fact not lost on Joplin's Virginia Laas.
Having already selected one bowl, she was in search of a second one just minutes after the event officially opened at 11 a.m. She was trying to select the right bowl out of hundreds.
"I want to get another one, but I can't decide which one," she said. "They all come in so many colors that I like."
A bowl's appeal to her is mostly based "on the colors and the design," she said.
She chose the bowl in her hands from a nearby display table because it differed so much from the previous bowls she'd purchased from past Empty Bowls events. In all, she owns eight bowls.
"The fact that a lovely potter made this" is why she buys at least one bowl each year, she said, admiring a bowl's swirl of three colors that met in the center. "We have some really fine potters around here."
"It's a wonderful cause, and I enjoy doing this every year," Laas continued.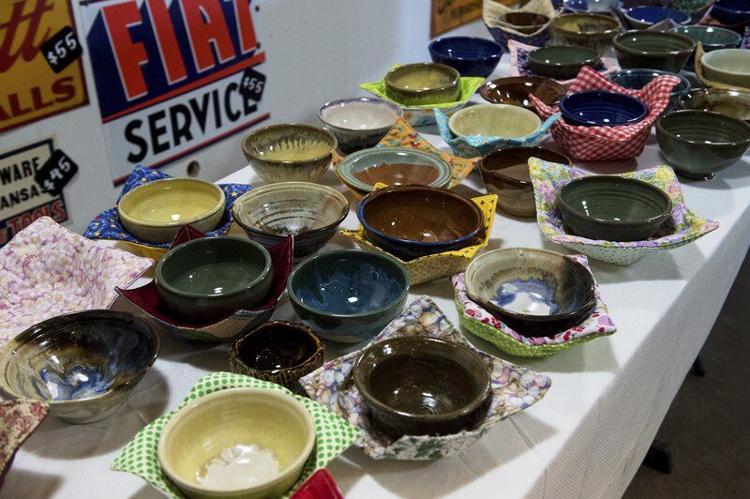 One table over, Mary Hodges, an Oklahoma resident, was on the hunt for that perfect bowl. If it took her a while to find it, so be it, she said.
She was looking for a bowl that was similar in reddish color to a smaller bowl she picked up from Joplin several years ago. "I want one to match it," she said.
As with everything else, the COVID-19 pandemic caused some changes to the event. Instead of people sitting down to eat soup from their newly purchased bowls as in year's past, there was no dine-in option this year.
"That's why we encouraged advanced (bowl) sales," Hurley said. That explains why 800 bowls were pre-sold since early September, and only 300 were available for purchase Thursday afternoon. In 2019, it was the exact opposite: 300 bowls were pre-sold, and 800 bowls were sold the day of the event.
Over the past fundraisers, more than $150,000 has been raised through bowl sales to combat hunger, Watered Gardens officials said. Empty Bowls was first organized in 2012 in Joplin by Heather Grills, who owned the Phoenix Fired Art studio and gallery on Main Street before she moved to Northwest Arkansas in 2018. The event went on hiatus that year, and it reappeared in 2019 with Watered Gardens as the event's new host.
"These keepsakes (bowls) are beautiful," Hurley said. "I know one person who buys one each year and puts it on a shelf; others put candy in them. While we want you to love that component of this, we also want them to think about the folks who aren't so blessed" in the Joplin community.