A championship-level disc golf course and the first phase of a mountain bike trail will soon be available in Joplin parks, thanks to enthusiasts of the two sports.
Disc golfers have put together a plan to redesign and enlarge the existing course at McClelland Park to provide two 18-hole courses instead of one 27-hole course.
"With a redesign, we can make it significantly more challenging," said Andrew Jinx, former disc golf club president.
Since a Joplin club started in Joplin in 1998 with only a 9-hole beginner level course, enthusiasts have enlarged the course to 18 holes and then to 27 holes and raised it to an intermediate level of play. There is a beginning 9-hole course now at Schifferdecker Park as well as courses for beginner to intermediate play at Neosho and Carl Junction.
Players are more advanced now with the ability to throw harder and farther, club President Michael Cory, of Duenweg, told the Joplin Parks & Recreation Board on Wednesday night. Additionally, the club's signature annual event, the Four States Open tournament, draws more than 200 players from several states who need the higher difficulty of a championship course, he said. Otherwise, interest in playing here could wane.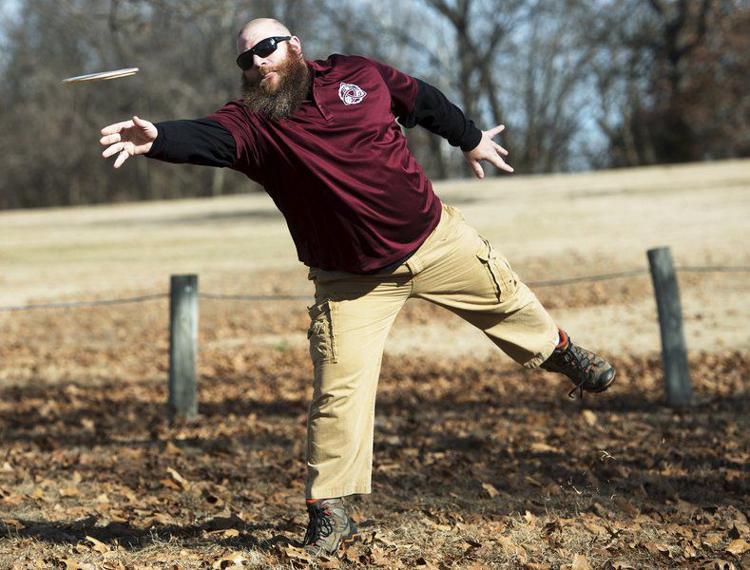 Each year, about 50 to 80 area residents participate in club play. Several charity tournaments are conducted each year to benefit local nonprofits.
"Disc golf in general is gaining a lot of traction across the nation and across the world," Jinx said before the meeting. "The sport is really growing a lot in Europe as well as here. That is why it is important to have different skill levels and courses to play."
It is an inexpensive recreational activity, with the only equipment being a flying disc.
Peddling for pedaling
At the same time, cyclists have designed what would be Joplin's first official off-road mountain bike trail. The trail would loop Dover Hill Park if all phases are completed. The first phase should be ready later this year.
Joplin firefighter Mark Cox, the owner of Blues Bike Co., outlined the plan to create the bike trail at a meeting Wednesday night of the city board. Cox sought the city's cooperation with the plan by speaking to the City Council in May. The council told him to work with the Parks & Recreation Department on it.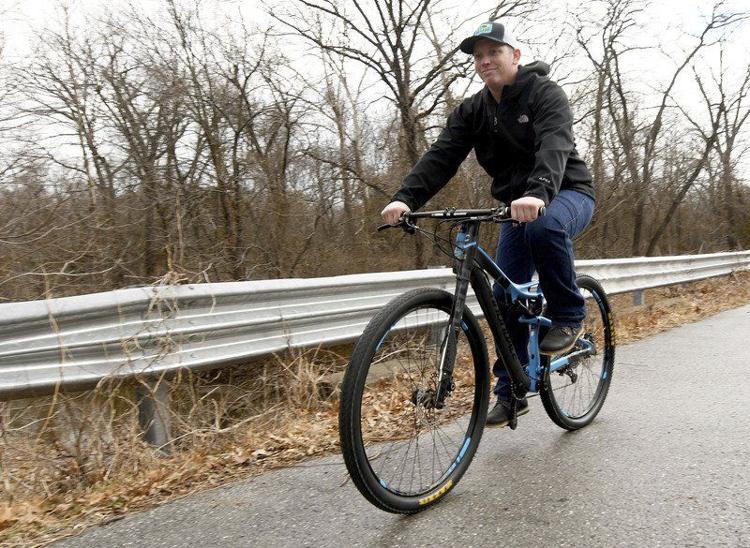 Parks Director Paul Bloomberg said Dover Hill has gone virtually unused for several years. It's soccer fields have been dormant since new fields were installed at the Joplin Athletic Complex.
"It would be a shared path because walkers could use it and runners could go there as well," Bloomberg told the parks board. He said the parks department would use city workers to move back the gates at the park's entrances far enough to provide some parking spaces for cars and allow access to the trail. "That way we can keep the park closed, but mountain bikers and walkers could have access to the trail."
Cox said that he and other cyclists could provide labor to cut the first phase of the trail if parks or city workers could help install some concrete where it's needed, as well as move the gates and surface the parking area. He said the first phase would be a simple trail routed over rocks, tree roots and berms with an uphill grade.
A later phase calls for some small bridges, ramps, a loop the loop, and other features that would involve materials, labor and equipment that neither the bikers nor the city currently has money to provide. Cox and Bloomberg said that, if the city asks voters to renew the quarter-cent parks and stormwater sales tax in 2021, it might be that some money could be allocated from that for bike trail extension and obstacle construction.That is how part of the cost of the disc golf course expansion is being paid. The city agreed to allocate $13,500 from the 2011 renewal of the parks and stormwater sales tax for the project.
Cox said the first phase of the bike trail will cost little money. "We want to make it a multi-use trail so we can get everyone from a bike rider to a walker, a runner, someone walking their dog, or someone just wanting to go for an afternoon outing," Cox said.
Later additions could not only enlarge the trail to about three miles but could connect to Landreth Park or McClelland Park or even follow an abandoned rail line that runs close to Dover Hill.
"On the grand scheme of things, what I'd love to see is getting more visitors to come into Joplin," Cox said. "That could give us a point of destination to come to the community."
Bloomberg said the parks department will have further meetings with Cox to finalize the first phase work on the trail.
Both projects will be done later this winter, he said.