Community safe rooms in Joplin and Webb City were the stars of the show Tuesday during a tour by officials from both the state and federal Emergency Management agencies.
Led by David Maurstad, deputy associate administrator of insurance and mitigation for FEMA, officials visited the safe rooms at Joplin's Kelsey Norman Elementary School and Webb City High School to record promotional materials that will be pushed out on social media to highlight community "success stories" following natural disasters.
"One of the goals in FEMA's strategic plan is to develop a culture of preparedness," said Maurstad, who also serves as the chief executive of the National Flood Insurance Program. "... I believe we can make positive changes and start a movement across the country to reduce disaster suffering."
The first stop on the Southwest Missouri leg of the tour was the community safe room at Kelsey Norman, 1323 E. 28th St. The safe room was one of 14 built by the Joplin School District after the 2011 tornado, which killed 161 people, injured hundreds more and damaged or destroyed thousands of buildings across the city.
In the six years since the safe rooms have become operational, they have been open to the community an average of five times per year for severe weather, drawing an average of 600 people indoors each time, said Jim Hounschell, the district's director of safety and security.
The safe room at Kelsey Norman is well used by the community during those times, said Julie Munn, the school's principal. While most of those severe weather events have happened during evening or overnight hours, there was a storm last year during the day that required Kelsey Norman's students and staff to take shelter in the safe room — the first time they've had to do so since it was constructed, she said.
Fourth grade teacher Dana Stokesbary told Maurstad during the filming of a segment for FEMA's promotional material that she appreciates having a place at the school where she and her students will be safe during high winds.
"It makes me feel more secure, and it makes my students feel secure to know we have a place to go," she said.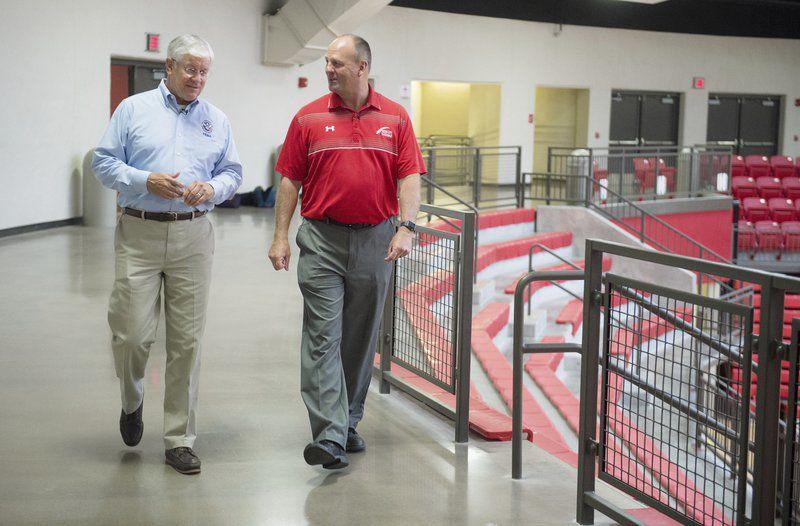 'Eye-opening moment'
At Webb City High School, 621 N. Madison St., FEMA officials got a look inside the Dome, a community safe room that doubles as a gymnasium and basketball stadium. It holds 1,700 seats but has a capacity of about 4,000, nearly the entire population of the school district, assistant superintendent Kevin Cooper said.
Webb City built seven safe rooms — four of which are open to the community during inclement weather — across the district after the 2011 tornado. On May 22 of this year, when tornadoes touched down in Carl Junction and killed three people in Golden City, more than 1,500 people sought shelter in the Dome, Cooper said.
"For us, after the (2011) tornado, it was such an eye-opening moment for our community," he said. "(Now, we can) let people know in a situation that is about to occur that this is where you can go, this is what you need to do."
Maurstad said the actions taken by communities including Joplin and Webb City in recent years to build new safe rooms are examples of the ways municipalities can better prepare for future natural disasters. From a policy standpoint, FEMA's focus has been on mitigation after disasters, but officials are trying to move that point forward to help people be ready ahead of disaster, he said.
"The success stories we see post-disaster we want to utilize to be that catalyst" to spur others to take action before disaster strikes, he said. "(Joplin and Webb City) have answered the call. We don't want to see that kind of tragedy (and) suffering into the next generation."