WEBB CITY, Mo. — It's calendar time at Webster Primary Center, and David Meinershagen is reviewing the days of the week with the first-grade classroom for which he is a substitute teacher.
Today is Wednesday, he tells them, so yesterday was what day? And tomorrow is what day? The pupils fill in the blanks, going through the week until they reach Saturday.
"You guys love Saturday because you get to come to school and have fun, right?" Meinershagen teases them, a gleam in his eye. A pause, and then suddenly an uproar as the youngsters quickly work to correct him.
It's tiring work leading a classroom full of children all day, but there's nowhere else Meinershagen, 42, would rather be. He has found a new lease on life after outliving doctors' predictions when he was diagnosed with a lung disorder nearly nine years ago, and he has since discovered a new passion for education, returning to school and training to become a teacher.
"At the time, what seemed like it could be the worst thing to ever happen to me turned out to be one of the best things to ever happen to me," he said.
Scarring of lungs
Meinershagen's health troubles began during the early part of 2010, when he became sick off and on with chest infections. A bronchitis diagnosis followed, but by March, the illnesses had become increasingly severe. After a CT scan, doctors believed he had double pneumonia, and he was hospitalized for 10 days.
He was back at the hospital the following month, in mid-April, for biopsies of his lungs. The samples were sent to the Minnesota-based Mayo Clinic for analysis.
By May, he was admitted to Barnes-Jewish Hospital in St. Louis for several days. It was here that he would finally get some answers, albeit some disheartening ones.
Meinershagen was diagnosed with interstitial lung disease, an umbrella term for a group of disorders that cause scarring of the lungs. The disorders can be caused by exposure to hazardous chemicals, certain medications and medical treatments, but the causes are unknown in most cases, according to the American Lung Association.
Specifically, Meinershagen discovered he had idiopathic pulmonary fibrosis, the most common type of pulmonary fibrosis. The disease leads to scarring of the lungs, which causes stiffness in the lungs and makes it difficult to breathe, the lung association said.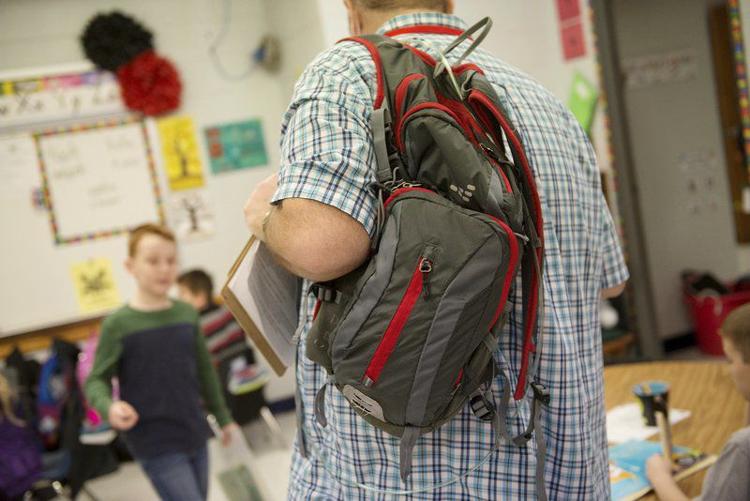 Tests of Meinershagen's lungs showed that they were operating at about 30 percent of normal usage. Lung damage from idiopathic pulmonary fibrosis is generally progressive and irreversible, and he was prescribed medicines to slow the progression and started using an oxygen machine. Even so, Meinershagen's doctors told him he likely had a year, at best, to live.
Meinershagen would receive one more diagnosis in November of that year — polymyositis, a disease that involves inflammation of the muscles or associated tissues. Symptoms are a weakening of the muscles in the shoulders, upper arms, hips, thighs and neck, along with pain or tenderness, swallowing problems, and inflammation of the heart and lung muscle tissues, according to the Muscular Dystrophy Association. Meinershagen's doctors believed that the lung disease could have been a side effect of the polymyositis.
A new passion
It was a difficult time for Meinershagen and his wife, Naomi, and their two young sons, Noah and Caleb. Meinershagen, a team manager at the AT&T call center in Joplin, had to leave his job because of his deteriorating health. He also was unable to carry his children or get down on the floor to play with them.
A large network of support stepped in to help. His former co-workers at the call center organized fundraisers to help his family pay his medical bills, and their church family at Christ's Church of Oronogo also offered prayers and financial assistance.
"I realized that's how other people want to share their love, and once I accepted that, it gave me peace about not being able to work," he said.
Something else that helped his spirits immensely — May 2011, one year since his diagnosis, came and went, and despite his doctors' predictions, he was still alive. He continued to have difficulty breathing and some chest pains, but he was alive.
"I got past that year mark and thought maybe it wouldn't be as bad as expected," he said.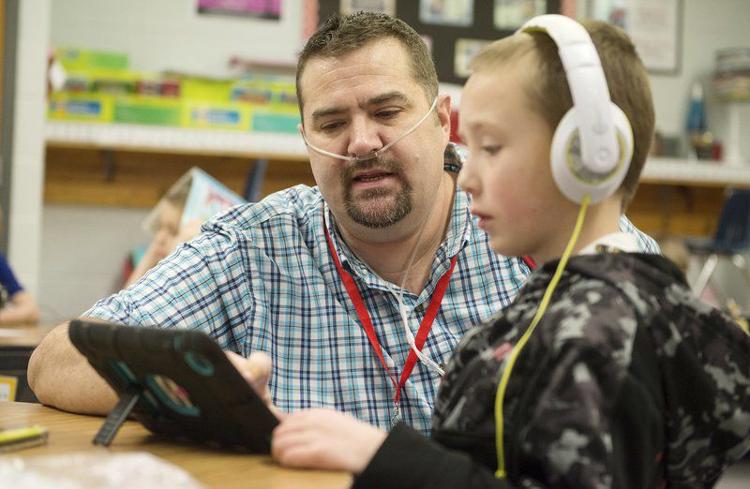 Eager to do something valuable with his time, he slowly started volunteering at son Noah's school, Webster Primary Center in Webb City. He was the school's first male volunteer and room parent, and he discovered that he truly enjoyed reading to the pupils or listening to them read to him.
His volunteerism snowballed as he launched Cardinal Muscle, an initiative to get men more involved in Webb City schools, at Webster in 2013. He also branched out from Webster to Webb City Cares, where he was a lunch buddy and put together the snackpacks that children from food-insecure households take home on the weekends.
Webster's principal, Sarah Lee, was taking notice of his efforts. For years, she had watched him greet children at the school's front door, take leadership roles in the PTO and help with every event the school offered, even long after his own children had graduated to another building.
"It takes one minute of watching him interact with kids to know he needs to be working with kids," she said. "I think I told him he'd be crazy not to be a teacher."
Optimism, encouragement
Spurred by Lee's encouragement and his growing passion for education, Meinershagen enrolled in January 2015 at Missouri Southern State University to pursue a degree in elementary education. He didn't fear the coursework, but at 38 years old at the time, he was nervous about how he would fit in with his peers as a nontraditional student.
To his delight, he needn't have worried.
"Surprisingly, a lot of those young students have become some of my closest friends, and they welcomed an old man into their group," he said.
Meinershagen is now a senior at MSSU and will complete a TESOL (teaching English to speakers of other languages) practicum this spring, observing English language learner classes in Carthage. He'll finish up his degree with student teaching in the fall — in Webb City, he hopes.
Maggie Beachner, an assistant professor of teacher education at Missouri Southern, said Meinershagen's "gentle confidence and genuine nature" will take him far as an educator.
"What impressed me most about David, even in my sophomore-level class, was that students were at the forefront of every conversation I had with him, every presentation he gave and every paper he wrote," she said in an email to the Globe. "He has all the qualities we look for in future teachers, and I look forward to hearing about his inevitable success stories in the classroom."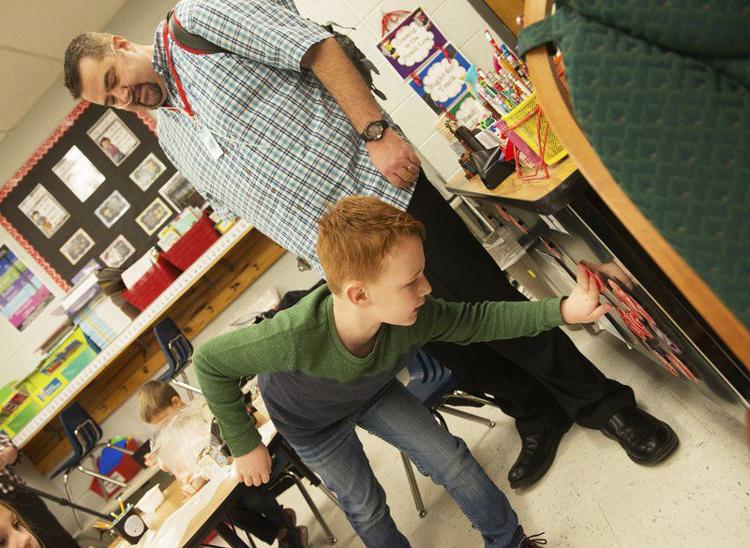 Carissa Gober, also an assistant professor of teacher education, said Meinershagen maintains an optimistic attitude in class and is unafraid to persevere and encourage others as he moves through his studies.
"His drive to achieve his goal to become a teacher inspired me and served as a reminder of why I love this profession so much myself," she said in an email. "There were days when it was so evident that it was a struggle for David to make it to class, but he never complained and was more concerned about others than he was himself."
Meinershagen recently was part of a cohort at MSSU that spent six hours per week studying pedagogy, microteaching and classroom management. That semester coincided with some hospital stays, pain and discouragement on his part, said Cherona Hicklin, an associate professor of teacher education.
But he ended that semester as an inspiration to everyone around him, and Hicklin expects he'll carry that into the classroom.
"We all have stories that shape us and prepare us for the future," she said in an email. "David's story will provide him with a unique insight and ability to support and love students who are facing obstacles."
'I felt comfort'
Meinershagen recently hit another milestone — his first time stepping in front of a class as a substitute teacher in a Webster classroom. He was nervous about how his health would hold up for the eight-hour day, but once the morning got underway, being at the head of the class "felt like second nature" for him, he said.
"I felt comfort being there and being in a roomful of kids who need a male influence," he said. "I take it very seriously that these kids need someone to look up to, and (I can) be a role model in the way female teachers are."
Meinershagen looks forward to the day when a classroom will be his, when he'll be fully certified as a teacher and being an educator will be his job every day. But he acknowledges that his health might not ever allow that, and that's why he's also trying to prepare himself for substitute teaching, private tutoring, online teaching or part-time work.
"Never in my life would I have thought I'd be a teacher of little kids," he said.
Outside of school, Meinershagen has now outlived his doctors' expectations long enough to see his sons go through Webster and on to their next school. Now 9 and 11, the boys enjoy time spent with their father, and he can hardly believe his good fortune.
"I could have just died, and my kids would never know me," he said, tears in his eyes. "Being able to see them grow is one of the things I'm most grateful for."
Meinershagen is taking care of his health as best he can, taking 1-mile walks and participating in 5K walks as he's able. He tries to frame his life challenges as an aspect of his Christian faith, and he largely credits that faith and his wife for helping him get through.
"I've been very grateful to be able to have an impact on people in different ways, from kids who are 6 years old to older people at my church," he said. "There's a reason we go through things, and we can persevere."