OKLAHOMA CITY — Seven years ago, Shoshana Wasserman spent her days attempting to sell what may have appeared to be an impossible dream to reluctant and weary Oklahomans.
Her challenge: drum up support for a Native American museum that was little more than a useless and half-finished husk plagued by cost overruns and — after 20 years of wrangling — waning legislative enthusiasm.
Wasserman urged the occasional VIP to bring closed-toed shoes and a vivid imagination of what could be for the 175,000-square-foot center if allowed to come to fruition.
Now, nearly three decades after a pair of state lawmakers dreamed up the concept of a museum honoring Oklahoma's 39 federally recognized tribes, Wasserman, a Muscogee citizen, has put final touches on the $175 million First Americans Museum. Funded with a mix of public, private and tribal money, it opened Saturday.
"(It's) been such an amazing journey," said Wasserman, now deputy director. "I'm so grateful for when I came on because I have gotten such an in-depth understanding of everything from the architectural to the mechanical to their system, and that's invaluable."
Situated on 300 acres at the intersection of interstates 40 and 35 with sweeping views of the Oklahoma City skyline, the museum employs 55 people, nearly 80% of whom are Native Americans passionate about sharing their story. Wasserman said it has amazed her to watch everyone "put their heart and soul, their passion" into the museum.
Rather than focusing on each tribe's individual identity, the First Americans Museum aims to tell the story of Oklahoma's 39 tribes through their shared foundational values — respect, relationships, responsibility and reciprocity.
Exhibit highlights
Exhibits focus on Native American themes of power and pride, including sports and the warrior culture. It tells stories of tribal origins and lays out their relationships with the world and nature. Curators rely on pictures, oral history, timelines, artifacts on loan from the Smithsonian, immersive video storytelling and interactive exhibits. It features something from every tribe.
The museum's all-Native American curation team also addressed topics such as the forced removal of American Indians, massacres, the history of boarding schools and the complex history of Indian Christianity and assimilation. It also highlights the continuing practice of U.S. museums storing thousands of Indian remains in small shoe-sized boxes for display and other purposes. Native Americans continue to struggle to have those remains repatriated, and the museum attempts to illustrate the issue by stacking empty crates marked as human remains.
Leslie Halfmoon, a curator and Caddo Nation citizen, said the curatorial team immediately agreed that as a major institution, they would set the tone by not displaying any ceremonial objects or highly controversial or funerary items.
"Our intent is not to showcase things that shouldn't be seen," she said. "It's really just to tell this experience in these areas."
Unlike the Smithsonian's National Museum of the American Indian in Washington, D.C., Oklahoma's museum focuses solely on the 39 tribes that call Oklahoma home.
"That means we get to dig in a little bit deeper with our stories, with our communities," Halfmoon said. "These are still living cultures. and even though it is a museum, we envision this place to continue to be a living cultural center."
Within the next decade, the barren acreage surrounding the entrance is slated to be developed by a subsidiary of the Chickasaw Nation. Wasserman said the tribe plans to focus on "edutainment and families" as it creates a destination designed to captivate business, leisure and international travelers while benefiting the city and museum. There will not be a casino erected on the land. The museum also plans to add additional exhibits inside, including a 5,000-square-foot family-focused area, as funding allows over the coming months and years.
'A labor of love'
Ace Greenwood, of Norman, has been hired as the museum's cultural ambassador.
"Man, I'm so excited for all the people that put in such hard work that believed, that just wouldn't quit, wouldn't give up," said Greenwood, who is Chickasaw and Cherokee.
Greenwood also said the pride that went into finishing the museum is evident.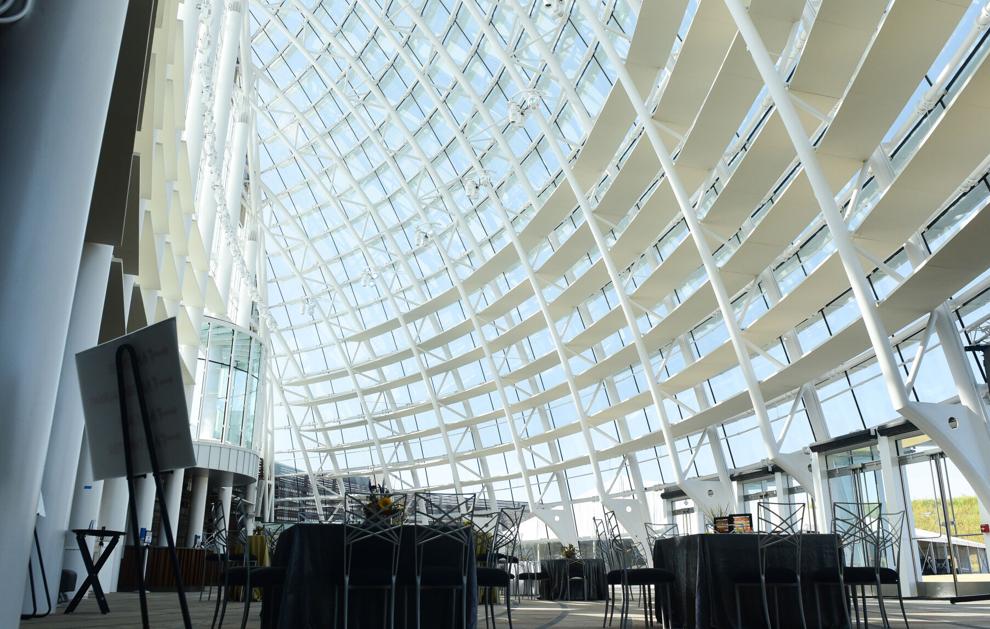 "It's a new type of story," he said. "It's a story from our mouths, from our hearts."
Oklahoma City Mayor David Holt, whose family got a sneak peek ahead of the opening, called the museum world class. Architecturally speaking, he said, it's breathtaking.
The center is full of symbolic imagery, such as a 100,000-stone entryway, with each stone representing an Indian displaced to Oklahoma by the federal government, and a 90-foot-tall earthwork mound that runs the length of three football fields. The cyclical journey to the top takes about two-thirds of a mile. Thirty of Oklahoma's 39 tribes trace their roots to mound builders.
Holt, an Osage citizen, is Oklahoma City's first Native American mayor.
"It is very evident that the museum tells the Native story," he said. "The museum staff is mostly people that are actually in fact themselves Native American, so it doesn't come off as being told clinically by white museum professionals. It very much feels like a labor of love. Having said that, it is also very accessible to everybody."
He said everybody who goes through it will be "blown away."
Holt said he was wowed by the immersive videos containing screens that run from floor to ceiling for 320 degrees. He also loved the "powwow van" that allows visitors to buckle up and travel virtually to towns across Oklahoma to attend five different tribal powwows.
"That's kind of when you most feel like you're in the hands of true experts, people who really are Native and are living culturally Native, and are sharing that experience with you," Holt said. "And it feels very warm in that sense, but it feels very familiar."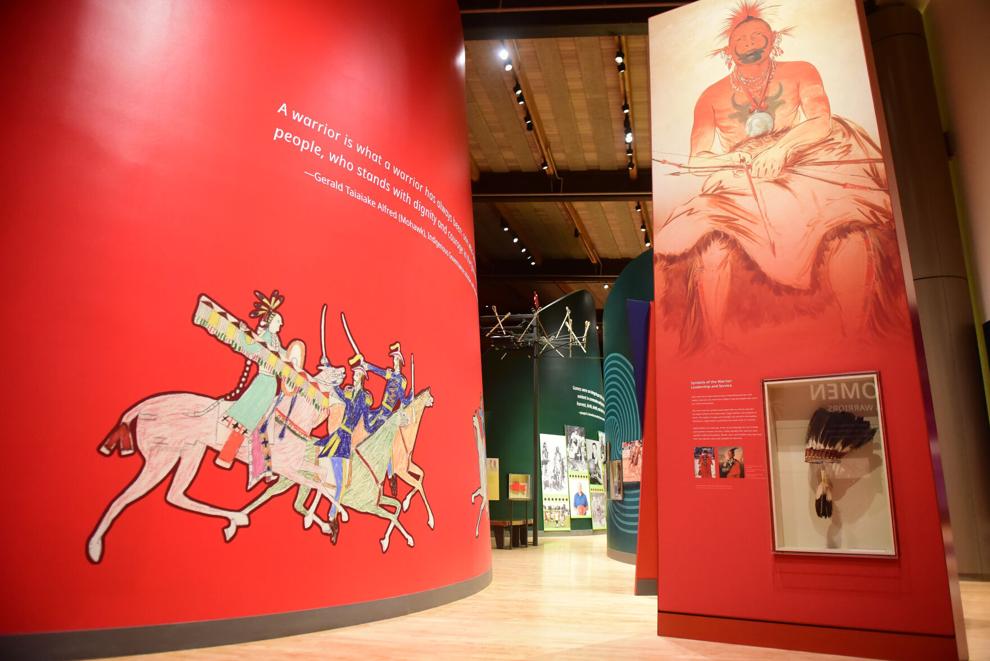 Ajay Pittman was just a baby when lawmakers first began to dream up the concept of the museum in 1994. Her mother worked as a legislative staffer at the time, before being later elected to the Legislature. Her mother was among the lawmakers who approved the state's final financial support to get the project moving again.
Now the younger Pittman, who holds dual Seminole Nation citizenship, is the legislator who represents the district where the museum sits.
"It is very emotional to see it come to fruition," she said. "It just is a beautiful representation of the people that started the state, of the land that we are all standing on. It is monumental for tourism. It depicts an Oklahoma history that I don't think has been shown in our state before. It's been a long time coming."