PITTSBURG, Kan. — Grasping his cheek in pain, 7-year-old Jerson Morales, a non-English speaking student at Frontenac Schools, communicated with his first grade teacher the best that way he knew how — through body language.
"He kept complaining his mouth was hurting and holding his cheek," said Ann Brown, a first grade teacher at Frank Layden Elementary School. "Dentistry is often an overlooked importance in your health, and it can cause a lot of issues. I called immediately when we figured out it was his tooth and looked at it."
Half of his molar had broken off and the remaining tooth had turned black due to an infection. With the parents' permission, she took Morales, along with six other of her Guatemalan students, to her dentist to get checked.
"He has never gotten dental work done before," Brown said. "Some of the older ones had before they came here because you could tell. The dentist ended up putting four of them on antibiotics."
But the children needed additional care, so Brown's dentist, Jill Saia Pile, referred them to the Kansas Mission of Mercy free dental clinic at Pittsburg State University. The Kansas Dental Charitable Foundation hosted the 18th annual dental clinic, which was in operation on Friday and will be again Saturday in the college's Robert W. Plaster Center/Weede P.E. Building.
Brown, who said the Guatemalan students are like her second family, brought the students to the clinic at 8 a.m. Friday to receive care. The line was already out the door and wrapped around the building when they arrived.
"They have multiple fillings, so we're coming back tomorrow," Brown said on Friday. "In the parking lot, I saw all of the different counties and people coming from all over. I noticed there was a van from Cassville, Missouri. I didn't realize that it was so needed."
Established in 2002, the Kansas Dental Charitable Foundation is bent on improving oral health in the state of Kansas. The free dental clinics are funded through donations and grants, using no state or federal funding. Hundreds of dentists, hygienists, nurses, medical staff and technicians partner to make the annual event possible, and they have provided millions of dollars worth of procedures for those with unmet dental needs.
This will be the second time the project has visited Pittsburg. It was put on here in 2004. The clinic relocates across the state every year, and it drew hundreds of patients Friday. Gina Pinamonti, local clinic coordinator and an orthodontist in Pittsburg, said the project has about 740 volunteers this year and anticipates treating 1,600 patients over the two days on a first-come, first-served basis.
The project's operating budget this year is about $158,000. Patients undergo medical and dental evaluations and identify their priorities before proceeding to one of three departments — fillings, extractions and dental hygiene. The clinic also has a special pediatric zone.
"I've volunteered for this event eight times because dentistry has been wonderful to me," Pinamonti said. "I'm able to provide for my family and it's a career that I love. As dentists, we have a special expertise, and it wouldn't matter how much money we have donated because if the dentist themselves aren't here drilling, filling and pulling teeth, then it wouldn't happen. I feel like it's a great way for us to give back."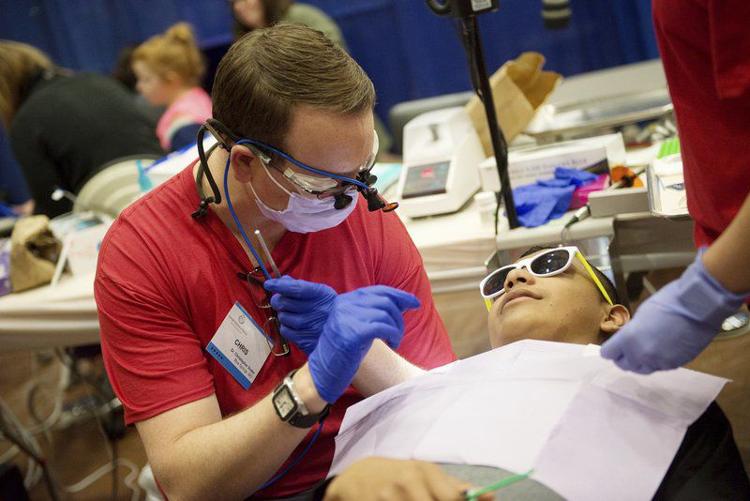 Cavette Dake, of Newton, Kansas, has been giving back in her own way for the past five years by helping coordinate transportation to the event for people in her community. She collects donations for gas money and organizes carpooling rides. Dake said her group brought 26 people with them this year and received $290 in donations.
"I went to the clinic years ago when it was in Hutchinson, and I got a big benefit from it," said Dake. "What makes me feel really happy is to see people who don't have any front teeth walk out of here with a big smile on their face."
Cassiebelle Handlin drove six hours from Dighton, Kansas, with her mom to receive care. They arrived at 2:15 a.m. She said she has a limited income and expressed appreciation for free events like this that give people a chance to live a healthier life.
"I'd rather spend a little bit of gas money than $300 for a filling," Handlin said. "My insurance doesn't have dental, so to get to a dentist is really hard for me. This is really great for people who can't afford it. It seems like the wait is really long, but it's worth it."
Jeff Stasch, a Garden City dentist, co-founded the Kansas Mission of Mercy free dental project in 2003 with Jon Tilton, a former Wichita dentist. The clinic has now provided free dental care to over 135,000 patients from more than 30 states.
"It's rewarding because we took away some people's pain and gave them some hope," said Stasch. "We maybe even gave them a chance at a better job. We've had children see their mother get a denture and see her smile for the first time because she didn't have any teeth. We see people cry. It's tough (work), but it's fun."