Freeman Health System has been recognized for the fourth time since 2010 for its tissue donation efforts that improved multiple lives.
Midwest Transplant Network presented Freeman Health with the Excellence in Tissue Donation Award in a ceremony on Wednesday at Freeman Hospital West.
The award recognizes hospitals that had at least 15 eligible tissue donors with greater than 40% of families granting authorization, a mark that was met by Freeman Hospital West and Freeman Neosho Hospital in 2019.
In 2019, tissue and cornea donors helped better the lives of 8,000 people through Freeman and enabled 22 organ transplants that gave recipients a chance at life, according to Paula Baker, Freeman president and CEO.
"We are very grateful that Midwest Transplant Network is here today to honor the caregivers at Freeman Hospital West and Freeman Neosho Hospital for their support of donor heroes and their families," Baker said during Wednesday's ceremony. "Freeman Health System strongly supports tissue, organ and eye donation, and our caregivers are fully committed to helping families through the grieving process. We are pleased and very, very honored to accept this Excellence in Tissue Donation Award.
"This award, we think, is a testament to a team that includes dedicated and compassionate doctors, nurses, chaplains and many others. Our caregivers go above and beyond to support patients and families, and ensure that their donation needs are met."
To commemorate the Excellence in Tissue Donation Award, Jan Finn, president and CEO of Midwest Transplant Network, presented Freeman Hospital West and Freeman Neosho Hospital with original pieces created by Kansas City artist Leslie Mason, whose whimsical and uplifting artwork celebrates life.
The artwork commissioned by Midwest Transplant Network honors the lives that were lived and the life that has been given through organ, eye and tissue donation. Each art piece is composed of a heart that represents love, a heartbeat wave that represents hope, a red cardinal symbolizing the memories of donors, and a green ribbon symbolizing support for organ, eye and tissue donation.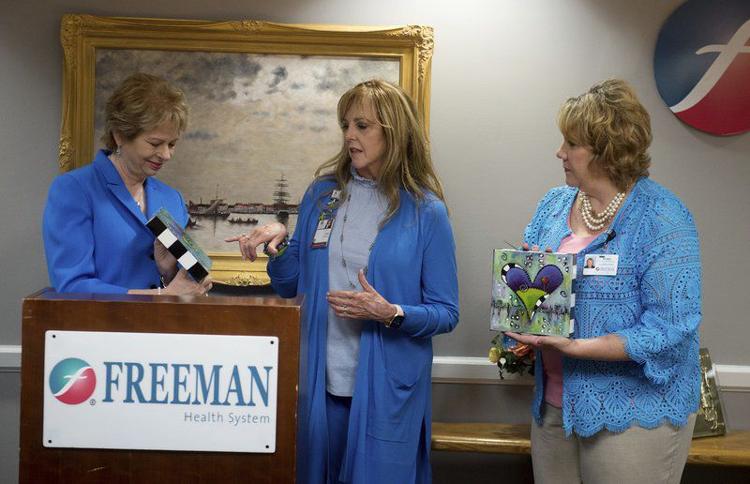 Tissue donations include skin, bone and heart valves and can be used in burn cases to repair ligaments in bone replacements and with other serious medical conditions. Donated tissue can be processed and stored for an extended period of time.
As a donor, one person has the power to directly improve the lives of up to 75 people through tissue donation and save the lives of as many as eight people through organ donation, according to Baker.
"About 2,500 people in Missouri and Kansas are currently waiting for a lifesaving organ transplant. And thousands more are waiting for lifesaving tissue and corneal transplants. That's why it's especially important for all of us to discuss donation with our loved ones and make our final wishes known."
Freeman Hospital West has a display called the Tree of Honor that has the names of individual organ donors inscribed on each leaf. "New leaves are put on the tree each fall to commemorate those who gave that precious gift of life in the previous year, and also an opportunity to honor their families," Baker said.