PITTSBURG, Kan. — Nine raptors housed through Pittsburg State University's Nature Reach program will soon receive some living upgrades to their enclosures thanks to a recent $10,000 grant from the Evergy Foundation.
And no, these aren't the same as the raptors featured in "Jurassic Park."
Raptors are types of birds that capture live prey. The term "raptor" means "to seize or grasp" in Latin. The birds capture their prey and defend themselves with large, sharp talons. Nature Reach, which operates out of PSU's Biology Department, blends education with a variety of live animals in its programs, which have been put on in 30 communities across the region.
The enclosures located at the center southwest of Pittsburg house raptors that are unable to live in the wild for some reason, such as an injury. Instead of being euthanized, the birds are given a second chance at life with Nature Reach. The PSU program treats the animals like celebrities. They are the stars of the show in educational outreach programs put on for children and adults across the region.
The raptors affected by this project are a Harris's hawk, two Eastern screech owls, a barred owl, a barn owl, a great horned owl, two American kestrels and a turkey vulture. Established in 1985, Nature Reach is partially funded by PSU, and depends primarily on donations, program fees and grants to operate.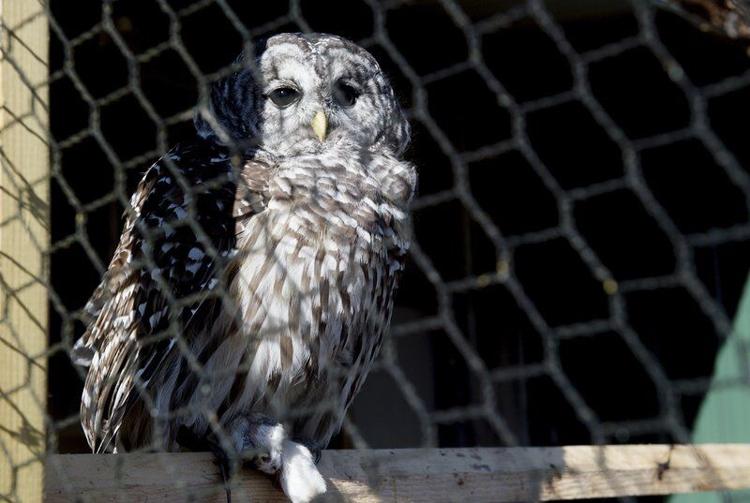 This is the third grant awarded by Evergy to Nature Reach; the two previous grant awards funded outreach programs and a student day camp. Evergy is a utility company based in Topeka and Kansas City, Missouri.
"The grant will upgrade our facilities and expand them to help our raptor ambassadors, which are extremely precious to the program," said Delia Lister, director of Nature Reach. "We want our animal ambassadors to have the best life possible."
Lister started out as a student volunteer for the program while she was an undergraduate to gain more experience. She was originally pursuing an educational career as a high school science teacher but soon realized hands-on instruction is more her forte. She's now been the program director for 15 years.
"I have a dual role — I teach college students in a biology course, and I teach the students who take care of our live animal collection where we have about 50 animals," Lister said. "The other half of my job is going to schools with live animals and doing presentations to get them excited about science and nature. I do summer camps, teacher workshops and get to take students on study abroad trips like Peru and Alaska."
The programs put on by Nature Reach now number about 1,400.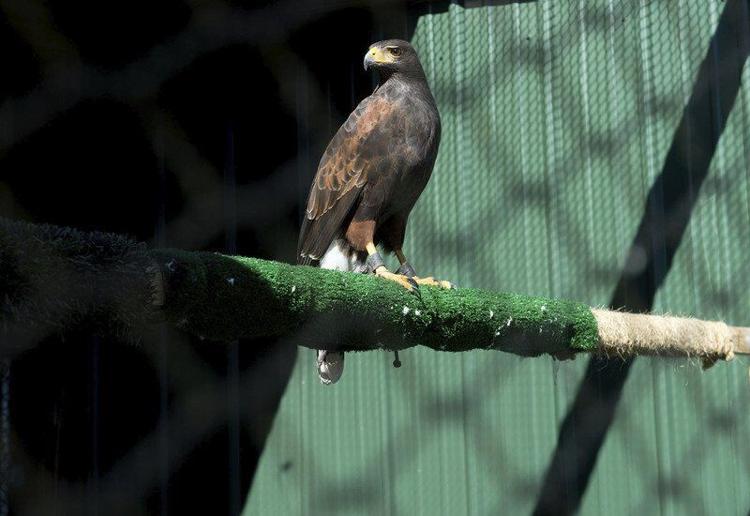 The Evergy grant will go toward a project to repair, upgrade and expand the current enclosures built by the Westar Green Team in 2007 and 2011.
Evergy, formerly Westar Energy, is an electrical energy company that has partnered with Nature Reach for several years, providing grants, labor and materials. Gina Penzig, Evergy's manager of external communications, said the foundation provides funding for community vitality and environmental stewardship projects.
"As an electricity provider, people often think about being dependent on us for their electricity service, but we're also dependent on the communities we serve," Penzig said. "We know that by investing in organizations in our communities that do great things like Nature Reach, we're making our communities stronger and better."
In 2007 and 2011, the energy company's Green Team helped build wraparound raptor enclosures, which are now starting to wear. With this year's grant, the enclosures will undergo needed repairs and add a few more enclosures for additional space for the birds to roam and spread their wings.
"The Green Team has helped Nature Reach with some of the construction," Penzig said. The group is composed of employees, retiree volunteers and occasionally community or family members.
The nylon netting of the enclosures will be replaced with durable vinyl-coated welded wire that is much more protective against predators such as racoons.
"This will bump up all of our raptor ambassadors to bigger enclosures, and this is really important because of the standards set by the U.S. Fish and Wildlife Service are going to change," Lister said. "The last 10 years or so, the field of avian training has exploded with new methods."
Annually, Nature Reach serves approximately 4,000 students in grades K-12, as well as undergraduate level university students, most of whom are majoring in biology at PSU. Lister said it gives college students a competitive advantage when applying for jobs because of the hands-on skills and knowledge they gain by taking care of the animals. They also learn natural history about the animals, wildlife rehabilitation and program regulations.
Maggie Murray, a 21-year-old PSU senior majoring in biology, said she was in grade school when she experienced her first Nature Reach program, and it has stuck with her ever since.
She's been volunteering two years with the program, which she said has been a valuable resource.
"If it weren't for Nature Reach, I wouldn't have a lot of the skills and courage that I have now," Murray said. "We have a turkey vulture named Stinky, and whenever I go into her cage, I feel like I'm preparing for battle, but we've been training her, and she's really been improving.
"I have a lot more confidence now because the birds can pick up on what emotions you're feeling. It also gave me a sense of direction because I know what I want to do when I leave Pitt State."