To some people, last weekend was about making it easier to walk around the North Heights neighborhood in Joplin by restoring and leveling century-old brick sidewalks.
To others, it was about taking steps to improve lives in a historic area of Joplin that might have seen better days.
Both reasons played a role in why a number of people got out to work hard digging up brick sidewalks and working to restore them, leveling out areas where tree roots had emerged and removing the grass and dirt that had covered others.
For Zach Spiering and Neil Robinson, it was about making it easier to walk around the neighborhood and helping make that neighborhood a better place to live and raise children.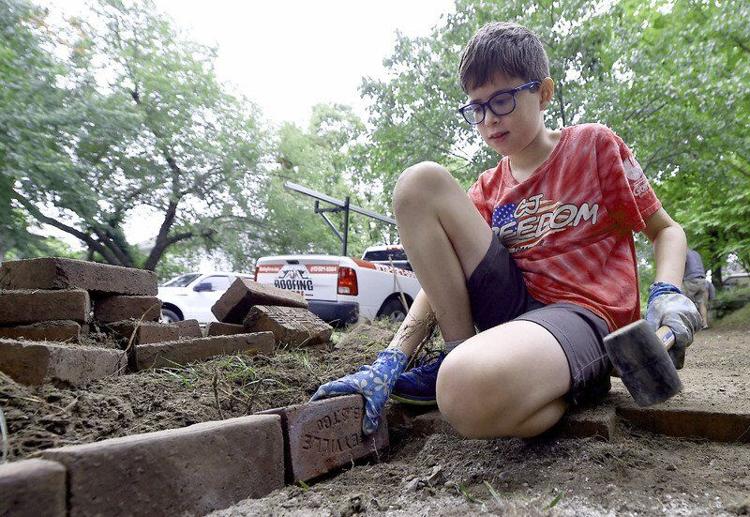 "The brick sidewalks are in horrible condition, mostly unusable, mostly covered in grass, so we're digging them up," Spiering said Saturday as he helped his son, Levi, 12, level out the sidewalk on Pearl Avenue behind the Neighborhood Life House.
"In some places they're good enough to where if we just uncover them, they'll work," he said. "But a lot of it we have to completely dig up the bricks, level the ground underneath, put some paper base down and then replace the bricks, so that's what we've done here."
Restoring sidewalks
Spiering said the North Heights neighborhood group, a not-for-profit group aimed at uniting residents of an eight-square-block area north of downtown and mostly west of Main Street, conducted a survey at the beginning of 2020 and asked residents what their biggest concerns were.
"People said the condition of the sidewalks and lighting were the big things," Spiering said. "With our limited resources and manpower, we thought, 'What can we do to work on that?' This block came to mind because we have the Neighborhood Life House behind us, which is kind of a community center."
Spiering said the group was working in shifts to allow for social distancing in light of the COVID-19 pandemic.
Some people worked Friday. Groups were scheduled to work on different sidewalk sections on Pearl and Wall avenues throughout Saturday, and a final group had volunteered to work on Sunday afternoon.
Spiering said the North Heights neighborhood group and the Neighborhood Life House were working together on the project. He and Robinson both serve on the board of directors of the organization, 516 N. Wall Ave.
Robinson said he saw the sidewalk project as a metaphor for the mission of the Neighborhood Life House.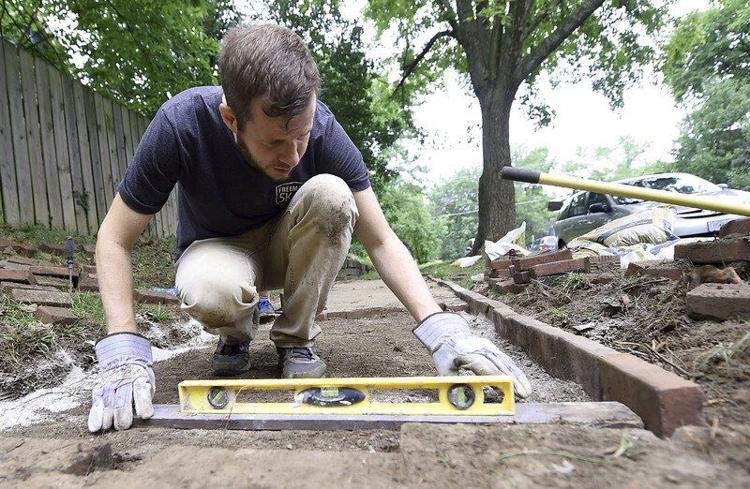 "It's all a restoration thing," Robinson said. "We're restoring lives and we're restoring the neighborhood and trying to put some life back in it. We're restoring this historic building at the same time."
About the building
The Neighborhood Life House building has a history all its own.
The original home was built by the Alonzo Cragin family, one of Joplin's pioneer families, in the 1880s and was the first house in Joplin to have indoor plumbing, Robinson said.
According to a history at neighborhoodlifehouse.org, Cragin was a "prominent lawyer and generous philanthropist who believed in building a stronger community in the city of Joplin."
In 1941, the family sold the home to what was then Ozark Bible College when the college moved from Bentonville, Arkansas, to Joplin.
Ozark Bible College remained there and built a chapel, library and other additions until it finally outgrew that location and moved to its current location on North Main Street in 1963 and became Ozark Christian College in 1985.
Robinson said the home became the North Joplin Christian Church until that church had to stop meeting because of dwindling membership, and the members gave the home to College Heights Christian Church.
"One thing we decided to do was to start a group that would work in the neighborhood and help kind of do what we're doing today, which is restoring lives back," Robinson said. "There are a lot of messy lives in this part of Joplin and throughout, and a lot of kids who need help, so part of Neighborhood Life House was to put life back in those people and to give them some hope."
Robinson said the Neighborhood Life House is a free-standing nonprofit that works with the assistance of several churches in the area to provide programs for children and adults in the North Heights neighborhood.
Spiering and Robinson said they hoped Saturday's work day would be another step toward improving the already-friendly neighborhood.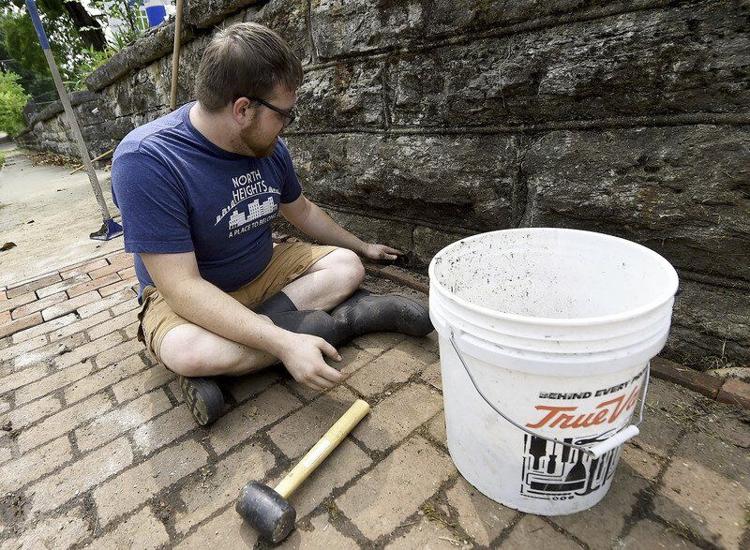 "It's a great place. We're all kind of close together with the way the lots are set up; they're very narrow and long," Spiering said. "But people tend to be pretty friendly. You can go out and take a walk and you may not know everyone, but they'll still say hi. That makes this a nice place."
Robinson said the sidewalk project is about making Joplin better by improving one small neighborhood.
"We're trying to make this to where it's a better place to live. It looks better, (and) it's a place where people want to raise their families," Robinson said. "Joplin's a good town for that."