WEBB CITY, Mo. — With the day warming up in a hurry, four military veterans representing three U.S. military branches squared their shoulders and began "rucking" their way south along the Frisco Greenway Trail.
Ted Donaldson led the way. Closely following him were Matt Hay and Enrique Medina. Pausing to wrap a red, white and blue bandanna around his forehead, Steven Roberts brought up the rear. On each of their backs rode heavy military ruck packs.
For Roberts, a U.S. Army veteran who was deployed in 2003 to Iraq for 18 months, he said the pack didn't feel all that bad as he began the trek from the Crowder College-Webb City parking lot to Joplin's Zora Street. But later? "It does get a little heavy," he admitted with a grin.
For Hay, the weight of the 40-pound ruck had become a familiar extension of his body when, as a U.S. Marine, he fought during the second battle of Fallujah, Iraq, in late 2004, the heaviest urban combat U.S. military forces had seen since the Battle of Hue City 36 years earlier in Vietnam.
Next to Hay, Medina, a U.S. Army veteran, was balancing 50 pounds on his back and shoulders, his pack weighed down with body armor and weights.
"I think (Medina) has one of his kids in there," Roberts had earlier joked, generating laughter from the other men.
Donaldson, a 32-plus-year U.S. Air Force veteran with 1,200 hours of flying time under his belt, was hauling 30 pounds, he said, including a lot of water, Advil and, most importantly, a flag from his father, Bill Donaldson, who had fought in the Korean War.
In the 90-degree heat, Monday's hike was the last of several scheduled practice runs. On Saturday, the four vets and dozens of their peers will participate in the sixth annual Ruck March, an endurance event that covers 22 kilometers, or nearly 14 miles. Why 22? That's close to the number of veterans that government statistics say commit suicide each day in the U.S.
Donaldson's nonprofit organization, Compass Quest Veterans Advocacy Group, was established in 2014 to help reverse the numbers at the local level. Nine percent of the combined population of Jasper and Newton counties consists of military veterans, he said.
Donaldson, Hay, Medina, Roberts and the other vets who will participate in Saturday's march have all seen combat. "But now we choose to fight a different fight," Donaldson said, "and that's to help our fellow veterans."
They're able to do this, he said, by getting veterans connected to the community, "which helps bring them out of their shells, brings them out of their isolation."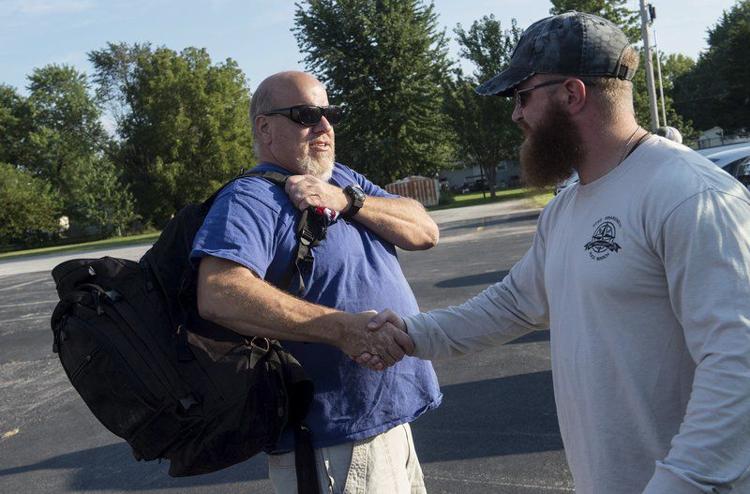 Rising suicide rates
Military veterans kill themselves more often than civilians, according to a 2016 report from the Department of Veterans Affairs. And the rate of veteran suicides is on the rise.
"Right now, in the United States, each one of the military services is suffering a higher suicide rate than they ever have," Donaldson said. "You would think that it would be getting better, because of all the attention focused on it, but it's not."
Over the last 16 years, Donaldson said, an estimated 125,000 to 145,000 military veterans and serving military have died of suicide. That's more than the combined death totals from the Korean War (33,686), the Vietnam War (53,318) and the current war on terror (7,008).
As a nation, "we don't have the same level of attention focused on that issue," said Donaldson, who served in Operation Enduring Freedom in Iraq. "We are not helping each other understand that more needs to be done."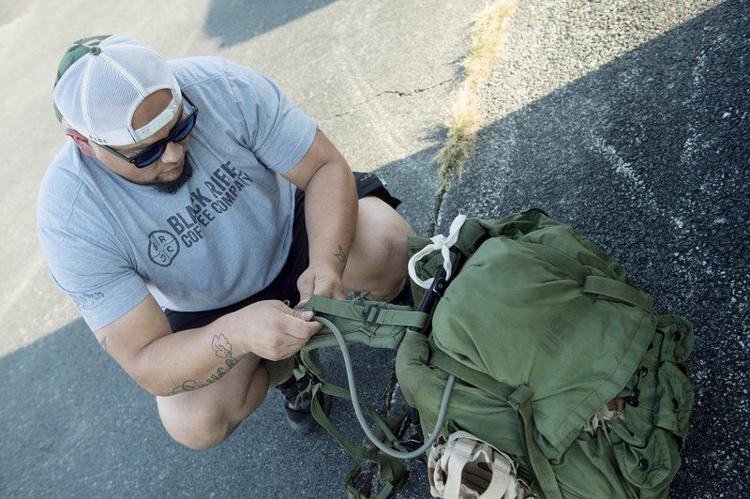 Remembering 9/11
This year's ruck march will honor a specific group of people — the military, civilians and first responders who have been lost since the global war on terror was launched after the Sept. 11, 2001, terrorist attacks.
"When we decided to rework this and make it around 9/11, it was a very personal thing for us," Donaldson said. "A lot of the vets out here doing the rucks with us are post-9/11 vets. And they feel that connection too. And that's why we do what we do — to provide opportunities for esprit de corps — creating new friends, peers and people (veterans) can lean on and reach out to."
Called "Let's Roll '19" — a callback to the words spoken by Todd Beamer on United Airlines Flight 93 right before he and the other passengers attacked the hijackers— the ruck march will begin at 10 a.m. Registration, which is free and open to all who can handle the hike's physical stresses, is set to begin at 9 a.m.
"It was 9/11 that actually caused me to want to join" the military, Hay said during Monday's practice hike. He was a high school student when the two planes struck the twin towers.
Saturday's hike will begin and end at the old Redings Mill Bridge on Shoal Creek, with between 50 and 60 veterans participating. They will wind their way along the trails that follow the river and through south Joplin, making stops at Mercy Park off 26th Street and the new VA clinic on Connecticut Avenue.
"This is a very demanding (hike), because everybody gets to choose what they wear, how much weight they want to carry in their backpacks or rucks," Donaldson said. "Some of them will be carrying 50 to 60 pounds through the rough."
A few will be decked out in full combat gear and helmets, he added, and many will be holding flags. Nearly all of them will be honoring the memory of a loved one or someone they served with in the military.
"It's a very patriotic thing," Donaldson said.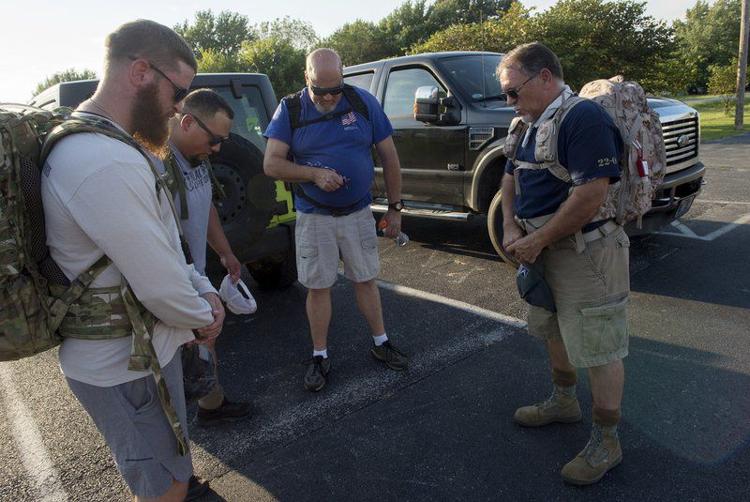 Nobody left behind
A ceremony following the ruck march — between 4 and 4:30 p.m. — will focus special attention and gratitude on those who have died since the Sept. 11 attacks, and will include an honor guard, a 21-gun salute and the playing of taps.
"We have been at war for 18 years," Donaldson said. "We were in Vietnam for 10 years, and we have a memorial. But we are still in this post-9/11 era, and we haven't figured out, as a nation, how to come together annually and … recognize the sacrifices that have been made post 9/11.
"We know that roughly 3,000 people died on Sept. 11," he continued. "But we also know that since then, over 7,000 have died defending this country, nearly 50,000 have been wounded in the global war on terror and 144,000 have died committing suicide.
"People don't have to support the wars, but our country must support those who have died or been wounded defending our nation. We also need to help those who have invisible wounds."