CARL JUNCTION, Mo. — Soon after Springfield's pit bull ban was overturned by voters, some area animal advocates launched a movement of their own to repeal breed-specific legislation in several other Southwest Missouri communities.
Kelly Johnson, of Airport Drive, a volunteer with the Joplin Humane Society, said a dog's breed doesn't predict its behavior, and she believes there is evidence that breed-specific legislation is not effective at preventing dog bites and attacks.
"Any dog can bite," Johnson said. "Nobody wants vicious dogs. The law needs to be fair — address vicious, aggressive dogs and not single out a breed of dogs. It's very unfair. I just want to give these dogs the most fair chance they could have at a good life."
Breed-specific legislation targets certain breeds of animals, often pit bulls and pit bull mixes, and more than 60 cities in Missouri have breed-specific ordinances, according to the website DogsBite.org.
Webb City and Carthage both have ordinances banning pit bulls and pit bull mixes within city limits, while Carl Junction's also includes Rottweilers. Violations for breaking these laws range anywhere from a $50 to a $500 fine, as well as removal of the dog from the city.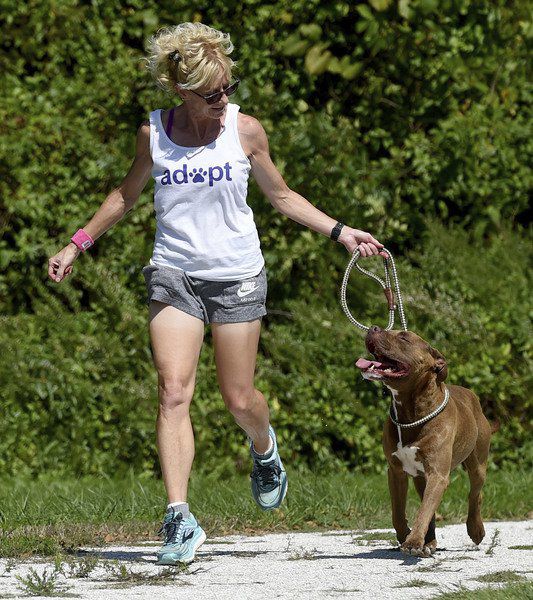 Others cities, such as Joplin, have ordinances aimed at dangerous or vicious dogs, but they do not target specific breeds.
The move to overturn breed-specific restrictions follows a vote on Aug. 7 in Springfield, in which 68 percent of residents supported overturning a ban that grandfathered in existing pit bulls, but would have prohibited additional ones.
Following an attack last year, the Springfield City Council enacted its ordinance, with advocates saying it would improve public safety. The new law was scheduled to go into effect in January, but several thousand residents signed petitions suspending the ordinance until the vote. (The city's pit bull registration ordinance passed in 2006 requiring owners of pit bulls and pit bull mixes to certain requirements remains in place.)
Lysa Boston, manager of the Joplin Humane Society's shelter, said breed-specific legislation hinders their ability to find homes for pit bulls as the breed has grown in popularity. She said last week there were 51 pit bulls or mixes at the shelter.
"We always have a lot of them and definitely the breed restrictions we have in Carl Junction, Webb City and Carthage make it more difficult because we have families come in who want to adopt, and they can't," Boston said. "It's terrible."
Jeni Driskill, Carl Junction, visited the Humane Society's shelters, where she grew attached to a pit bull mix that had been at the shelter for 140 days, but because of the city ordinance, she couldn't even foster the dog.
"We can't put a label on a particular breed being violent or having certain tendencies," Driskill said. "Pit bulls get a bad rap because of everything that's happened in the media about their fighting, and that's not really what they are. That's what those people were making them do."
Boston believes that fear plays a large role in breed-specific legislation and said it's easier to ban an entire breed than to address the real problem — owners who let or encourage their dogs to behave viciously.
"Something will happen and then everybody will get up in arms," Boston said. "Instead of being logical about it, they'll take the easiest step and just ban them. It's always people's first reaction— don't allow them. Most of the problems happen because the ordinances they already have are not being enforced."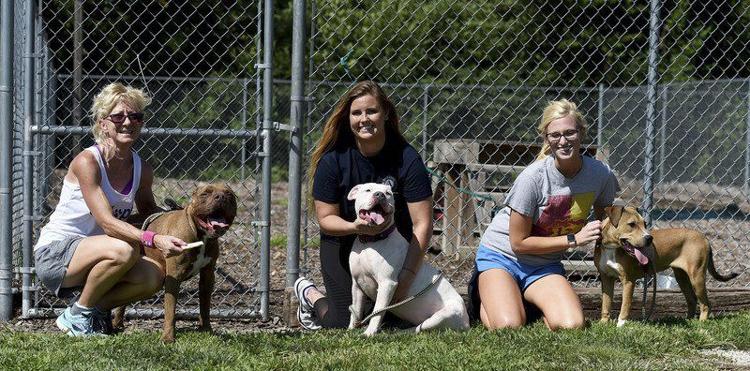 Supporters of breed-specific legislation argue that ordinances are effective at preventing attacks and injuries.
In 2007, Colleen Lynn was jogging in her hometown of Seattle when she passed a leashed pit bull with its owner, who moved to the side to let her pass. The dog lunged at her chest, knocked her to the sidewalk and bit the arm she used to protect herself. She sustained puncture wounds and a fractured ulna that required surgery.
Four months later, Lynn founded the nonprofit website dogsbite.org to educate people about what she said are dangerous dog breeds. The site has now grown into a platform for victims to share their stories and to track breed-specific legislation as well as dog-bite fatalities around the country.
"The heart of a ban is to greatly reduce the population (of the breeds) to lower incidents," Lynn said. "The ban is just stricter, to stop breeding those dogs. That is what ultimately lowers attacks. There's always going to be some because there's always going to be a population of pit bulls out there, whether it's 1 percent or 7 percent. It's certainly going to be safer at 1 percent than it is at 7 percent."
Her organization cites a study indicating that dogs killed 433 Americans from 2005 to 2017, and nearly 66 percent of those fatalities were caused by pit bulls and more than 10 percent were caused by Rottweilers.
The website also references what it says are "10 peer-reviewed dog bite studies published in medical science journals since 2009 that show a higher frequency of pit bull injuries than all other breeds of dogs in retrospective reviews of level I trauma centers.
"Pit bull bites were implicated in half of all surgeries performed and (are) over 2.5 times as likely to bite in multiple anatomic locations as compared to other breeds," according to the report.
"It's reasonable for local governments to place restrictions on a class of dogs that statistically cause more harm to humans, especially children, when they attack," Lynn said in an email to The Globe. "There are jurisdictions in 50 different countries worldwide that regulate pit bulls. In 39 of those countries, the regulation is a national level law."
While there is a push to remove breed-specific ordinances in Southwest Missouri, Lynn said she believes pit bull ordinances should be enacted at the state level in all 50 states.
She also cited data indicating there's a 17 to 20 percent rate that pit bull owners will spay/neuter their animals, compared with 70 percent for other dog owners. Besides helping with population control, neutering also can reduce aggressive behavior.
"I'd really like to see the entire population numbers down," Lynn said. "There really is no defense to not having this discussion because they're overflowing shelters, and we all agree there are a bunch of irresponsible owners who are never going to spay/neuter on their own."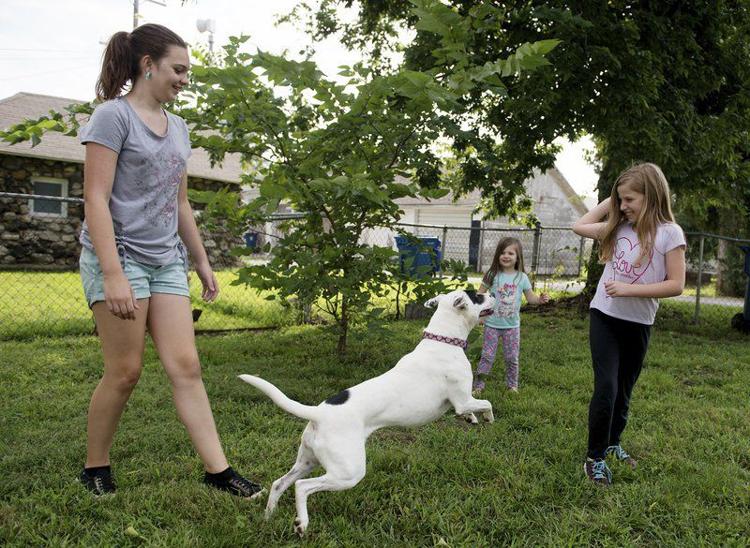 'Voices for the animals'
Driskill, Boston and other animal advocates appeared before the Carl Junction Board of Alderman at a meeting last week to raise awareness of the issue.
"It's an opportunity for us to be voices for the animals who can't speak up for themselves," Driskill said.
They also pointed to Joplin's ordinance and argued it's a better approach.
Rob Moskalaski, who has worked in animal control for the city of Joplin for about three years, told the Globe that he hasn't seen any problems with pit bulls under Joplin's dangerous dog ordinance.
"Most dogs I get bit by are the chihuahuas," he said. "To me, the pits aren't any problem at all. I think the pits have a bad rap. They're no different than any other dog."
At the meeting, Johnson mentioned that the Joplin Humane Society quarantines dog bite cases for a number of different municipalities and pit bulls or pit bull mixes are not at the top of the list.
Toward the end of the meeting, board members briefly discussed the ordinance but no action was taken. Carl Junction Alderman Randy Hutcheson said the pit bulls he had visited at the Joplin Humane Society were nice, but he doesn't feel the council can do anything to lessen the safety of the community.
"I feel like the council didn't really seriously consider what we were asking and that they just want us to go away," Johnson said afterward.
Delmar Haase, Carl Junction police chief, said Thursday that he has discussed the current breed-specific legislation with the city's animal control officer, and they're not recommending any changes to the ordinance.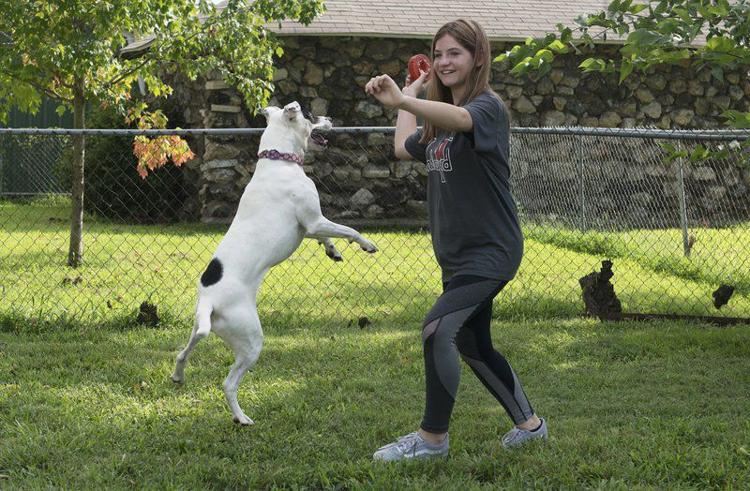 Webb City
Webb City's pit bull ordinance was implemented in 2011 shortly after pit bull attacks, according to former mayor John Biggs. The problems were addressed during a City Council meeting when members ended in a split decision on a pit bull ban, leaving Biggs to cast the tie-breaking vote.
"The jaw strength of a pit bull is way beyond other animals," Biggs said, when asked about his vote. He added that he doesn't believe pit bulls are meaner than other dogs, but when they do attack, it can cause severe damage.
"That's part of the problem," he said. "They're really strong animals. That's what caused me to vote the way I did. After that point, there weren't a lot of incidents reported … I really don't think it's fair to ban an animal, but sometimes, it's for the better good."
Johnson agrees that pit bulls are strong dogs, but said that is not the same as being vicious.
Rachel Naff, of Joplin, owns a pit bull and also has owned an American bulldog-Labrador mix in the past that she said was more aggressive than her pit bull.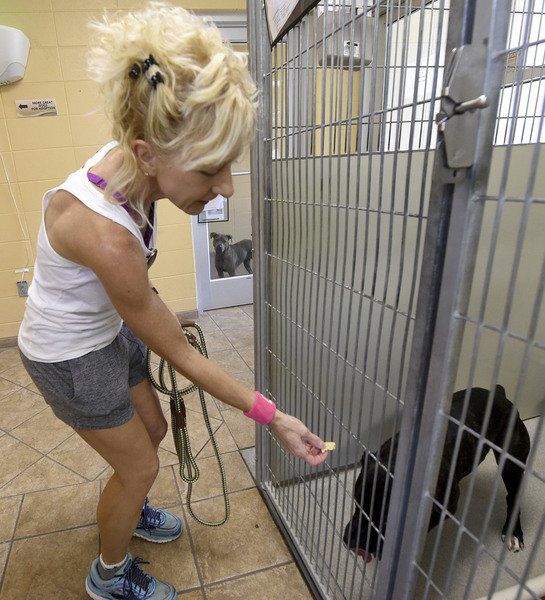 "I've had many dogs before, so this wasn't something like, 'I don't know what happened.' His mom was very aggressive, as well," said Naff. "I did my best to train him and do what I felt like would help maybe lower those tendencies, but there were things that ticked him off, and there was nothing I could do about it."
She had owned him for more than a year but ultimately gave the bulldog-Labrador mix to the Humane Society because of the dog's aggressive behavior. Naff said she loved him and it was difficult to part with him, but she had to do what was best for her children.
Then she said she found Milla, the pit bull, who had been severely neglected and possibly abused. Naff said she came into the shelter with an embedded collar and was in terrible shape. Now, Naff said, Milla is happier than ever where she resides with Naff's four children, who range in age from 4 to 13.
"From moment one, she loved kids," Naff said. "She's never even so much as growled at them. She'll run up to the fence so the kids can reach through and pet her. She's fantastic.
"I understand where people come from on the need to be cautious because I've owned an aggressive dog before. I don't necessarily believe it's something that's taught. I believe dogs are individuals just as much as people are."