GALENA, Kan. — A historic, one-of-a-kind presidential railroad car on old Route 66 that was built in August 1899 and destined for restoration as a tourist attraction was destroyed in a suspected arson earlier this week.
The Texas South-Eastern Railroad Business Car 100 was constructed for the Kansas City, Pittsburg and Gulf Railroad, part of the Kansas City Southern Railroad system, according to records. The railway car is located on old Route 66 near the Galena viaduct and former EaglePicher smelting plant. The car was outfitted with hand-laid mosaic tile, a kitchen, a bathroom, a dining room, a library and a parlor.
Galena fire Chief Steve Hall said firefighters were dispatched shortly before 6 a.m. Tuesday to the railway car, one-third of which was already engulfed in flames when they arrived.
"It's being investigated by the fire marshal now," he said. "All indications are that it could have possibly been set (on purpose) because there was no power going to it. There wasn't any weather going on, so it's of suspicious origin right now. Hopefully, the fire marshal will have the investigation done in the next week or so."
The 120-year-old railway car was deemed a total loss. Hall said flames were breaking through the windows when they arrived and that the doors were bolted shut.
"It's sad because it's going to have to be scrapped right now," Hall said. "It was a tough fire since the outside of it is metal, and it had metal on the inside. It was like a heat box. We were out there for a total of about five hours. This was different. It wasn't like fighting a normal structure fire. It was new to us because you just don't get these types of calls very often."
The railway car, which was used as an office and business car by top railroad management, was the first presidential railway car to cross the Kansas City Southern lines, according to former Galena Mayor Dale Oglesby, who acquired the car from Union Station in Kansas City three years ago.
"Most railroads have a rail car called the 'presidential car' that the president of the railroad can ride on, and then they offer it to visiting dignitaries like the president of the United States," Oglesby said. "This was the first one to ride up and down KCS.
"The car weighs 250,000 pounds and took three to four cranes to move it," he added. "We were making plans to set the car on the tracks, and then this happens. We were pretty stoked about it, and we had people wanting to help restore it. It was something that was going to be a real asset to Route 66 and community tourism because there's not another one quite like it."
About the railway car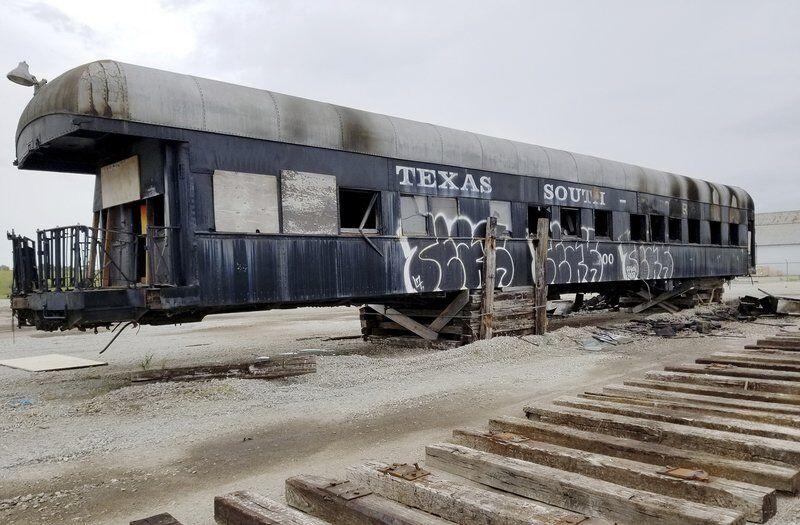 Oglesby and a friend invested thousands of dollars in the railroad car, planning to restore it into a hotel/motel for travelers and add it as a Route 66 tourist attraction. After walking through it Wednesday morning, he told the Globe that it's doubtful that the car can be saved without a total gut and start from scratch. The owners had invested more than $35,000 in the car to transport it and unload it from Kansas City to Galena.
"It's not my loss. It's not my friend's loss. It's a loss to Route 66 and tourism," he said.
Oglesby said he had sealed the doors and intentionally made the car hard to get into because he didn't want it to be vandalized.
"It's just heartbreaking," he said. "A lot of money has been spent in getting that car ready to go, but it's more about the loss of the piece of history. It's not about the financial setback. It was such a historic piece that was irreplaceable, and that's the tragedy of it."
The car had been rebuilt at least three times — in 1916, 1930 and 1948. It also wore a variety of identification markings, including Car 200, Car 100, Car Geraldyne, Car 102 and Car 99. It was transferred to Union Station in Kansas City in 2007, according to documentation by the Texas South-Eastern Railroad Co.
There are four other railway cars located nearby. Oglesby said the goal is to restore those, possibly into lodging accommodations for Route 66 travelers.