NEOSHO, Mo. ⁠— The estate of Ben Markley Jr., whose family played an integral role in shaping the coal mining industry in the region, is up for sale in an auction that features an abundance of items such as historic bells, coffee mills and steam engines.
Professional auctioneers Bob Lasswell & Associates are hosting the Memorial Day sale at 10 a.m. Monday at the Newton County Fairgrounds, 700 Field Ave. in Neosho.
Buyers will be able to find anything from clocks to a working cast-iron cannon circa the Civil War era. A preview will be held at 1 p.m. Sunday for the public. Items will be sold both indoors and outdoors.
Dan Markley, 63, the youngest son of Ben Markley Jr., told the Globe that the auction is a unique opportunity because not even museums have near the same quantity of historic items such as bells and vintage coffee grinders.
"There are things there that people will never be able to see in that magnitude," he said. "They will probably never go to an auction like this again. ... This was his personal collection that he kept. These are what you call primitives, so people want the patina, the old age on it because they want you to know it's not a replica."
Bob Lasswell, auctioneer, said he's been in the business for 44 years, and the only auction he's worked that's comparable to this one was the Ben Milgrim Pawnshop in 2011.
"You just don't find it in this volume," he said. "We're about 10 truckloads down, and we believe there's two more. It will be a big, long day. We'll have two auctioneers selling all day long."
Ben Markley Jr., who died in 2019 at age 95, had an affinity for collecting. Dan Markley said his father passed down his love for antiques through the family.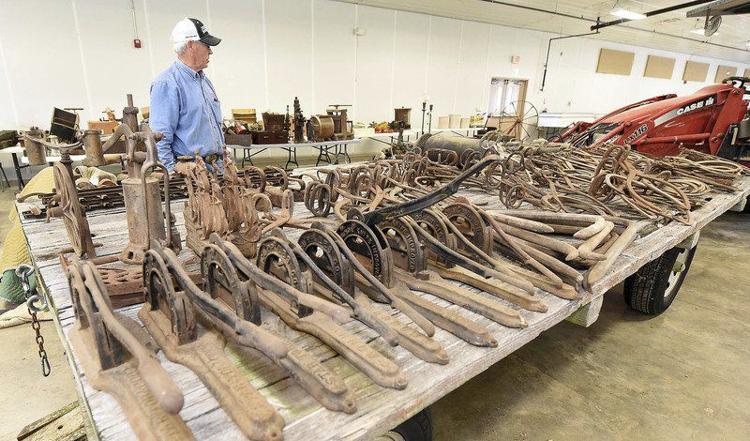 The Markley family name may ring a bell because its members were the innovators behind the historic shovel that bears the same name in Cherokee County, Kanas. Coal mine operator Perry Markley, as well as his father, Samuel and older brother, Ben Markley Sr. assembled the shovel from junkyard parts in the late 1920s. The shovel was discovered in 2018 covered by a thicket of brush and brambles on a county farm and is now located at Big Brutus Visitors Center, a nonprofit museum located at 6509 Northwest 60th St. at West Mineral.
"Ben Markley Sr. was involved in collecting all of the things that's going to be at the sale," said Dan Markley. "He had a junkyard (in Joplin), and he basically sold out right after the Depression, I think it was in 1937. His dad sold out the business when he was 6 or 7 years old. After he went out of business, he started collecting."
Dan Markley said he grew up playing in his grandfather's junkyard and can remember climbing up on large tractors with his cousins. The property, located at 1102 Rex Ave. in Joplin, was sold but never redeveloped.
"We would put corn in the coffee grinders and make corn meal," said Dan Markley. "Us cousins would just go out there and play with everything. My favorite thing to play on were the steam engine tractors because you could climb all over them like a jungle gym."
There are more than 40 school and church bells, lanterns, train sets, license plates from the 1930s to 1950s, garden plows, tobacco cutters and a Hunder cast-iron cannon. Dan Markley said he and his brother fired off the small cannon once and that it packs quite a punch.
"I don't know where he got the cannon, but he would shoot it off every Fourth of July when they had the big firework display," he said. "We would lay out on these big blankets and watch the fireworks. It's a real cannon, and it was called a scatter cannon where they would put shrapnel in there and would fire it. We cannot find any history on it. My dad said it was a saddle cannon where they would haul it on the back of a mule during the Civil War."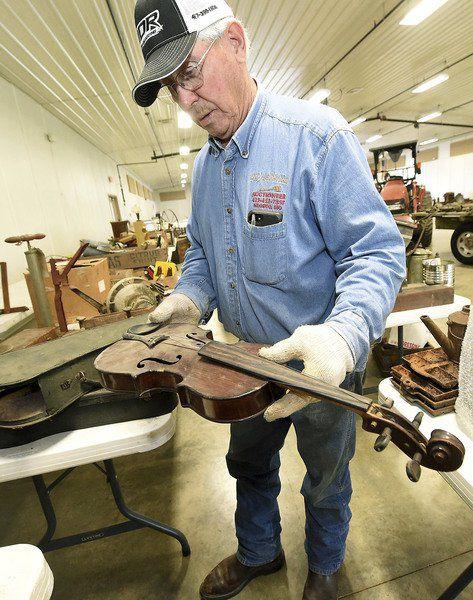 Lasswell said his business has been open in the wake of the pandemic closing for about two weeks now. The public is asked to keep at least 6 feet apart and bring gloves, masks and sanitizer.
"I checked with the county before I proceeded because I don't want to get shut down," said Lasswell. "There's too much work, and this building has to be vacated. Dan and I had the discussion about the possibility of postponing it until Labor Day. I didn't want to move it to August."