With donated money now in pocket, renovation work will begin next week on a handful of outdoor play yards and nearby dog trail located behind the Joplin Humane Society shelter.
Organization officials last week accepted a $15,000 check from Active Lifestyle Events, the nonprofit in charge of the annual Joplin Memorial Run. Earlier this year, the shelter was named the official charity of the 2019 race, mostly because of what the shelter's employees and volunteers did in the aftermath of the May 22, 2011, storm, taking in 1,300-plus animals from areas affected by the storm — brought to the shelter on stretchers, in people's arms and even on doors torn off and tossed by the tornado — and caring for them with a 24-hour triage unit.
More than 700 were eventually adopted out or reunited with their families — including a goldfish still inside its bowl.
"I'm pretty proud of the things we did," said Connie Andrews, executive director, looking back on that May. "We did make a huge impact during and after the tornado.
"There were people coming out here in cars — some that didn't have doors on them," she continued. "They were coming out here because the only thing they had left was their dog. They wanted their pet back. They wanted their animal back home with them."
Fittingly, money raised during a marathon promoting healthy lifestyles among humans will continue to help promote the health of the shelter's dogs once the renovation work is completed.
"Runners are a very giving people as a general rule, and when they really believe in a cause, they will support it," Audie Dennis, president of Active Lifestyle Events, said earlier this year. "And we've seen that over and over."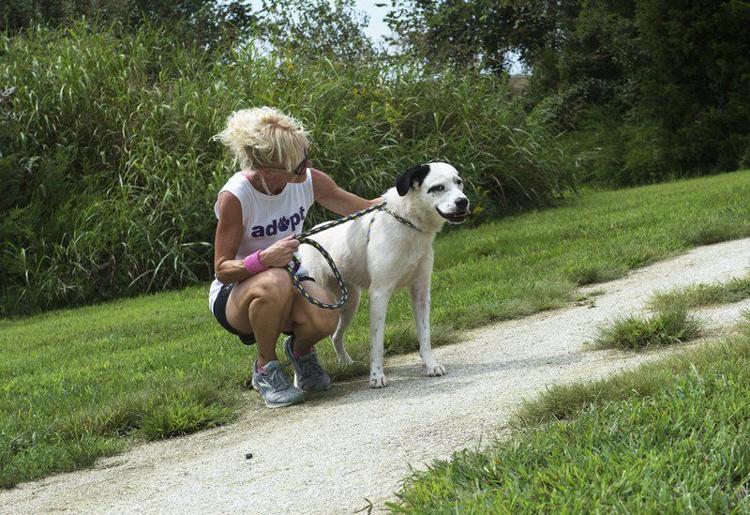 Play yards
Work by the Joplin-based Elite Earthworks will soon begin on the four existing play yards, Andrews said. These four fenced areas are used each day by the shelter dogs, weather permitting. And that's ultimately the problem, she said, and why the play yards will receive top priority. Rain often turns the mulch-covered floors of the play areas into mudholes, making it impossible for the dogs to exercise.
"So we're going to basically start fresh, pull everything out of the play yards, put down a gravel base (and a new drainage ditch) to get the water moving out of the play yards instead of sitting in there," Andrews said.
Because three of the four play yards are so large, Andrews plans to divide them right down the middle, ultimately ending up with seven play yards. This allows just that many more dogs to receive their daily 30 minutes outdoors, she said.
For the large dogs, "being locked in a kennel 24 hours a day can cause a lot of stress on those animals — we call it kennel stress. Having (mud-free) play yards allows us to get the dogs out there, allows them smell the grass, feel the sunshine and to run — oh my gosh, they love to run back and forth, up and down the fence line. That's huge."
Allowing the big dogs an opportunity to run free outdoors also makes them more presentable to potential forever families, Andrews said.
"When they come back into the shelter, they're not barking and jumping because they've had a nice time outside," she said.
It makes them "much more adoptable," she said.
Andrews hopes work to the play areas can be completed in about three weeks: "We want to start using them right away."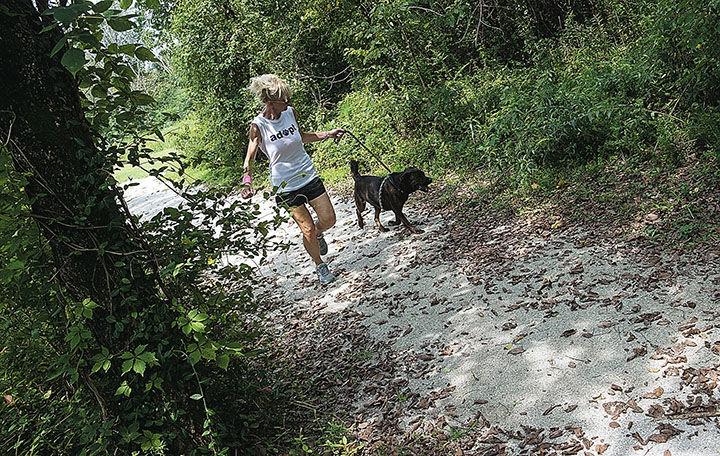 Dog trail
Renovation work will then switch to the quarter-mile dog trail, which snakes through a wooded area behind the shelter, located at 140 Emperor Road.
"It needs work," Andrews said. "It was built a few years ago and there are some low-lying areas that need dirt, some new trenches (dug) and drainage areas put in," along with the paths widened and possibly split to create new directions for dogs to be walked.
The trail is home to one of the shelter's most popular volunteer programs, which allows volunteers to walk dogs showing signs of stress.
Kelly Johnson, one of the shelter's most active volunteers, runs alongside dogs on the trail at least 20 hours each week. Monday afternoon, she was giving some attention to Eli, a large dog with just one eye.
It is hard to believe, she said, how a beautiful and happy dog such as Eli has not been adopted.
"The happy endings are what keeps you going," Johnson said.
A dog's behavior inside its paddock and how that dog acts once outside along the trail is literally night and day, she said.
"They act so grateful" when she walks them, she added. "I feel like whatever little bit I can do to help them get through the day" is worth the effort.
Andrews wants the work on the trail — and if funds allow, the installation of a dog washing station — to be completed before Oct. 26, which is the date of the shelter's annual fall festival.