Paintings that line the walls of Cox Hall at the Joplin History and Mineral Museum depict ore mines, locomotives and vanishing landscapes as well as other scenes.
But they also represent memories and pieces of the life of Joplin artist Jim Bray as well as some of his travels since he launched his art career in 1957. In fact, some are painted from memory.
The former director of art and graphic design at the former Phillips University in Enid, Oklahoma, and the retired director of the art department at Missouri Southern State University, Bray also is an artist whose works have achieved widespread appeal. His paintings have been displayed or acquired for private collections in Joplin and Nashville, and in overseas in Scandinavia and Japan.
Examples of his art make up the "Mining Memories and Motive Machines" exhibit currently on display at the museum at 504 Schifferdecker Ave. in Schifferdecker Park. The display will culminate with a "sip and stroll" along with a chance to meet the artist from 3 to 5 p.m. Saturday, March 2.
Among the works in the display are two size versions of a Santa Fe engine that used to journey through his hometown of Enid. Bray says it's a theme he has developed.
"I call it 'King of the Road,' but it's really a painting about an experience that I haven't found a title for," he said.
As a boy, he threw newspapers and he would ride his bike to the railroad yard. "And if the engineer was there, I'd spot his train engine, and he'd honk," he said, making that deep horn sound. "That meant he wanted a newspaper, and I got to go right up here," Bray said, pointing up the tall engine to the door and hand him a newspaper.
"And I loved doing that," he said, laughing.
Bray paints the engine from memory as he does a number of his paintings, such as some Colorado scenes.
He did his graduate thesis paintings, 25 watercolors, of scenes in the same Colorado valley where he and another instructor taught science camps.
He calls the series "Confessions of a Watercolor Painter" because, he said, "I had a hard time painting out there at that altitude." It was so tough, he titled a painting that he did while perched on a mountainside overlooking an abandoned mine "Vertigo."
He painted mine scenes in Colorado and from the Joplin area, using photographs supplied by the museum. His display includes paintings of the Webb City and Oronogo mines, and Duenweg landscapes.
His vanishing places paintings are depictions of deteriorating farmhouses and other buildings left to the elements that could tell the stories of those who built the farms and ranches after vying for property in the Oklahoma land rush. Bray's love of the old places is inspired both from the visual interest of deteriorating buildings and his memories of growing up on the red dirt of his grandparents' farm in the Sooner State.
Bray's first job was as an artist at Hallmark Cards, after he graduated from Phillips University at Enid.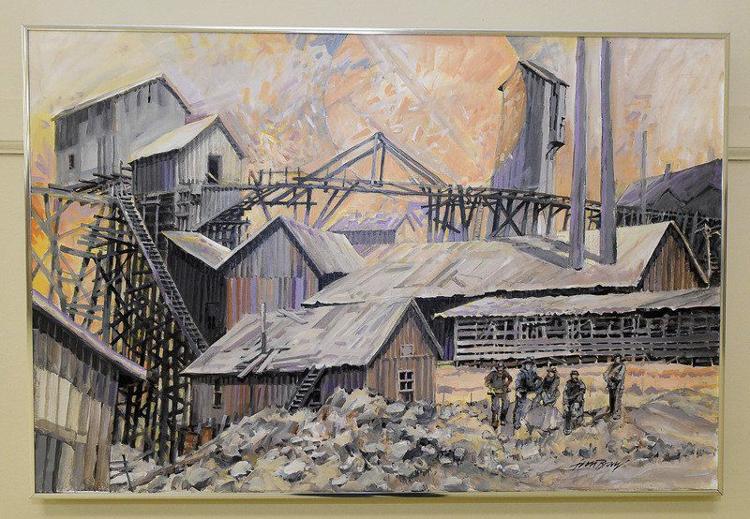 He had worked there about nine years when Phillips asked him to help set up a graphic design program for the university. He took a year's leave of absence from Hallmark to do so.
"I went to Phillips at Enid, Oklahoma, and stayed 28 years," he said.
"I was a little intimidated by the thought of teaching, but I stayed at Phillips," he said. Phillips was a privately funded institution that went bankrupt in the 1990s. Its campus was purchased by Northern Oklahoma College and is operated as the Enid campus of that college.
While at Phillips, he spent summers teaching painting in Scandinavia, particularly Sweden.
"The interesting thing about being over there was I painted differently," Bray said. "I was doing watercolor classes for the Swedish students because they are used to doing small (paintings) and I was trying to get them to do big, loose, kind of sloppy paintings. They were a lot of fun and a big help to me in a lot of ways. Looking back, the work I did over there was just different. Part of it was the landscape, and I enjoy being a landscape painter. It was like Walt Disney was making a movie there every day. It was just a beautiful, beautiful place."
After he left Phillips, he got an offer to work at Missouri Southern State University, where he taught and was the department administrator for 10 years until his retirement in 2004.
Though he misses working with the students since his retirement, he says he is inspired by his artist wife, Diana Bray, and opportunities to show his work.
"I just got involved in painting (in retirement). I thought this will be the direction to go," he said. "And my wife is a painter, and she is very, very helpful and very supportive. And she is a little more creative than I am. It's just a nice blend."