A grassroots health care organization held several rallies Tuesday throughout Missouri in an effort to urge Gov. Mike Parson to take action against the declining Medicaid eligibility numbers that have affected over 90,000 children and adults.
More than 119,000 individuals, including over 94,000 children, have lost Medicaid coverage in Missouri since January 2018, according to online public data from the MO HealthNet program under the Missouri Department of Social Services. MO HealthNet offers health care coverage for eligible residents in the state.
Missouri Health Care for All, a nonpartisan statewide organization whose members believe all Missourians deserve access to quality, affordable health care, led rallies in Joplin, St. Louis, Kansas City, Springfield, West Plains and Arnold. Joplin's rally was held at Seventh Street and Range Line, where a group of 10 to 15 people sported signs stating "Stop the #ParsonPurge" and "Kids Health Matters."
Residents in Missouri seem to be leaving Medicaid at rates higher than the national average, according to state enrollment data, said K.J. McDonald, Southwest Missouri organizer with Missouri Health Care for All.
"We're seeing a lot more kids being dropped from Medicaid (eligibility) every month than most other states are," McDonald said.
She said the Medicaid system has some major flaws that need to be fixed.
One of those, she said, is that the "state program has been sending enrollment forms to people in the mail, oftentimes to the wrong address, and this is why we've seen so many people dropped."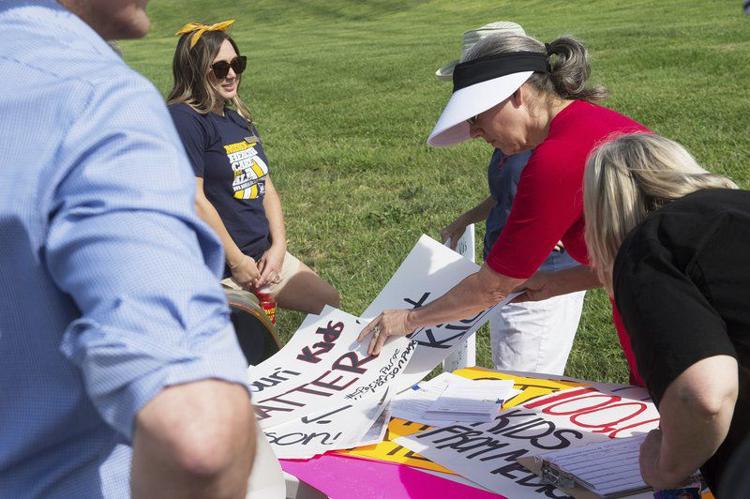 Kyle Tucker, of Oronogo, stood on Seventh Street holding a sign that stated "If we can pay for war, we can pay for health care." Tucker said health care should be a basic human right and that it's unconscionable that children are being kicked off Medicaid.
"I'd like for him (Parson) to do the right thing and get kids back on the Medicaid rolls," Tucker said. "If he's as pro-life as he claims he is, then maybe he should care about people after they're born that need health care."
The large drop in the number of Medicaid recipients prompted House Minority Leader Crystal Quade to request that Republican House Speaker Elijah Haahr launch an investigation of the recent enrollment drop.
Haahr released a statement on social media Aug. 19 of the detailed briefing he received from Rep. David Wood, R-Versailles, vice chairman of the House Appropriations subcommittee for Health, Mental Health and Social Services, as well as Richardson, the MO HealthNet director, in regard to the dropping number.
In the statement, Haahr said the drop in caseloads was not a surprise to the department: "Changes to the Affordable Care Act in 2016, combined with an improved economy has lowered the Medicaid caseload; the former administration from 2014 to 2018 didn't robustly verify eligibility requirement of individuals on an annual basis and automatically renewed enrollees, many of whom didn't qualify for assistance."
Acting Social Services Director Jennifer Tidball sought to explain why those children and adults have lost coverage since July 2018 in a letter to Haahr. In the letter, which was emailed to the Globe, Tidball in part attributed the drop to a decrease in unemployment in the state.
"Missouri has seen an improving economy for several years," the letter said. "Unemployment in Missouri is at 3.3%, which is a drop from 6.5% in 2014. More than 44,000 Medicaid case closures in 2019 were due to excess income. FSD is seeing a decrease in the number of people applying for all assistance programs. The SNAP/Food Stamp programs have seen a similar decline nationwide. There have been recent decreases in 49 of 50 states for SNAP."
Rep. Bill White, R-Joplin, said Richardson, who was appointed as director in October 2018, is being efficient and serious about the Medicaid requirements. White said from his understanding, there had been people receiving Medicaid who didn't qualify for assistance.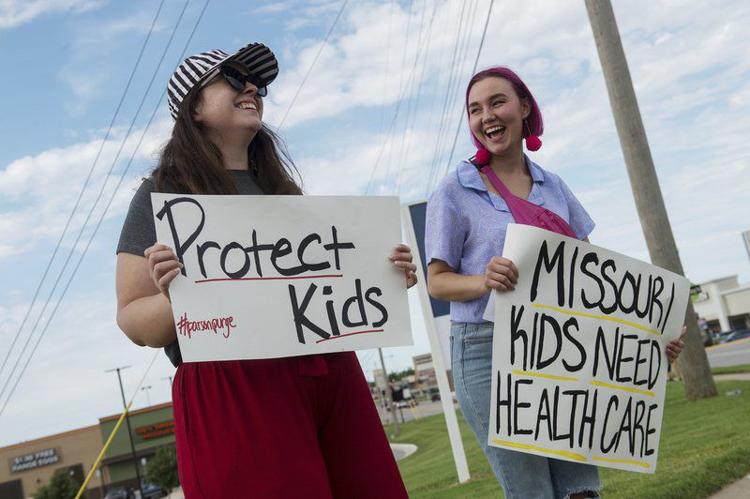 "The rolls of the people who were on it were not being scrutinized adequately, and they're (the state) doing it," White said. "If you no longer meet the criteria of the program, then you shouldn't continue to be on it. You don't take a stand against the statutes and regulations we have in place. If people wish to change it and change our criteria for being eligible, then you need to talk to your legislators and it would take a bill to do that. It's not Gov. Parson. It's the law that we have."
Rep. Cody Smith, R-Carthage and chairman of the House Budget Committee, said the drop could be alarming to see at first but that it's something the panel has been monitoring closely over the past year. Smith said he's been in contact with Richardson and they're hearing that what's driving the shrinking Medicaid rolls is twofold: a good economy and the proper implementation of a third-party verification system called the Missouri Eligibility Determination and Enrollment System.
"In a good economy, average household incomes go up and fewer people qualify for Medicaid, which is income-based," Smith said. "This is consistent with other programs like SNAP that we've seen where the populations on those rolls are decreasing.
"Secondly, we have influence in what's called a third-party verification with our Medicaid rolls, and as you can imagine, it's important that we know as accurately as possible how many people we have on the program, how many people qualify, who doesn't qualify," he added. "In the prior 10 years, our Medicaid program had more than doubled and its high-water mark, there were over a million Missourians on Medicaid. We have about 6 million Missourians in the state, so that was one out of 6 people who were on the Medicaid rolls. We had been working for some time to implement a third-party verification system to understand who does qualify, who doesn't qualify and who shouldn't be on those rolls, based on the eligibility standards."
Smith said once the third-party verification system was effectively put in place, it had removed people who had moved out of state, no longer qualified based on income or had died and were taken off of the Medicaid rolls.
"For all of those reasons combined, we've seen a reduction in the population that should accurately be on Medicaid in Missouri," he said.
The Associated Press contributed to this report.