Smoke and the distinct aroma of grilled food was the first clue Thursday that there was a party going on inside the Joplin Area Habitat for Humanity ReStore.
Inside, aisles bustled with shoppers looking for a bargain as the staff, volunteers and partners of Habitat gathered to celebrate the nonprofit's three decades of helping people who could not afford a traditional mortgage obtain their own home through sweat equity and volunteer assistance.
"Today's an exciting day," said Scott Clayton, executive director. "We started in 1989, and 30 years later, here we are building more memories."
Ron and Charlotte King, 2123 Wall Ave., are among the 160 homeowners who are among those memories. They received a special Habitat house, one built with funding donated by veterans for a veteran.
It's one of Clayton's favorite memories, he said, calling up photographs of dedication day for the King house. He stops on a photo of American Legion Post 13 commander Warren Turner handing King, a U.S. Army veteran and former fire chief disabled by diabetes, the key to the couple's new house the day before Veterans Day in 2017. Everyone cried.
"It was a wonderful experience," Charlotte King said. They had been living in a small apartment that was not designed with accessibility features for someone in a wheelchair such as her husband.
Costs were covered in part by a gift in memory of the late Harold Layton, who was devoted to volunteering for Habitat and a proud U.S. Navy veteran, and donations by the American Legion post and Home Depot. Home Depot volunteers did much of the construction and gave the couple a new lawnmower and washer-dryer set for the new house.
"It was one of the nicest things that ever happened for us," said a tearful Charlotte King. "We loved the home and working with Habitat."
They attended Thursday's celebration. Ron King said the house "is just a blessing to us. Habitat is a great organization."
'Community generosity'
One of the organization's earliest volunteers is Mike Wiggins, the owner of Granny Shaffer's Restaurant.
"Actually, how I got involved is I had a customer who was a pastor who was on their board. I was always serving on boards, and I was asked to serve on that board. I thought it was a good thing to get involved because it helps people help themselves," Wiggins said.
"Back then, we could only build one house at a time because we were an all-volunteer organization, and we had no paid staff, not even construction managers."
During his years with Habitat, the organization hired its first paid employee, a director, and opened the ReStore, then located on Black Cat Road, with the assistance of merchandise liquidator Greg Freeman.
Currently, the organization is nearly finished with two houses that will bring the total number built since the organization's inception to 160. Habitat hit high gear after Joplin's 2011 tornado, when a large number of older houses that were affordable to people with limited incomes were destroyed. Clayton said the organization has built 120 of those houses since then.
While it is still true today, Habitat's early houses were "built from the generosity of the community. Businesses like Pillsbury, which then was General Mills, churches, and people who could not give money but could donate their time have helped build these houses. It's amazing to me the generosity of our community at all levels. It almost gives you goose bumps," Wiggins said.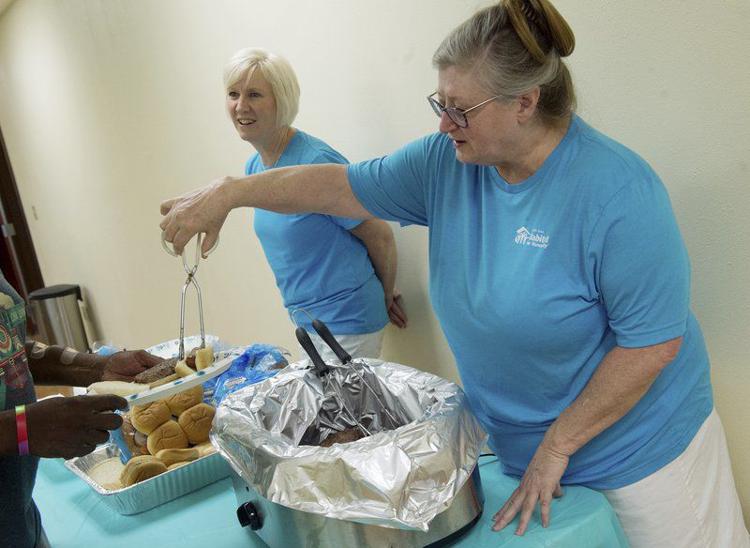 'Solid organization'
Another longtime volunteer, Fred Osborn, vice president and business development officer at Guaranty Bank, has served with the organization since about 2007. He has served three terms as board president.
At that time the organization still was only building about one house a year. In 2009, they brought Clayton and office manager Debra Eastman on board. "They have put a solid organization into place," he said.
About the experiences of those in need of a home when they come to Habitat, Osborn said, "Those are kinds of things that impact you. Habitat is just irrefutable in terms of what it does for the community. We know that people become a more solid family when they have a home of their own."
Those who are helped by Habitat also help others, he said. "The Habitat owners have become their own little family. They come and work in the store," and volunteer with other community efforts as well, he said. "It's great to see that."
He, too, points to the veteran build done for the Kings as an example of the Joplin community working for people with touching stories. "You can't go to one of those dedications without crying," he said.
The tornado recovery was a catalyst not only by jump-starting a higher production of homebuilding but helping Habitat expand its services.
Osborn cites the inception of "A Brush with Kindness" in cooperation with Hearts and Hammers. Volunteers hold periodic work days to make repairs or do projects for people who cannot do their own work through that program.
He said he believes volunteers and sponsors find it empowering to be able to point to a house or repair project and say: "I built that." None of that could be done without them, Osborn said. "Kudos to Joplin and Southwest Missouri. They've been really good to us," he said of those who give their time, money and materials to help people in the area.
And Habitat is not stopping its potential for growth yet.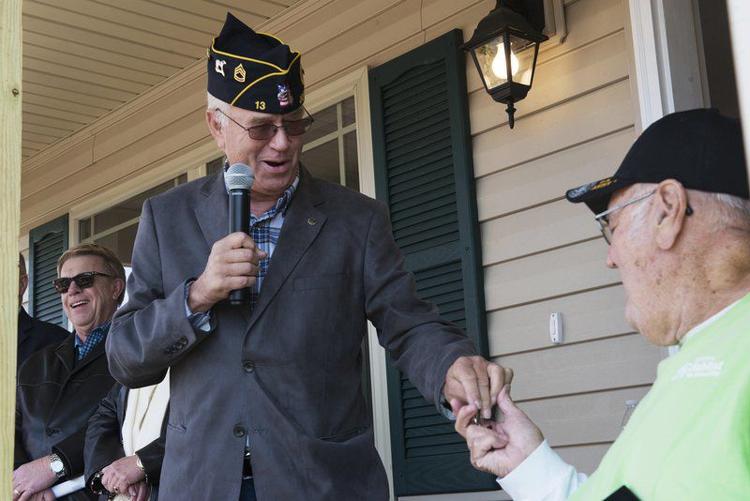 New service starts
Clayton said Habitat has launched a new service just in time for the anniversary.
The organization just completed its first project in a new program it calls "Critical Home Repair." Clayton said the mission of that program is to provide extension repairs for elderly people in need.
That work is being funded by a grant from the Federal Home Loan Bank through local member Mid-Missouri Bank. Said Clayton: "That's where we are taking on major rehab for homeowners in need. Our focus is elderly homeowners with major needs in their homes."
The first recipient is Glynn Shafer, who lives on 12th Street in Joplin. "He's very pleased and very appreciative of the new HVAC system, windows, doors, painting, flooring and an accessible bathroom that have been done at his house. These are things he wasn't able to do himself that we were able to come in and partner with our contractor/building Taylor Homes," Clayton said.
"That's kind of where we're going at Habitat. It's new construction, it's light repairs but also major rehab because we want to be a nonprofit housing solution. We want to assist those with first-time homeowner opportunities, but also those who are living in their home now, but maybe things are getting away from them and they need assistance. We want to be the people that can come and help where help is needed."