The bicentennial of the creation of the state of Missouri is two years away, but people who attended the Joplin Arts Fest this weekend got a chance to put a small stamp on that coming celebration.
Those who attended the Arts Fest at Mercy Park, and the Third Thursday Art Walk in downtown Joplin, got the chance to paint a small part of a mural that will celebrate Missouri's 200th birthday and hang in Jefferson City after the 2021 celebration.
Katy Field, of Joplin, held her son, Ezra, who is almost 2 years old, as he painted one of the triangles on the panel, which featured one of the symbols of the state, a three-toed box turtle.
Katy and her husband, Nathan, are not from Missouri, but Ezra was born in Joplin.
"Especially since Ezra was born in Missouri, it's exciting that his name will be associated with this mural," Katy Field said. "Nathan is in medical school so we have a long journey ahead of us and we don't know where we'll actually end up in the end, but because this is the place where Ezra was born, it does have good meaning for us. This is where we're starting our family and our lives, so to have that be a memory we can keep, that's neat."
Aaron Horrell and Barb Brightwell, artists from the Cape Girardeau area, dreamed up this idea of a mural celebrating the founding of Missouri.
Horrell said the panel they brought to Joplin is 4 feet by 6 feet and is one of 15 panels that will be part of a mural that will be 30 feet long and 12 feet tall.
The mural will feature the symbols of Missouri, including the dogwood tree, the Missouri mule, the pallid sturgeon, the state Capitol in Jefferson City, the Gateway Arch in St. Louis and others.
"We wanted it to be big so people would be able to see it and learn from it," Horrell said. "We have 18 symbols on panels, plus we have the state Capitol and the St. Louis Arch."
Horrell said he or Brightwell logs the name, age, hometown and occupation of each person who paints on the mural. Then they help the person paint one of more than 1,700 triangles on the panel.
Some triangles, like those around the edges, only need blue paint. Some, like those in the turtle's head or shell, are more complicated. But Brightwell said the artists try to make it as easy as possible.
"It's fun, we get to meet a lot of people doing this," Brightwell said. "It's exciting when other people come up, they've heard of this and they want to participate, or we tell them and they think, 'Wow, this is really cool.' We have simple squares and triangles; we have more complicated ones. We have room for 20,000 to 25,000 people to participate."
Pamela Hosp, of Joplin, said she loves the arts, but she's not particularly artistically inclined, so she was excited to paint a small part of the mural.
"I have lived in Missouri my entire life," Hosp said. "I have always been proud to be from Missouri, and to see the state taking such an interest in the arts makes me very grateful that this is something that will be around for generations."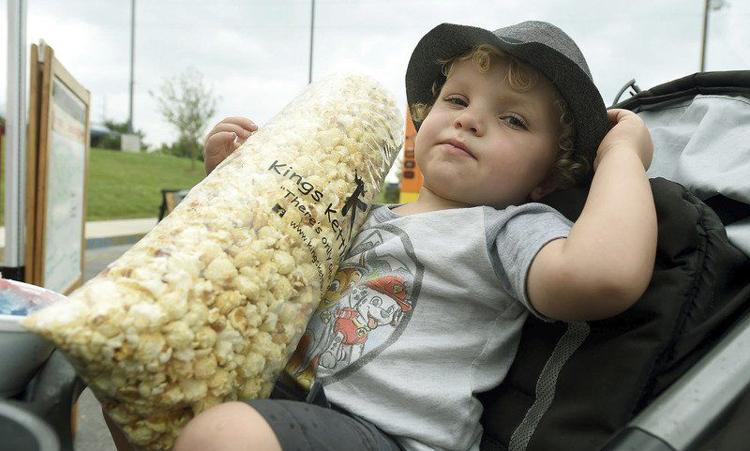 Festival's fifth year
Marshall Hogue, a member of the Joplin Kiwanis Club and an organizer of the Joplin Arts Fest, said this is the festival's fifth year and second year at Mercy Park. The event started out in downtown Joplin for its first three years.
"This is the second year we've done an over-nighter and the overnight has been a very big success, we had a very nice crowd (Friday) night," Hogue said. "Artists were very happy, it was about a four-hour event on Friday, with live music and food trucks. The beer garden is always a good time."
Hogue said the event brought 44 artists from eight states and 22 cities to Joplin. The Joplin Arts Fest is a juried event; artists apply to be a part of it and a jury selects the artists based on their body of work.
"We've got 2-D, 3-D, essentially any fine art is welcome, whether you're working in clay or wood or paper or photography or digital," Hogue said. "It's been a juried program from the beginning. We love who we've had, it's been great. We've got some artists who have been in it every year, some have come and gone. It just depends on what's going on in their professional lives."
Koral Martin, a photographer who operates the Koka Art Gallery in Carthage, said this was her first time participating in the Joplin Arts Fest, and she enjoyed it.
"I feel like any time you get the chance to exhibit, even if you don't sell anything, you're getting your artwork out there," Martin said. "The more people see it, then down the road, they might come back and visit you and remember you, so it's great visibility.
"Last night we had really good traffic until the last hour. Today hasn't been as many people, but it has been a steady flow. There have been people in my booth more than not. Even with the rain, I did several sales to people while it was raining."