CARTHAGE, Mo. — Chants calling for Jasper County Presiding Commissioner John Bartosh to resign echoed throughout the historic Carthage square Thursday afternoon as demonstrators with Joplin for Justice condemned his 2019 social media posts targeting Muslims.
A group of 30 to 40 protesters with Joplin for Justice chanted "John Bartosh has got to go" and "Resign Bartosh" in front of the Jasper County Courthouse during the protest. Several members held signs that said "White silence is violence," "Restore Respect. Bartosh Resign" and "Inclusion Not Hate."
Joplin for Justice leaders said the protest was not only meant to call for Bartosh's immediate resignation but also bring awareness to underrepresented groups and hold public officials accountable for their actions. The County Commission office in the courthouse was closed and none of the commissioners were present during the event.
"Today, we're coming out to demand the resignation of Commissioner John Bartosh because of his anti-Islamic posts," said Dola Flake, Joplin for Justice co-organizer. "We also hope that being out here will bring awareness to the desire and need for inclusion and diversity and also increase accountability to our leaders in our community."
Several Carthage police officers stood by to ensure everyone's safety. Carthage police Chief Greg Dagnan released a video earlier this week after receiving concerns from residents and business owners who heard there would be a protest. The video is posted on the Carthage Area Chamber of Commerce's Facebook page.
Many were worried after rumors surfaced that the protests could turn violent, but all of the Joplin for Justice protests have been peaceful.
"I can also tell you that many of the organizers of these groups, I have personal relationships with," Dagnan said in the video. "They definitely do not want to do harm to our community. They want to make a political statement, which is their right to do that, but they are not going to come over here to do any vandalism or do any harm. I'm confident this is going to be a peaceful protest."
Flake said she believes there is a lot of misinformation and misconception of why they're protesting and this could be why people have spread rumors of riots or violence. Jamie Lindsey, Joplin for Justice co-organizer, said the group anticipated seeing both support and opposition during the demonstration.
"What we want out of this is for people to realize that we, as a group, don't want to stand for or think it's appropriate for public officials to post xenophobic speech and then just say it's a joke," said Lindsey. "That was very insensitive. He doesn't even see the problem. We want to bring up that conversation and let everyone know that we're here for that reason. We're not here to be violent or to riot. We don't do that. We just want to create this conversation like we always want to."
Background
Bartosh was elected in 2006 to be presiding commissioner, a post that represents all of Jasper County. He did not respond to the Globe's request for comment.
The presiding commissioner is currently under fire by local groups for two Facebook posts he shared in 2019 regarding Muslims.
One social media post, which was shared in June 2019, insults the Muslim community by making fun of cultural and religious values. It begins, "I support a mosque being built anywhere in the U.S., I think it should be the goal of every American to be tolerant regardless of their religious beliefs." The post then goes on to advocate for opening a gay night club and a topless bar nearby, as well as a pork restaurant, a liquor store and more, all with names that would be offensive to Muslims.
A second Facebook post, which was shared in December 2019, attacks the Islamic tradition of wearing a burqa, a garment worn to cover the body and face of women in Middle Eastern countries.
Support
Ellen Broglio, of Joplin, was one of the many supporters at the demonstration. She recently submitted an open letter to the Globe requesting Bartosh resign from his post because of what she said was his lack of respect for the Jasper County community. She also said his actions make people think it's OK to disrespect certain groups.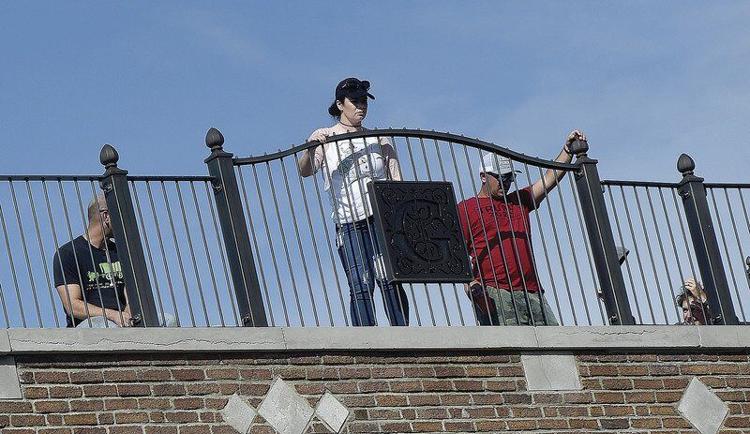 "You are presiding commissioner for all of Jasper County," the letter said. "As such, you preside over all of us who live within Jasper County, and some of us are Muslim. Some are Christian. Some are Jewish. And we have other faiths represented, as well as agnostics and atheists. The United States of America was founded on religious freedom. As county commissioner, your job is to uphold the law for each of Jasper County's residents and protect us when necessary."
Broglio said Joplin is important to her, having grown up there, and has lived all over the world including India, which has approximately 200 million Muslims.
"My husband and I lived in India for a couple years and lived in the house of a Muslim woman," she said. "Her family adopted us. We went to all of their celebrations. Even people who I think would know better, they have these really wrong ideas about Islam. They just care about the fanatics, and that's not representative of Islam at all."
She also brought up the fact that Bartosh has not apologized for his posts targeting Muslims.
"Why does he not admit that it was wrong-headed of him to post such a thing?" she asked. "I think this issue wouldn't have gotten all the traction that it has if he'd immediately said that he'd made a grievous error in posting what he did and that he now sees it was unthinking, irresponsible and disrespectful, and he is sorry. Instead, all he can say is that he is sorry we 'took it that way,' and that 'it was a joke.' The fact that he indicates that he doesn't see anything wrong with his posting is why he needs to resign."
Opposition
Some passersby yelled "Trump 2020" out of their car windows. Several counter-protesters wore Trump hats, shirts and flags. Others watched nearby or from across the street. Joplin for Justice members said they were happy the counter-protesters were there because of the opportunity to have an open dialogue and share different points of view.
Jerold Myers, of Carthage, was one of the counter-protesters at the demonstration who doesn't agree Bartosh should resign. Myers said he supports freedom of speech and believes any American can say what he wishes to say. Myers described himself as a patriot, meaning people who believe in the Constitution, freedom of speech and the Second Amendment.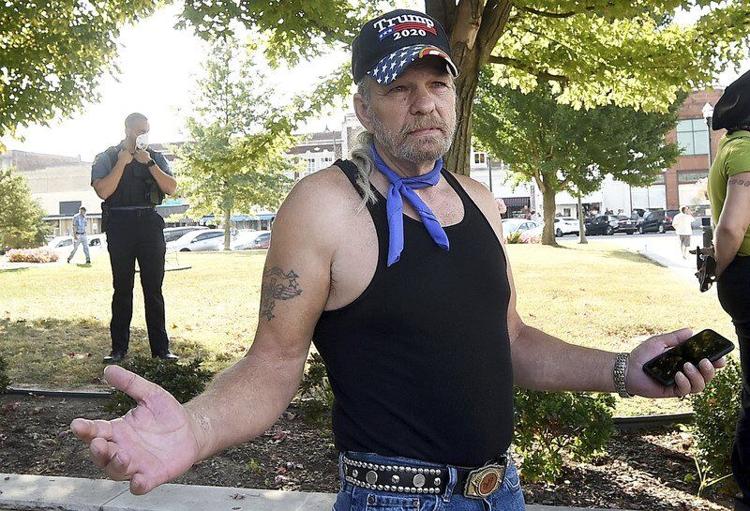 "The problem is that people can't say what they want to say without it getting taken out of context," he said.
Myers asked what the difference was between what he said were Democrats making fun of Christians and what Bartosh said about Muslims.
"Bartosh is definitely not the first politician to put down a group, whether it be Christians or otherwise," he said.
Next steps
Joplin for Justice is steadily gaining support for the call to resign. The Joplin NAACP, Black Lives Matter of Southwest Missouri and the Council on American-Islamic Relations, America's largest Muslim civil rights and advocacy organization, are a few of the groups that have expressed support for Bartosh's resignation.
Flake said the future goal is to hold a news conference with Bartosh and the different groups to make sure everyone's voices are heard.
"I think he does need to respond to his community and to the people who have elected him, so I would love to see him at any of our events," she said.