Joplin teachers and staff went back to school Monday with a pep rally to kick off the start of the 2019-20 academic year.
"We are so lucky in education that in August, we get to come in with enthusiasm and excitement," Superintendent Melinda Moss said. "We get fresh starts. We get do-overs every year."
Employees were recognized by school building, department and length of service to the district. In an apparent nod to the school district's pledge to both recruit new teachers and increase the retention rate of current teachers, the largest applause came when officials recognized teachers who were new to the Joplin district as well as those who had taught in Joplin for decades.
The morning's keynote speaker was Maj. Gen. Donna Martin, commanding general of Fort Leonard Wood. She urged teachers and staff to be leaders with vision, care for others and a strong character and sense of ethics.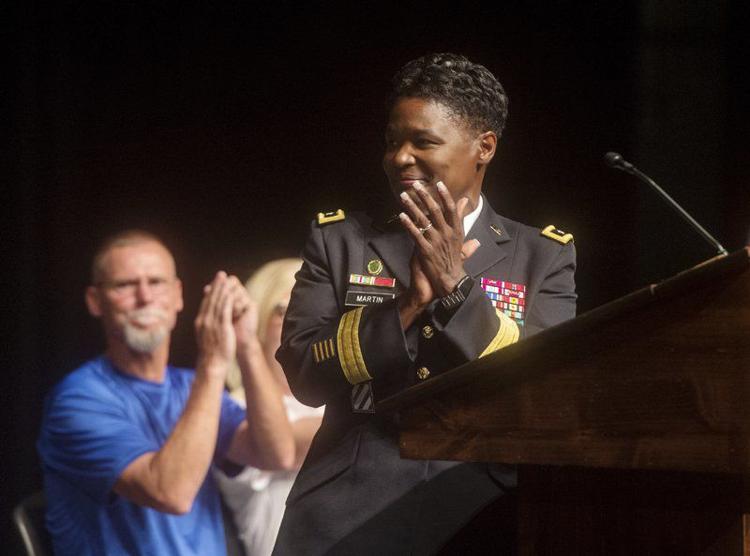 "Literally, the future of this nation is in our hands," she said. "We have the responsibility to lead ... Each of you in the classroom guarantees our success on a daily basis. You change lives one student at a time. Everyone in this room needs to be recognized for your worth and for a job well done."
Lorin Curtis, who teaches construction technology at Franklin Technology Center, took the microphone to address his colleagues as Joplin's 2019 Teacher of the Year. He touched on his nontraditional path to teaching — the youngest of nine children whose father died at an early age, and a military veteran who was hired at FTC less than a decade ago just before the start of the fall term.
"Whoever thought an old Army guy like me who's been teaching for nine years would be Teacher of the Year," he marveled.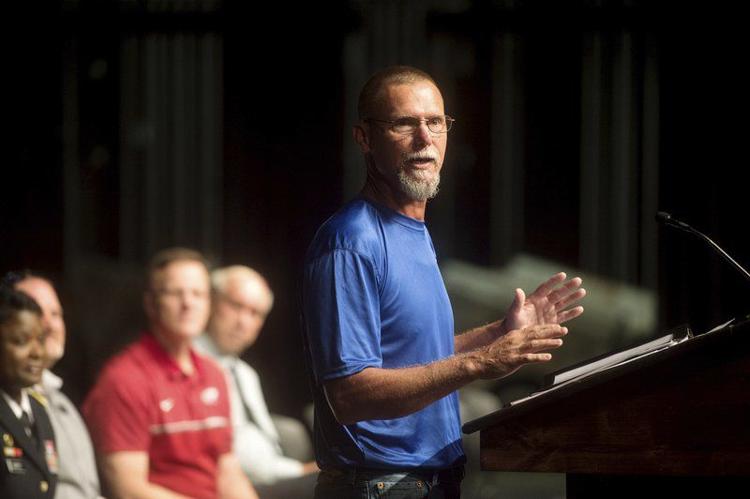 Curtis gave a shout-out to all Joplin Schools employees by grade level and specialty, including special recognition for those whose jobs he couldn't dream of doing, including kindergarten teachers, food-service workers and building engineers.
He also donned a long fake beard and dark sunglasses and told his colleagues to remember the importance of first impressions.
"I want you to think about first impressions when kids come into your class," he said. "What do you do? How do you act? You may never know how you're impacting students for success."
Although they filled the 1,180-seat performing arts center at Joplin High School, teachers and staff weren't the only ones at Monday's rally. The event also was attended by state Sen. Bill White, R-Joplin; state Rep. Bob Bromley, R-Carl Junction; Toby Teeter, president of the Joplin Area Chamber of Commerce; and Joplin Mayor Gary Shaw.
"I believe this just shows the strong partnership we have with our city and our state," Moss said. "We know that a thriving public school district makes for a thriving community."