Christina Williams, a Joplin City Council member and a mother, recently started a biking group with which she rides with students to and from Cecil Floyd Elementary School every week.
The goal is to not only help the youngsters stay active and healthy, but to also learn cycling safety that they can use from now on.
"We call ourselves the Bike Bus," said Williams, who serves as the Bike Bus driver. "It's a group of kids that ride together, just like you would on a bus, but we're all on bikes. We talk about staying on the right side of the road, and we arrive at school quicker than families in cars that live in the same neighborhood because of the way that we travel."
As the Bike Bus driver, Williams makes sure the kids know how to follow traffic laws, understand how to clearly communicate with each other and that they all arrive at school safely. At the end of the day, she picks them up following their after school activities, and they all ride home together.
"We usually ride about three times a week, but this week, we are riding every day," said Williams. "We stay in the neighborhood until we cross 26th Street at the crosswalk, and there's a Joplin PD crossing guard there who helps us cross every morning. Because we leave after 5 p.m., it's a little more dangerous crossing 26th Street because there's no way to stop the traffic."
Her children, Cadee and Greyson Wimsett, also join her and other students on the mile ride, which only takes them about 10 minutes to complete.
Cadee, 5, who's in kindergarten at Cecil Floyd, doesn't even need training wheels on her bright pink Strider 14x Sport to zip around town. She helps lead the Bike Bus.
"I've even learned how to stand up (on my bike)," said Cadee. "I can ride pretty fast. I'm the one in the front a lot."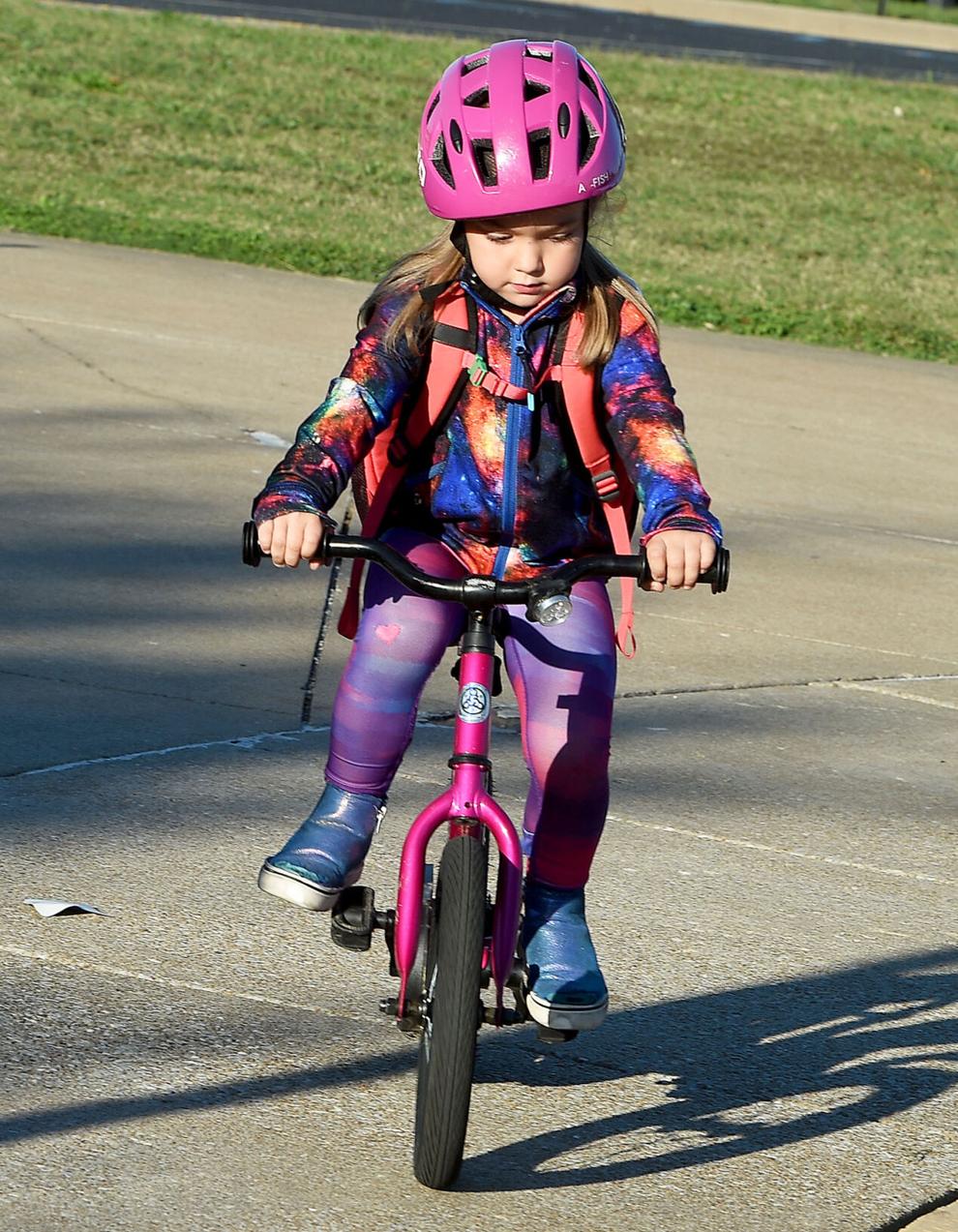 Williams found out she was pregnant with Cadee in 2015 following a 500-mile-plus ride from Joplin to Nashiville, Tennessee, during the Music City Spin Bike Tour to raise money for the Lafayette House.
"When I got back ... I discovered I was pregnant with her that whole time," she said. "In cycling, cadence is the rate at which you pedal, so her full name is Cadence. She was born to ride."
Cadee's brother, Greyson, 8, a third grader at Cecil Floyd, plans to participate in the 15-mile Maple Leaf Bicycle Tour with Williams on Saturday, which will be his longest distance ride. He also helps lead the Bike Bus.
"You get to feel the breeze, and you don't have windows all around you like you do in cars," said Greyson.
The biggest group of students so far to participate in the Bike Bus numbered seven, and Williams hopes it only continues to grow in popularity. Her goal is to one day have a Bike Bus at every school in Joplin.
"This is the first year that we've gotten everyone to go," she said. "I think it helps with the kids' confidence, and the more people see others biking, the more they're aware. It keeps them physically active, and it's just a lot of fun. You can't beat riding bikes with your friends."
Jace Porter, 7, a second grader at Cecil Floyd, recently joined the Bike Bus, and said it's a fun group to be a part of.
"It keeps you athletic," he said. "It has made my legs a lot stronger."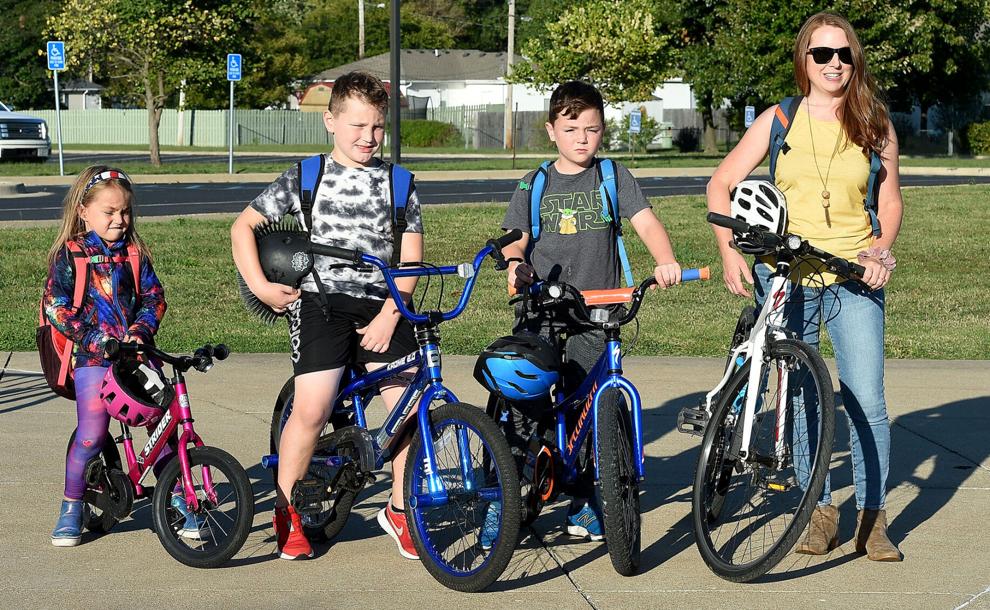 Williams also helped coordinate the fundraising for the All Kids Bike Program, which was established in elementary schools in Joplin. The school program teaches children how to ride a bike, and she helped raise funds for bike purchases and training for all of the physical education instructors in the Joplin School District.
"It started in spring 2020, so they've had one year of kindergartners through the program," said Williams. "I figure if we teach every kid to ride a bike, then eventually, all of our citizens will grow up loving to ride and be healthier."
National Walk, Bike to School Day
National Walk and Bike to School Day is on the first Wednesday in October every year. The one-day event encourages physical activities and promotes safety in neighborhoods and near schools.
The first National Walk to School Day was held in 1997 and the first-ever National Bike to School Day was celebrated in 2012.
People who are physically active live longer and have lower risks for heart disease, stroke, type 2 diabetes, depression and some cancers. The Centers for Disease Control and Prevention recommends that children and adolescents do an hour or more of physical activity daily and adults do at least 150 minutes a week of moderate intensity activity.
Joplin Trails
Improving access to outdoor recreational activities is a step toward building a healthier community.
The city of Joplin has a series of trails to help motivate citizens to stay active outdoors including the Campbell Parkway Trail, the Frisco Greenway Trail and the Turkey Creek Trail. Cecil Floyd Elementary, Columbia Elementary and Kelsey Norman Elementary schools all have a 0.2 mile gravel/asphalt school walking trail around their campuses.
The Joplin Trails Coalition is a nonprofit organization dedicated to creating and maintaining multiuse trails in Joplin, Webb City, Carthage, Oronogo and Carl Junction. It was established in 1991, as a nonprofit, grassroots organization.
With its Rails to Trails projects, the Joplin Trails Coalition converted former railroads into multiuse trail systems — the 3.5-mile Frisco Greenway Trail that stretches from Joplin to Webb City, and the 16-mile Ruby Jack Trail stretches from from Carthage to Oronogo, to Carl Junction and to the Kansas state line.