Joplin school officials say they're relying on expert opinion and regular monitoring of Columbia Elementary School to continually assess whether the structure is safe for occupancy.
The district is operating under a local engineer's professional opinion that the 92-year-old building, which is cracking and separating as a result of settling, undermining and other issues, will be unusable in its current state in as little as two years, and the Board of Education last week approved new construction to eventually replace the aging structure.
But officials say they're confident the school is safe for now, and students, teachers and staff will return to Columbia when classes begin in less than a month.
"As we sit here today, yes," said Kerry Sachetta, assistant superintendent of operations, when asked if Columbia is currently safe for occupancy. "But that's why we're monitoring it, and we're sticking close to the experts. We don't want anybody in a situation where the school isn't safe."
What the experts say
There are now eight crack monitors tracking movement of the Columbia safe room, which was constructed on the southwest side of the school in 2016. The school district has been working almost since then to test the property's soils and gauge the extent of underground mining features to determine what's causing the movement and whether it's fixable.
Two of the monitors were installed as early as September 2017 on the safe room's east wall, where cracks were beginning to be observed. Total movement of one of the monitors since its installation is about 21.5 millimeters to the south and 1.75 millimeters down, according to a June report from Anderson Engineering. (An inch is equal to 25.4 millimeters.)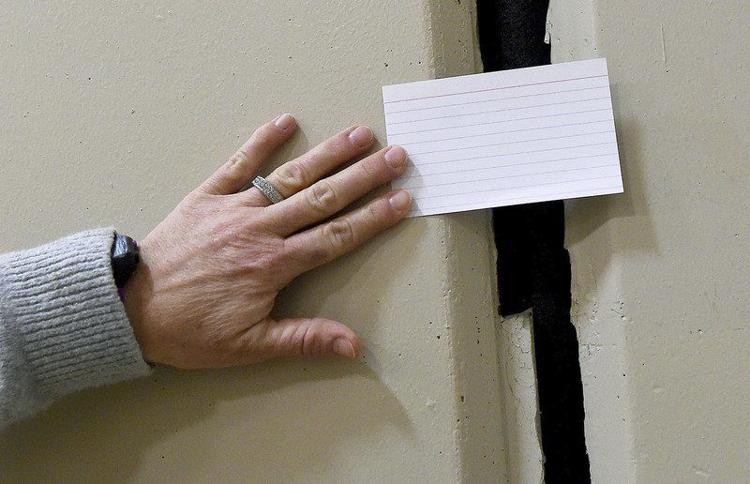 "East-to-west movement was also measured," the firm said in its report. "The panel on the south side of the crack appears to have moved approximately 15 millimeters to the east since the monitors were installed. Additional cracking was observed that had not been previously noted."
As a result of the new cracks and the ongoing movement of the original cracks, six additional monitors were installed in the safe room earlier this summer. Anderson Engineering checks their readings on a monthly basis and provides that information to the school district, said Dave Pettit, the district's facilities director.
"We now have the baseline (readings), and we're beginning to see how far and how fast it moves in a 30-day period," he said.
The original 1927 school structure also is beginning to deteriorate at a faster rate than previously seen, the district said.
"We've been monitoring observationally the east side (of the school) for a long time, but we feel it's accelerating," Sachetta said. "It's an uneasy feeling."
A May report from Neil Tappana, a professional engineer based in Webb City, notes that some cracks in the original structure's east side were inspected as long as 20 years ago but that they appear to be worsening.
"Based upon my observation, the cracks at the east wall also appear to be several years old," Tappana said in his report. "However, it is possible that some of them are increasing in size as a result of the original storm shelter excavation. ... In my opinion, the cracks do not pose a serious structural hazard at this time. However, they will most likely increase in severity and may, at some point in the future, compromise the structural integrity of the building."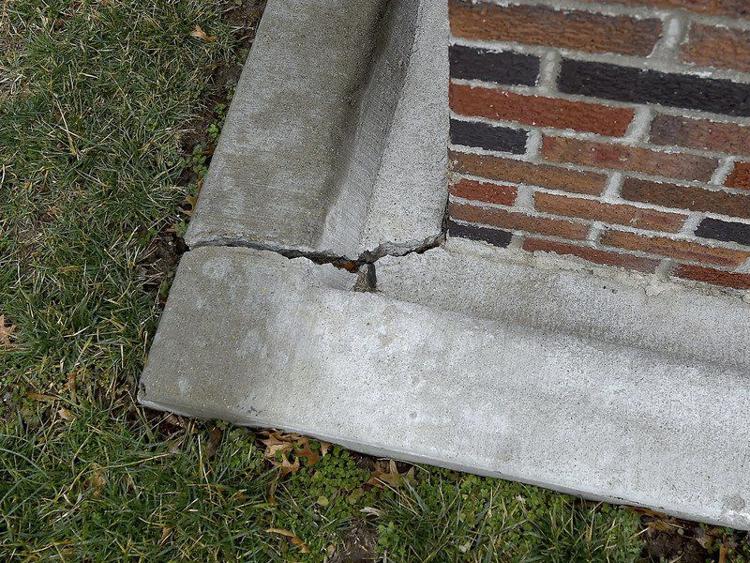 Tappana said the district must address the cracking issues if it wants to use Columbia beyond the next two years. MJ Surveying, of Joplin, is now set up on the southeast corner of the school to monitor movement there, Pettit said.
School board perspective
The Joplin Board of Education last week voted to move forward with the construction of a new school that would combine students from Columbia and West Central, the district's two oldest elementary schools. The new building, to be constructed at a to-be-determined location, would house up to 450 students and would cost an estimated $19.6 million. To pay for the project, a bond issue that would generate revenues of up to $25 million will be submitted for voter approval in April 2020.
School board members overwhelmingly said last week that a top priority in approving the project was to alleviate safety concerns at Columbia.
Board member Lori Musser, a former principal at Columbia who has acknowledged her love for the old school, called the structure "not adequate or acceptable" for students before casting her vote to support the construction project. She said that even during her years as principal at least a decade ago, she was regularly monitoring cracks in the building.
"I am putting faith in our experts to let us know when the building is no longer deemed safe for use," she said in a follow-up email. "It is hard to tell when that might be. It could be next month, next year, two years from now or 10 years from now. The uncertainty is what causes the urgency for me."
Brent Jordan, the board's vice president, also expressed discomfort with the uncertainty of Columbia's issues. He said at a work session last week that the board doesn't know how long the building will be safe for student occupancy.
"I have a concern as an educator and board member of even utilizing that facility in its current state," he said. "If we have a bus that has a two-year expiration date on it, we're not going to hold onto that bus and put kids on it for two years, I wouldn't expect. We would get it replaced or find an alternative solution. HVAC units — if they have two years left, we're probably not going to wait for it to break in the middle of the school year; we're going to put together a plan. I don't think our kids are safe in this building."
Deborah Gould said at the same work session that during one of her first walk-throughs of Columbia as a school board member a few years ago, she saw a piece of rock fall from the ceiling of the safe room, which doubles as a gymnasium.
"Maybe we need to have a couple more people come in and give us an evaluation to help ease people's minds, but I know as a parent, if my child was going there with what I saw, I have concerns with the school and the condition that it's in," she said.
Other options?
Tracy Horton, the PTO president at Columbia, is among a group of Columbia parents and neighbors who have urged the preservation of their neighborhood school.
She questioned whether some of the issues with the original structure — the cracks on the east side of the building, the separating of walls from floors — are the result of Band-Aid fixes to the school over the years rather than a full renovation. As an example, she cited the installation of carpet in classrooms just a few years ago to cover cracks in the floors.
"If a building has lasted 100 years and certain buildings have lasted even longer, they just need renovations," she said. "I'm not an expert, but that's kind of my question — was this due to some kind of neglect?"
Horton said she would support tearing down the safe room if it's deemed unsafe, but she thinks a second or third opinion should be sought on the safety concerns with the original school structure.
"That doesn't mean there couldn't be another solution (for Columbia), but we won't know because that wasn't researched," she said. "Even just one more opinion would make (the school district's) case stronger, and I say that as a benefit to both sides of the coin."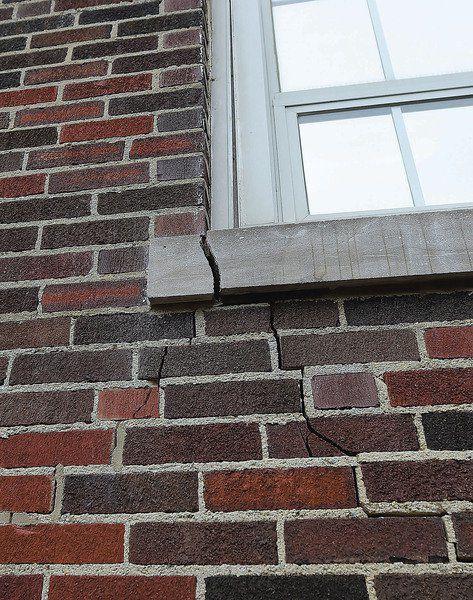 School district officials have poor soil conditions and undermining on the property are the primary factors responsible for the school's structural problems. Sachetta said the opinion of the school district is that stabilizing Columbia and its safe room is possible at an estimated cost of nearly $1 million, but that wouldn't put the two structures back together or fix the problems caused by the movement.
Instead, the school board, on a recommendation from the district's long-term facilities committee that was supported by administration, has opted to pursue new construction. That means Columbia could be entirely vacated within two years, as recommended by Tappana.
"Our goal is to have them out in two years," Sachetta said. "If we continue on past the two-year mark, we'd have to have a good feeling from our engineers (that it's safe)."
Sharrock Dermott, the school board president, said he supports that goal. The district is formulating a backup plan to disperse Columbia students, teachers and staff among other existing schools in case a new school isn't ready in two years or if Columbia must be vacated before then, he said.
"Since our experts tell us we have two years, I support the desire to have the building vacated two years from now," he said in an email to the Globe. "It may be possible to take remedial measures to extend that term, and later expert opinions may extend the term that the building can be safely occupied. I am also satisfied today knowing that the administration has a plan in place to house and instruct the pupils at Columbia if the building must be vacated for any reason — sooner or later than two years from today."
Dermott also said it "may be warranted" to get a second opinion beyond that from Tappana Ondrick Structural Engineers on the safety of Columbia.
"I know that our facilities team is engaged, and I am satisfied with the active monitoring program we have in place at Columbia," he said. "If the Tappana Ondrick opinion changes, or if we obtain another reliable opinion that differs, I will err on the most conservative opinion we possess."
In the meantime, school officials say they'll regularly assess whether the building should be cleared for occupancy.
"We need to keep watching it to see if we get to a point where we need to abandon the building," Sachetta said.