Masks in the classroom. Socially distanced lunches. Playground rotations.
As a result of the ongoing coronavirus pandemic, school will look different when it resumes next month, and administrators in Joplin are finalizing plans for exactly what will be asked of students, parents, teachers and staff when classes start Aug. 13. The district's plan for heading back to school will be up for discussion and review at Tuesday's Board of Education meeting.
With its reentry plan, the Joplin School District will join what has become the biggest ongoing conversation: how to safely reopen the nation's schools amid the virus outbreak.
Only about 1 in 10 Americans think day care centers, preschools or K-12 schools should open this fall without restrictions, according to a new poll from The Associated Press-NORC Center for Public Affairs. Most think mask requirements and other safety measures are necessary to restart in-person instruction, and roughly 3 in 10 say that teaching kids in classrooms shouldn't happen at all.
Few schools plan to return to business as usual. Many of the nation's largest school districts have announced that they'll be entirely virtual in the fall or use a hybrid model that has children in classrooms only a couple of days a week.
President Donald Trump has made opening schools a key priority as he looks to restart the economy. Students need to return to the classroom so their parents can return to work, he has said.
The Centers for Disease Control and Prevention also emphasizes the importance of reopening schools, echoing many of Trump's arguments. Its guidance urges school leaders to work with local officials to make decisions about the fall, taking into account the virus's rate of transmission in the area. It lays out a range of measures depending on the level of spread. If there's minimal or moderate spread, it recommends social distancing, masks and increased sanitation; in areas with substantive and uncontrolled spread, school closure is an "important consideration," it says.
'Evolving as we go'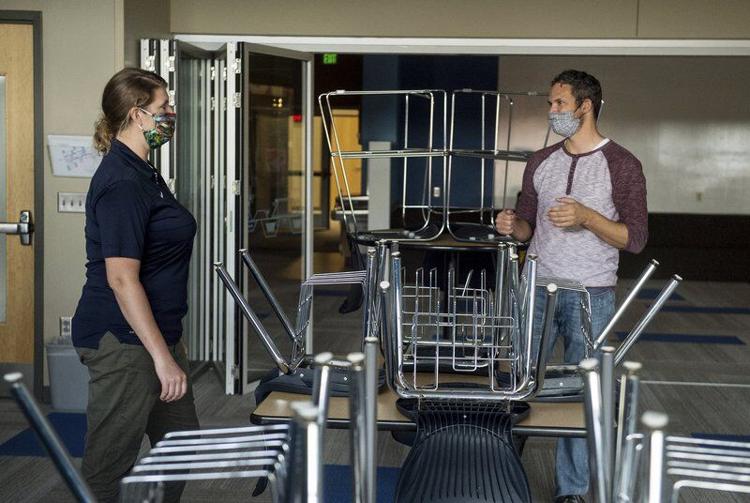 In Joplin, the framework currently being discussed involves a return to in-person classes with modifications such as mask requirements, increased sanitization and social distancing, said Sarah Mwangi, assistant superintendent of learning services.
"We know there is a lot we offer to students when we have them in our classroom," she said. "We still believe there is a lot to be learned (while being) physically in class for students. We feel it's important to get our kids back."
Under this framework, masks would be required to be worn by students, teachers and staff during moments of close proximity to one another, including arrival and dismissal for elementary students and passing periods between classes for secondary students. Whether face masks or face shields would be more appropriate for teachers, especially those teaching speech and phonics to young pupils, is an ongoing conversation, Mwangi said.
Students would eat breakfast and lunch in their classrooms at the elementary level and in socially distanced settings at the secondary level. Recess would be structured, with pupils visiting all sections of a playground with their cohort on a rotating basis.
Tables, desks and other equipment would be cleaned, disinfected and sanitized much more frequently and between all class periods at the secondary level. Seating charts would be recommended to better assist with contact tracing should a positive case occur.
Most of these modifications are expected to be clarified and finalized this week, although administrators acknowledged the challenge of planning a return to school amid fluctuating knowledge about the virus and how it spreads.
"This is evolving as we go," said Kerry Sachetta, assistant superintendent of operations.
Mwangi said many of these procedures were implemented during summer school with success. The district, over the course of its summer session, announced three positive cases — two elementary students and a staff member working with secondary students in athletics.
"What came out of (summer school) is that it became the new norm of how we sanitize tables between mealtimes or how we teach kids how to properly wash their hands," Mwangi said. "Everything was very structured, and that allowed us to put procedures in place that benefited all students in all situations. It drastically helped when we did have our positive cases."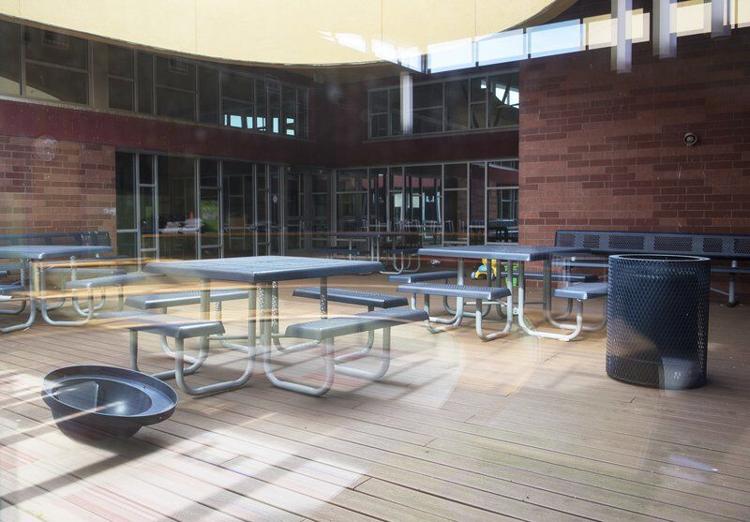 Even with this framework, the district is planning for a variety of scenarios, including a possible return to remote learning and the closure of schools in case of a major outbreak. If that were to happen, it would look different for students and parents than it did during the spring, when Joplin schools closed suddenly for the final two months of the academic year.
"What happened in spring was crisis response," Mwangi said. "The difference moving into fall is more planning has been done to ensure equity for our students in access and learning and making sure we are providing rigorous work, that students are completing work and that teachers are providing feedback."
Missouri guidelines
Missouri education officials have not issued any statewide mandates regarding the return to school next month, leaving most decisions up to local school districts. Instead, the state education department has issued guidance for "proactive strategies" and "minimum protocols" designed to mitigate the spread of COVID-19 and protect students and staff members.
Among the state's recommendations:
• Children should be "visually inspected" for symptoms of COVID-19, and schools should screen staff members upon entry to the building each day.
• In the interest of social distancing, schools should assign students to cohorts and limit their exposure to others in the building. Those strategies could include spacing desks apart and facing them in the same direction, having students eat meals in their classrooms rather than the cafeteria and keeping student cohorts in separate areas of the playground during recess.
• School staff members should wear face coverings when in close proximity to students or other adults. Continuous mask wearing is not recommended for young children.
Margie Vandeven, the state's education commissioner, said surveys have shown that most educators and families want to return to in-person classes next month.
The closing of school buildings last spring highlighted a "great digital divide" in Missouri, with 1 in 5 students unable to take part in online learning, "making any kind of long-term remote learning a real challenge for those students," she said. Other consequences included unreported child abuse, less access to the food students usually receive from school, families struggling with child care, and damage to students' social growth, she said.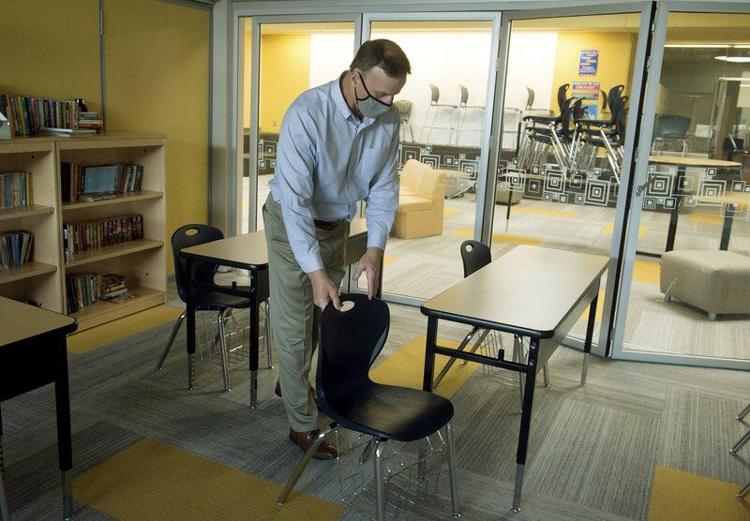 "These implications are being considered along with continued risk of COVID-19, and therefore, school leaders and local health officials are working thoughtfully to reopen our schools," Vandeven said.
The state will waive attendance requirements that are used to calculate school funding and will assure that schools are paid for in-school learning, online education or a combination of the two, she said. The department also wants schools to drop incentives for attendance, such as perfect attendance awards, to encourage students and staff to stay home if they are ill.
Advisory group weighs in
Another group offering suggestions for districts as they reopen their schools is the Missouri School Boards' Association, which has crafted a 110-page document as a guide. The association urges school boards to consider its suggestions while working in tandem with their local health departments to find the right mix of policies and procedures, as opposed to viewing its guide as a "one size fits all" approach.
Among its many suggestions, districts should consider:
• Reviewing attendance policies to offer flexibility and remove punishment for absences when there is an outbreak.
• Thoroughly cleaning and sanitizing all buildings, equipment and buses.
• Procuring necessary supplies such as personal protective equipment, touch-free thermometers, sanitizers and masks.
• Creating a technology support team that can work with students, parents and teachers on technology issues during periods of remote learning.
• Adjusting student assessment plans and calendars for the academic year to determine which are necessary and which could be delayed.
• Adjusting students' daily schedules to allow more time for sanitizing and hygiene procedures, academic intervention and transition periods.
• Establishing a crisis management team to address student and staff psychological and emotional concerns.
• Employing more nurses, aides and full-time substitutes in case staffing is affected by an outbreak.
The Associated Press contributed to this report.