Joplin School District officials have unveiled more details about a 67,000-square-foot elementary school they hope to build atop Dover Hill to replace the aging Columbia and West Central schools.
During a news conference today at the Joplin Area Chamber of Commerce, officials with the school district, architect firm and construction manager said the new school would serve Joplin students who attend the district's two oldest elementary schools.
"Safety and equity for our students, first and foremost, is on our mind," Superintendent Melinda Moss said.
The size of the new school would be proportional, in terms of square footage per student, to other school buildings in the district, said Chad Greer, with Corner Greer and Associates, the architect firm.
The new school would have vehicle entrances from both Main Street, which would be located closer to the crest of the hill, and Murphy Boulevard. A long drive, entering from Murphy Boulevard and winding around the property toward the front of the school, would be able to hold approximately 200 vehicles.
"We feel like that is more than adequate to ensure that we don't have traffic stacking up on Main Street during those two times of day, both dropping off and picking up their kiddos," Moss said.
Vehicles could exit the campus onto Murphy Boulevard in either direction or could turn right only onto Main Street. The district anticipates adding a designated right-turn lane from southbound Main Street onto Murphy Boulevard and easing the sharpness of that turn, Greer said. No additional stoplight is planned.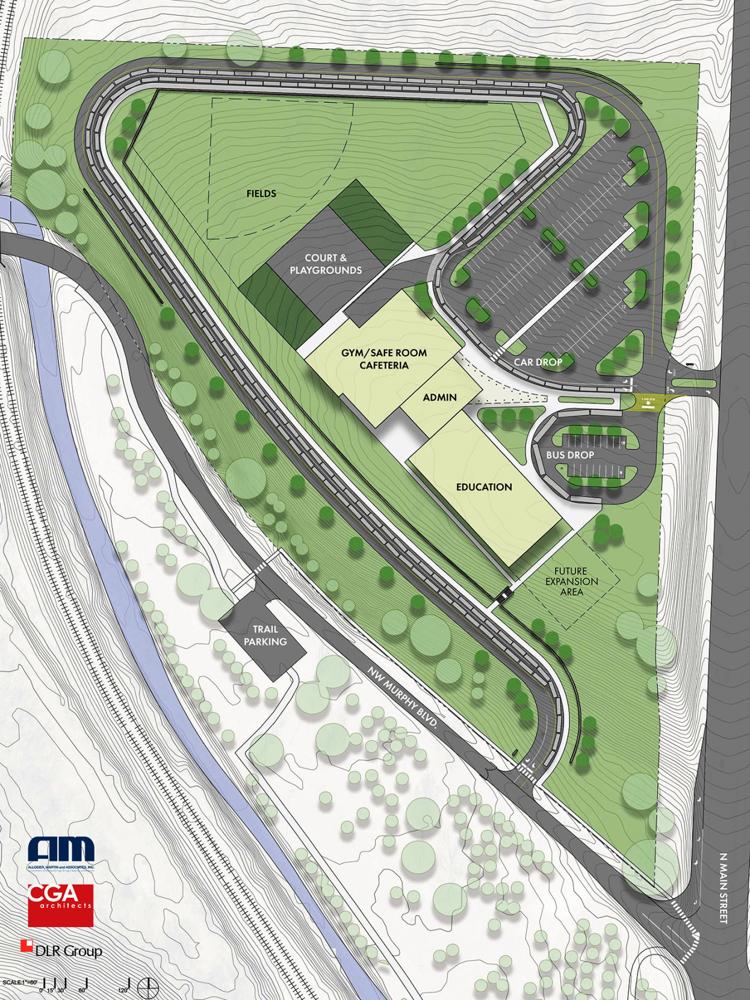 The district also would build new sidewalks to connect with nearby parks and trails, including a connection across Main Street toward Landreth Park. Those additions, as well as the right-turn lane, would be paid for by the school district.
The building would be oriented toward the northeast and arranged with a central entry area, a gymnasium that would double as a safe room and a wing of classrooms and other spaces. Playgrounds would be on the northwest part of the property in an enclosed area. A section of the property would be earmarked for future expansion, if needed.
Representatives of Crossland Construction said "a fair amount of dirt work" will be required to flatten the hill enough to build the school on top. About 12 feet of dirt is projected to be shaved off the hill to level the ground somewhat for construction, they said.
Nod to history
The new school is hoped to replace Columbia and West Central, which are both nearly a century old and were identified last spring by the district's long-term facilities committee as being most in need of attention.
Columbia has structural issues stemming from mining features underground and poor soil conditions; as a result of movement and settling across the building, cracks have appeared in multiple walls, and the community safe room is permanently closed. There also is no secure entryway at Columbia, and the building has an insufficient kitchen, small classroom sizes, modular units and a lack of space for programs.
Administrators said in early 2019 that based on engineering assessments of the structural issues at Columbia, they would not keep students and staff in the building for more than two additional years. Moss said last week that the district is still operating on that timeline.
West Central, while structurally sound, has similar issues with small classroom sizes and a lack of space for programs. It also is located along bustling Seventh Street, which administrators have said is a concern. Both schools aren't accessible to students with physical disabilities.
The new school would pay tribute to Columbia and West Central through a brick facade and an "abstract" representation of the two-story design, similar to the designs of the existing structures, Greer said.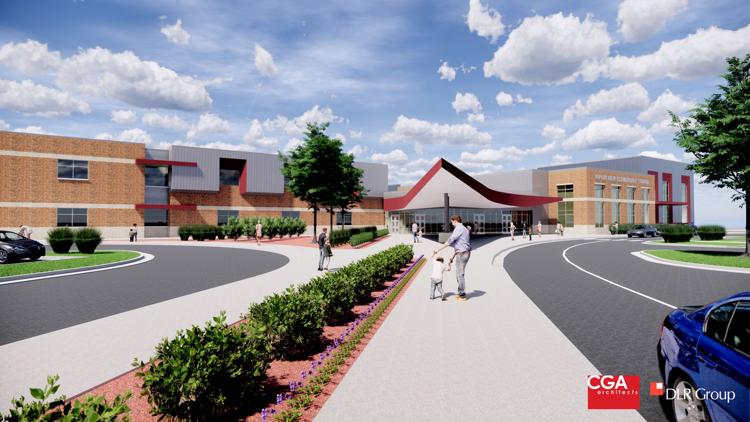 "When we put this together, we're trying to think of Columbia and West Central, trying to give a nod to the historic nature of the buildings, understanding it's tough to replicate those buildings with today's construction availability," he said.
The new school would have a capacity of 450 students, which is slightly more than the current combined enrollment of Columbia and West Central. That would allow for some growth in enrollment, although demographers' reports predict populations to remain fairly flat in those two neighborhoods in the future, administrators said.
Once the new school is built, the school district proposes to raze Columbia and possibly turn West Central over to another group for a different use. Moss said the district has already had inquiries about West Central.
"We will not leave abandoned buildings in those neighborhoods," she said.
Bond issue on ballot
Today's news conference also marked the official launch of "Vote Yes: Our Kids, Our Community," a campaign of parents and community members that has organized to support the $25 million bond issue that would pay for the construction project.
"We think it's a great opportunity for our children," said David Weaver, co-chair of the campaign. "It will create equity and bring those students' environment up to so many other schools in the district."
The bond issue will be on the April 7 ballot. It proposes to keep the district's debt service levy at 91 cents per $100 assessed valuation, the rate since 2013, and extend that rate another 20 years. The measure requires a four-sevenths majority, or 57.14%, to pass.
The new school is projected to cost an estimated $19.6 million.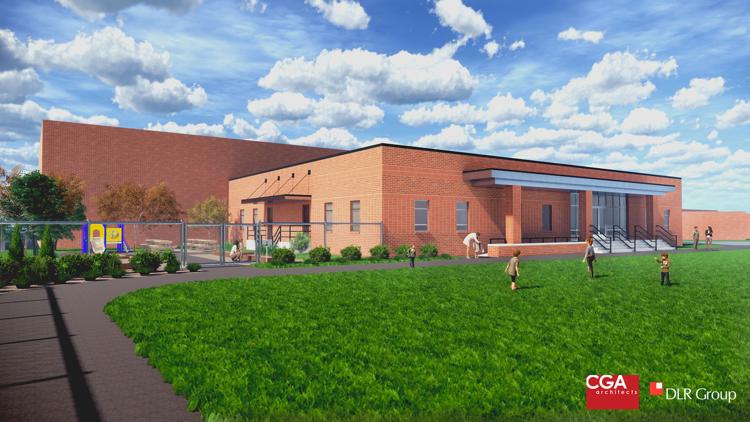 Included in the bond issue is $2.875 million to build an addition at Kelsey Norman Elementary School. Administrators said the school is overcrowded with little extra space for programs, and it still has one modular unit on the campus.