Joplin is one of many school districts across the nation taking the unplanned, unprecedented plunge into online education amid the coronavirus outbreak.
The Joplin School District, closed through April 24, has been using online learning opportunities for a week now in an effort to keep students on top of their education. District officials believe it's important to offer such resources to families, said Sarah Mwangi, assistant superintendent of learning services.
"Really, we have two purposes with where we're at right now with extended learning opportunities," she said. "One is to make sure that our families are safe and feel supported. Next is to make sure that they have access to resources to extend learning in their homes."
All families were sent an online link to access learning opportunities as the district begins long-term planning for delivering content to students. The online document offers a detailed schedule that mimics a regular school day and programs the students are already familiar with.
"We understand they're not going to necessarily engage in every activity every single day, so we wanted to provide the most structure to our families and then give them the opportunity to cut back what they wish and what they want to access," Mwangi said.
Families without computers or internet access won't be left in the dark. Mwangi said district officials conducted phone interviews last week to determine how many families would need physical copies of lessons and assignments. Such packets could be ready in early April.
Mwangi said the district is holding virtual team meetings with every grade level in every department, should schools be closed for the remainder of the school year. Teachers also are involved in virtual meetings to develop learning plans for their students, and technology-focused staff will be identified in every grade and department.
"As best as possible as a district, we're going to try to remedy those situations for families to see if we can help get a device in their home," Mwangi said. "... But at the same time, we're going to be working on some hard-copy packets, should those be needed. We want to eliminate contact as best as possible. That's our whole purpose of what we're trying to do."
Parent, teacher perspectives
Erica Doennig, a kindergarten teacher at Irving Elementary School, believes the online resources are a valuable tool for parents who are teaching their children from home.
"Online learning can be done at any place at any time, which is always helpful," she said. "Parents don't always work at 8 a.m. to 3 p.m., so the normal school day for them may be after they get home or in the morning only, so it's always a plus."
But there are limitations to online learning, Doennig said. Teachers aren't able to see their pupils in person and are losing that personal interaction.
"Despite living in a technical age, sometimes we have students who aren't comfortable doing things online or they need it explained a different way, and you can't do that with online learning," she said. "When you don't have the kids in front of you, you can't tell if they understand this or they don't understand it, and I need to come at it from a different direction."
Parent Tracy Horton has four children, aged 9 to 14, in Joplin — two at Columbia Elementary School and two at North Middle School. Now that she is overseeing their education from home, she uses both virtual and real-world learning in her children's daily curriculum routines.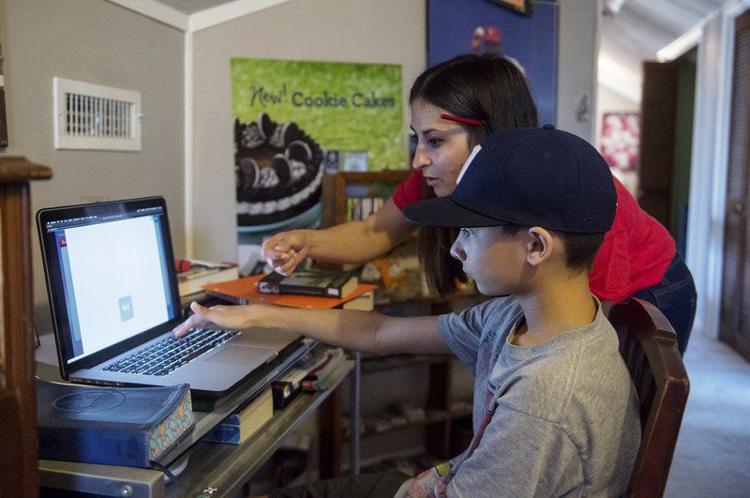 "I'm letting them do things that they've done on a screen before, like math or some of their language, but it's a little bit different for me because I have some of the resources already," said Horton, who has prior experience in homeschooling her children. "Science, we do a little bit with a screen, and the Joplin School District already implements this program called Mystery Science for elementary students. We've been using that at home as well for several years. Each child is also reading a classic novel right now."
She believes the online resources provided by the district are a great tool for her family.
"It's different for each child, but from what I've seen and clicked on, they've done a really nice job with selecting good resources," she said.