The sun's rays peeked behind the branches of a tree Wednesday morning as Loretta Walker, during a remembrance ceremony at the Veterans of Foreign Wars Post 534 in Joplin, read the names aloud of the individuals who died on Sept. 11, 2001.
A granite headstone placed in front of a tree there read, "Sept. 11, 2001. In Memory of the Americans Lost. World Trade Center. A Day of Infamy." Before the service, Walker said the pledge of allegiance and lowered the American flag, the POW/MIA flag and the Missouri state flag.
In two hours after takeoff on Sept. 11, 2001, two hijacked planes crashed into the World Trade Center in New York City and one into the Pentagon in Arlington, Virginia. A fourth plane crashed into a field in Somerset County, Pennsylvania, after passengers overtook the hijackers. On Wednesday, Walker rang a brass bell at different intervals to mark when the planes hit, when the towers collapsed and when the planes crashed into the Pentagon and the field.
She said a prayer for the victims and their families and began reading a total of 3,042 names, mainly consisting of the names of 2,753 people who died, including 2,192 civilians, 343 firefighters, 71 law enforcement officers and 147 passengers and crew members. She also read the names of those who are still missing and those who died later. The names of the 19 terrorists who hijacked the four California-bound planes were omitted.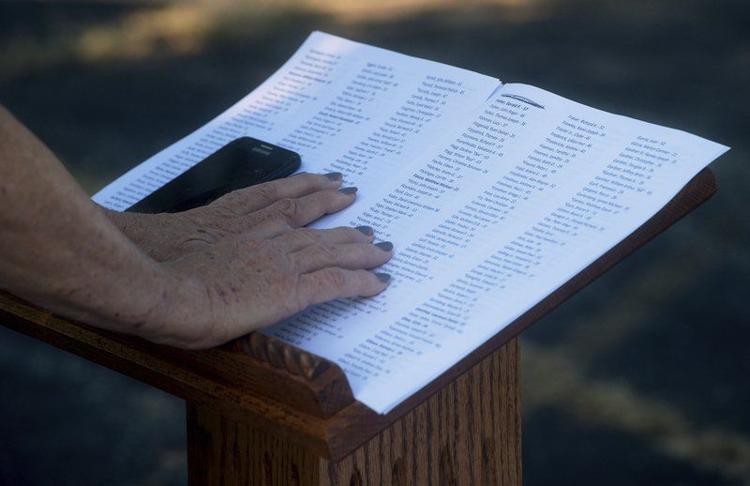 "These horrific terrorist attacks were meant to destroy the United States of America," said Walker, a member of Post 534's auxiliary. "Yet it was a day we as Americans came together all across our great nation to resolve and uphold what America stands for. Today, 18 years later, we continue to stand together and mourn the loss of our fellow countrymen and honor those first responders who lost their lives and use this day as an inspiration to continue to carry out our mission to serve our military, our veterans, as well as their families in spirit of service and not self."
Wednesday marked the first time the VFW post and auxiliary read the victims' names, and the groups aim to make it an annual tradition.
Walker said she spent two weeks compiling the list. Even though she didn't know the victims personally, she described having felt a personal connection with them as she read through their obituaries during her research.
On that fateful day, Walker had been living in Oregon and was getting ready for work when she saw, on a television broadcast, the first plane hit.
"At that moment, I told my husband, 'Oh, my gosh. You have to come and see this. A plane accidentally hit the World Trade Center,'" she said. "Then we saw the second plane hit, and I looked at him and started crying. I said, 'We're under attack, aren't we?'
"I wasn't angry. I think I was worried," she added. "I was hoping that people would get out of the towers. I was hoping there would be survivors. I didn't understand what we did as a nation to be attacked. There were a lot of emotions."
Debb Ollis, also a Post 543 auxiliary member, said when she began reading the names of children who died, she couldn't help but cry. Ollis had also been living on the West Coast during the attack and woke up to the news on that September day in 2001.
"It's just such a tragic loss of life," she said. "I thought it was so surreal and that this couldn't be happening. I felt a lot of anxiety and disbelief of what was happening. I was beside myself that something like this could happen on our soil."
Ollis said that although the 9/11 attacks were horrific, she believes they brought the country closer together.
"There was more of a camaraderie after that," she said. "I'd like for us to all band together and be supportive of each other. Instead of trying to tear each other down, we need to build each other up."