The Joplin campus of the Kansas City University of Medicine and Biosciences is working to open up a lab at Missouri Southern State University that will give faculty and students from both schools experience in research.
"This is the beginning of something extremely exciting," said Jeff Staudinger, professor and chairman of the basic sciences division at KCU Joplin.
Student doctors at KCU Joplin, an osteopathic medical school, are learning to treat patients who are already suffering from diseases and disorders. But the goal of medical research, such as the kind that Staudinger expects to be conducted at the new lab, is "to understand at the molecular level how pathology occurs so we have the chance to predict and prevent disease."
KCU Joplin, which opened in fall 2017, has prioritized research as a component of students' medical education, just as it is emphasized at the Kansas City campus. The founding dean of KCU Joplin, Paula Gregory, had approached several regional institutions to help establish research partnerships before her departure, Staudinger said.
"It was Missouri Southern's invitation that brought us here," he said Wednesday, sitting in the KCU Joplin lab space in the annex on MSSU's campus. "They've been gracious in helping build something of value for KCU and MSSU students."
For students who are able to work in the lab, the benefits are numerous, Staudinger said. They will:
• Get out of the classroom to interact with patients in a health care setting.
• Have the experience of forming and working in interdisciplinary teams.
• See the benefit of their efforts in the communities in which they live.
• Be part of the founding of a collaboration between the two universities that could grow into a fully fledged research effort.
Marsi Archer, dean of the School of Arts & Sciences at Missouri Southern, said the benefits of sharing research space with KCU Joplin are endless.
"Our faculty and students get an opportunity to work on projects that we wouldn't necessarily be able to do," she said. "I honestly think this has the potential to reach throughout our campus (and involve) lots of different collaborations. When we first started this, I told people, 'Don't assume this is just a science thing. We could have art therapy, music therapy.'"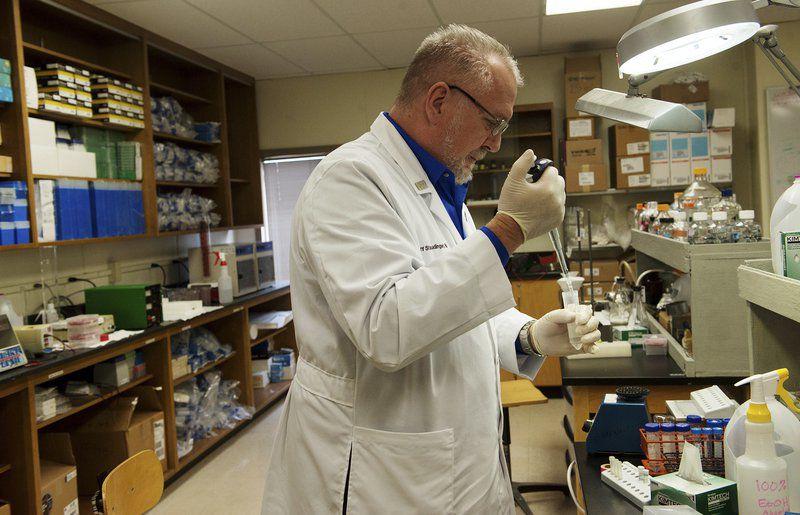 Studying PTSD in social workers
Because the lab is still being set up, no research projects have formally begun. Students from both campuses are being recruited and approved for work to begin in the lab this summer.
But the first project is already working its way through the Institutional Review Board, an administrative body that provides oversight for research that involves human subjects. This project will include representatives of KCU Joplin and the sociology and social work departments at Missouri Southern to study health outcomes of child welfare workers who engage in osteopathic manipulative treatment, a set of hands-on techniques used to diagnose, treat and prevent illness or injury.
Staudinger said child welfare workers often experience trauma vicariously through the children with whom they work, and the effects of that can lead to stress, post-traumatic stress disorder and other illnesses in themselves. A KCU-MSSU research team will survey participants, administer osteopathic therapeutic techniques and mind/body interventions such as yoga and then survey them again to determine whether their stress levels have gone down, he said.
Another key population that could benefit from such research is adolescents who were involved in the 2011 tornado, Staudinger said. He hopes to eventually create research opportunities to study whether young people who survived the tornado and struggle with lingering stress and PTSD could benefit from osteopathic manipulative therapies.
"At first blush, the relationship between biochemistry and social work is not intuitive," he said. "However, improving the well-being of our community is the tie that binds."
The research proposal involving child welfare workers was borne from a meeting in October in which faculty members from both KCU Joplin and Missouri Southern got together to pitch five-minute research ideas and proposals. Another such meeting is slated for next month.
Meanwhile, several faculty members at KCU Joplin also are in the beginning stages of developing research proposals based on their own areas of interest. Robert Rogers, an assistant professor and exercise physiologist, hopes to involve students in understanding the relationship between yoga, tai chi and other therapies and patients with diabetes.
"I hope that we can help (students) appreciate the research process more," he said.