The newest class of students at KCU's Joplin campus immersed themselves Wednesday in a day of service. It was part of the Kansas City University of Medicine and Biosciences' annual We Care Day, an orientation week tradition.
The new cohort's 162 students, along with about 30 of the medical school's faculty and staff, fanned out across the city to more than a dozen locations to lend a hand. They cleaned buses for the Joplin School District, cared for adoptable pets at the Joplin Humane Society, worked on a mural with the Downtown Joplin Alliance, and helped out at the Community Clinic of Southwest Missouri, Crosslines Ministries, Economic Security Corp., Spiva Center for the Arts, Mercy Village and elsewhere.
David Kanarowski, who moved to Joplin last month from Northern California, spent his morning at Ronald McDonald House of the Four States, where he was introduced to its goals and mission before he got to work with outdoor landscaping.
"One of the things that drew me to medicine was the ability to help people at the moment of their greatest need, and a lot of people can do that in different ways. For me that's through medicine," Kanarowski said. "Being here and seeing what the Ronald McDonald House is doing, they're doing that same thing — being there for families at the moment of their greatest need. I'm almost brought to tears by it and definitely look forward to being able to contribute in some way. This is what I want to do."
Both Kanarowski and fellow first-year student Awais Ur Rahman, who came to Joplin from Ontario, Canada, said part of what appealed to them about joining the KCU program was the school's stated mission that includes community service and integration.
"What really pushed me over the edge was the faculty instilling the idea that they have a social contract with the city to produce great physicians for the community and that really struck a chord with me," Rahman said. "It's something that has been repeated over and over again in different ways but with the same meaning. We have a responsibility to the community."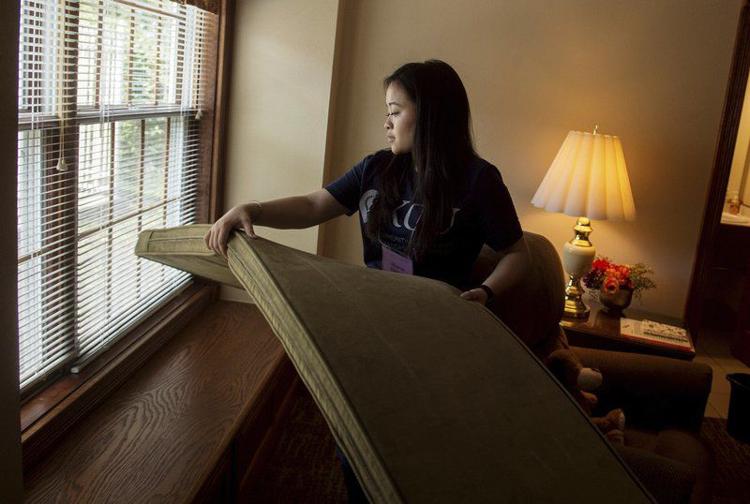 Tomorrow's physicians
Heather Browne, community engagement manager at the Joplin campus, said one of the university's core values is service. She also said that while administrators can't guarantee all of the students who graduate here will stay local, they would be thrilled for a majority to do just that.
Dr. Kenneth Heiles, assistant dean of clinical education at KCU-Joplin, also said the region would benefit from today's medical students sticking around to become tomorrow's physicians.
"Joplin itself is OK," Heiles said, "but more rural places in Southeast Kansas and Northeast Oklahoma are all designated as having a high need, especially for primary care physicians. Northwest Arkansas is not as needful right around the I-49 corridor, but again, get outside of that, you have the same issue. There is such a great need for primary care physicians."
Current third-year students — 2017's inaugural class — have now been placed into clinical rotations, Heiles said, and more than half of them are doing their rotations in Joplin. Between Freeman Health System and Mercy Hospital Joplin, Ascension Via Christi in Pittsburg, Kansas, and the Southwest Area Health Education Center in Springfield, 112 of those third-year students are within an hour and fifteen minutes' drive from the Joplin campus, Heiles said.
That closeness continues to provide students with opportunities to be engaged with the community that has hosted their education. And it's also what just might keep them here filling the area's need for physicians in the future.
"I do see myself being in this area," Kanarowski said. "I moved here with my wife and children, and we chose this area because of what it had to offer for our family. Joplin has a wholesome family feeling. This week for us has been a real introduction to the area, and not only what the area has to offer, but how we can plug in and contribute and become a part of that."
"We are going to become physicians in the future," Rahman added, acknowledging the value in giving back to the school's community. "We started this journey knowing that we have social responsibility. And that's how we should continue on throughout the journey."