Medical students enrolled at Kansas City University in Joplin were more than happy to give back to their community by administering vaccines during the drive-thru mass vaccination clinic Friday the Joplin Athletic Complex.
A team of 40 KCU students worked two-hour shifts alongside supervisors and members of the Missouri National Guard after receiving online training from the U.S. Centers for Disease Control and Prevention.
Laura Rosch, dean of KCU's Joplin campus, said they joined the flu vaccination effort back in October, and they thought this was another terrific opportunity to serve their community. Rosch said students have already been asked to give vaccines in Branson and Springfield.
"This not only gives students medical training, but it also supports our health department and the community," she said. "We all win. I'm so proud to showcase our students because they're enthusiastic and have been cooped up behind a computer for months. They were excited for the flu clinic and were over the moon when they had the opportunity to participate in saving lives."
Signing up to participate in the clinic was voluntary, and students received their first doses of the COVID-19 vaccine. Rosch said about 220 students signed up to be involved in the effort. Many students were delighted to be there and were grateful for the experience.
Aleesha Somani, 24, a first-year medical student at KCU in Joplin, said she jumped at the volunteer opportunity to work with the local community because it reminded her why she wanted to pursue the medical field. She has volunteered to serve at vaccination clinics over the next four months.
"It helps give me the passion to keep studying and putting in those hours to know that one day, this could be a full-time job," she said. "Thank you Joplin for giving us this awesome opportunity. I'm excited for the next four years and to give back in any way I can."
Matthew Ohtani, 27, a first-year medical student at KCU in Joplin, said administering his first COVID-19 vaccine was a little nerve-wracking, but he got the method down quickly. He described working alongside his peers and all of the participating agencies is like a family effort.
"We want to get the community back on its feet, and I think it's really great that we're all coming together against this pandemic," he said. "I'm really appreciative of KCU and the National Guard for letting us do this. I think it's a good step forward."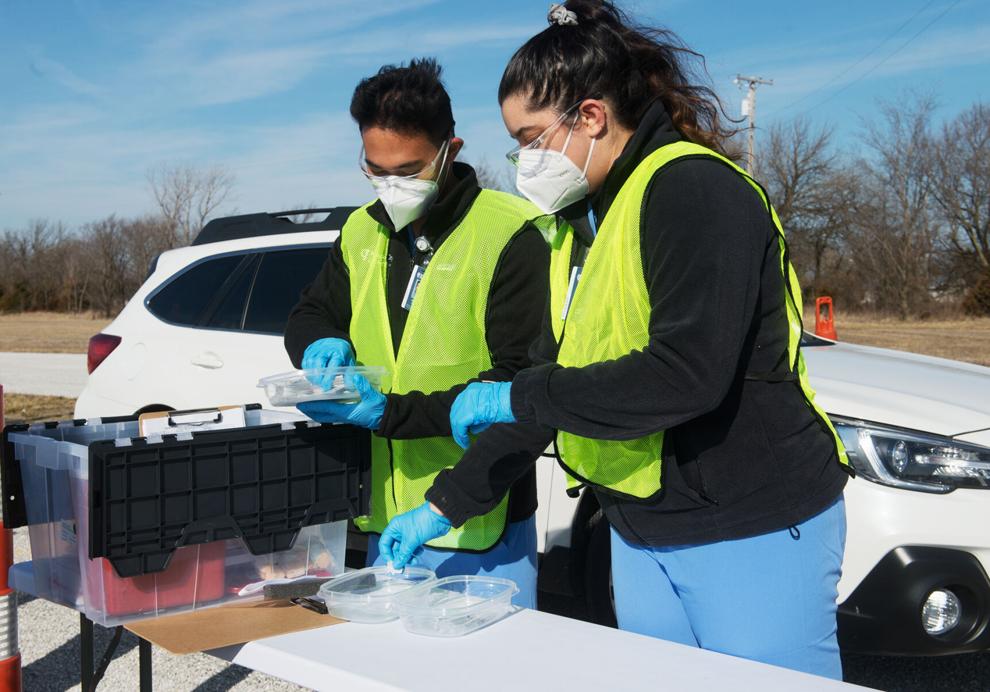 At the start of the pandemic, Ohtani was in the master's program at KCU's College of Biomedical Sciences in Kansas City. He said when it hit, it was extremely surprising.
"Being a med student, it was exciting but also kind of surreal," he said. "I'm glad I can play an active role. This is the ultimate experience. I'm really thankful."
Anureet Mangat, 25, a first year medical student at KCU in Joplin, said she couldn't pass up the chance to administer vaccines because a lot of students didn't get this opportunity. She was involved with the flu vaccine clinic, which she said helped prepare her for Friday's event.
"I felt way more confident giving the vaccine because I've done it before," she said. "It goes in the deltoid muscle just like the flu vaccine."
Linda Niessen, dean of the KCU College of Dental Medicine, helped supervise the medical students during the vaccination clinic. She said this is a magnificent learning experience for students because it's a unique time in history.
"They learn how it affects the community, how to diagnose it and how to figure out how to treat it, and then add that to their own learning experience," she said. "Their education gets to go from virtual to in-person. These students had to be resilient, and they've learned so much about public health. If they can get through this, then they can do anything."