The lobby of the Joplin Humane Society has been turned temporarily into a cat hotel, overflowing with kittens looking for permanent homes.
In one corner is a tiered cage where five kittens of various colors doze, too tired to be awakened by a curious young boy poking his fingers through the bars. One particularly vocal kitten in another cage, a black male cat named Chief, makes his presence known, not content to be ignored by the influx of visitors.
It's "kitten season" at the Joplin Humane Society, a springtime situation marked by the arrival of litter after litter as cats go into heat, said Dana Taylor, office manager. The result is more kittens and mama cats than the shelter can handle.
"We run out of space very quickly," she said, gesturing to the numerous cages propped up in the lobby.
The shelter took in nearly 900 animals, both cats and dogs, during May, its leadership said recently on Facebook. And litters of kittens keep coming in, which is especially problematic for the babies because their immune systems aren't advanced enough to ward off illnesses that might develop in an overcrowded shelter, Taylor said.
Kittens younger than 8 weeks are too young to survive without constant care because of their vulnerable immune systems, according to the American Society for the Prevention of Cruelty to Animals, a national nonprofit organization.
Matt Bershadker, president and CEO of the organization, wrote last year that it is "vitally important" to assist shelters during the annual high-breeding season.
"Responses traditionally focus on increasing adoption, but given the age and needs of these kittens and their exploding population, another community approach is just as important — fostering," he said in a June 2018 blog post for the ASPCA. "During kitten season, the need for fosters can be even greater than the need for adopters."
How to foster
The Joplin shelter has put out numerous pleas for foster families to temporarily take kittens into their own homes until they're old enough to be adopted — usually when they're around 8 weeks old and 2 pounds in weight, Taylor said. As of late last week,135 kittens and their mothers were in foster care, and at least 50 more still needed a foster, she said.
Families can foster kittens — they usually are given out at least in pairs, Taylor said — for as little as two weeks or as long as eight weeks. They receive all the necessary food, medication and other resources from the shelter, and when the kittens are of an adoptable age, they get a discount on the adoption fee if they choose to keep one, she said.
"We try to make the first (foster experience) short-term and easy," Taylor said.
Rachele Gray, a volunteer and foster mentor for the shelter, currently has a mother cat and her four 2-week-old babies.
"I love being able to get them out of the shelter and into a home environment where they're in a nice quiet room," she said. "There's a lot less chance of them getting sick if they're away from the shelter, and just to be around humans more is good."
Gray has fostered cats for the Joplin Humane Society for more than three years, and in that time, she has worked with a variety of felines, from newborns to adults. Her ability to take them into her home also benefits the shelter, she said.
"(Kittens) take so much time and work, so then (shelter staff) get to put their effort into the older cats that still need their attention also," she said.
To foster, fill out an application at the shelter, 140 E. Emperor Lane. Hours of operation are 1 to 5 p.m. Monday through Thursday, 1 to 6 p.m. Fridays, 10 a.m. to 5 p.m. Saturdays and 1 to 4 p.m. Sundays.
In addition to foster families, shelter needs include tiered cat cages, canned cat food and formula, Miracle Nipples for pets, blankets and towels. All adoption fees for cats and kittens are $20 this month.
And residents are encouraged to spay and neuter their pets to prevent unwanted litters in the first place. In fact, if there is some good news here, it's that kitten season hit the Joplin season only this month, and not in April as has historically been the case, Taylor said.
For that, she credits the shelter's focus on offering affordable spay-and-neuter clinics for pet owners. The shelter last month fixed more than 270 animals, both cats and dogs, she said.
"I think little by little, we're starting to make a difference in the community," she said.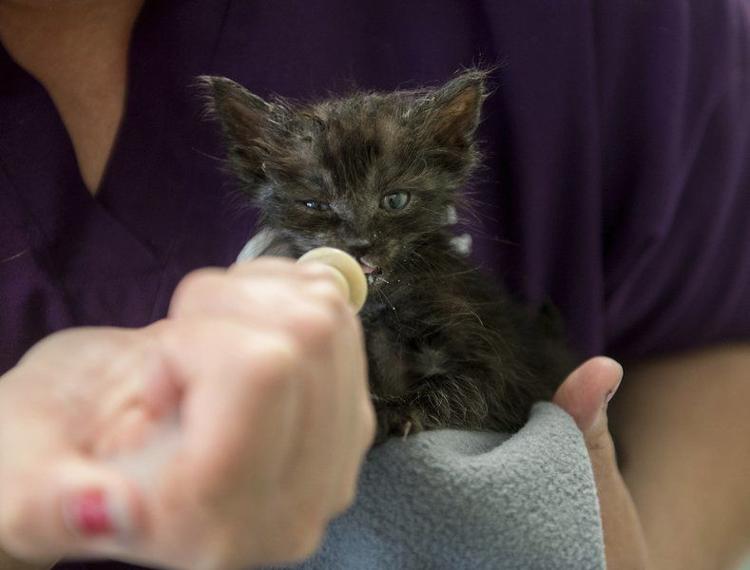 SEK shelter
The Southeast Kansas Humane Society also is experiencing an overabundance of newborn animals, manager Shamber Hubbard said.
"Every year at this time, it's the same," she said. "It's puppy and kitten season, and we get overwhelmed with more than we can handle. ... We have so many kittens right now they're coming out our ears."
The shelter currently is holding 40 kittens and 32 puppies, including a litter of nine puppies that came in Sunday after being found along the side of the road, Hubbard said.
Foster families are needed; fill out an application at the shelter, 485 E. 560th Ave. in Pittsburg. Hours of operation are 11 a.m. to 4 p.m. Monday through Saturday and 1 to 4 p.m. Sundays.
"They can tell us what they want to foster," Hubbard said. "If they just want to help with kittens — great. If they just want to help with puppies — great."