In the first images from a recent photo shoot, Elizabeth Banwart sits at a vanity outdoors, gazing at her reflection in the mirror.
Husband Jason is behind her. Casual observers might not even recognize at first that both husband and wife are wearing pink, the color long associated with National Breast Cancer Awareness Month.
By the third photo in the set, all becomes clear as he raises a pair of clippers. He kisses her forehead, and both begin to cry as he tenderly shaves her head.
In the photos from a Jasper photographer that have gone viral, attracting social media shares and comments from coast to coast, Banwart said she sought to capture an intimate moment — at times scary and at times beautiful — in her fight against breast cancer.
"Yes, I did shave my head because I do have cancer, but we are fighting it with the understanding that we are going to beat this," said Banwart, who lives with her husband and three children between Liberal and Lamar.
Cancer diagnosis
Banwart's battle with breast cancer began in September, when her husband urged her to make an appointment with her doctor to get a lump in her left breast examined.
She had been ignoring the lump because, at age 38, she thought she was too young to get breast cancer.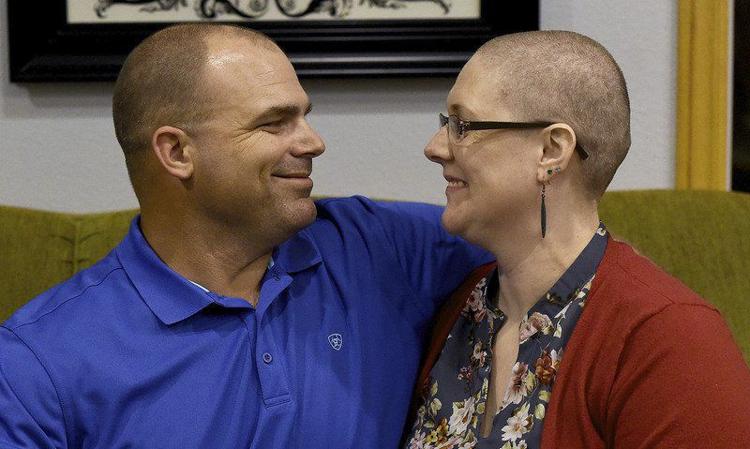 On Sept. 19, her doctor met with her and referred her for a mammogram and ultrasound, both of which were scheduled for the following day. Following the ultrasound, Banwart had two biopsies done — one on the lump in her breast, which had swelled to the size of a tennis ball, and one on a lymph node.
Both biopsies came back positive for cancer. Banwart said her thoughts immediately went to "a dark place," and she recalled a photographer in Jasper with whom she had worked before.
"My initial thought was I wanted to do a photo shoot with my kids and husband — something for them to remember me by if this is going to be my last family photo with them," she said.
As Banwart sought inspiration from other photo shoots she had seen online, her vision morphed. She still wanted to do the family shoot, but she also wanted some of the pictures to spotlight her husband, who she said has been extremely supportive, and her 15-, 3- and 1-year-old children, who she says are her strength.
"Even though I'm the one physically going through it, obviously it's taking all of us to keep me strong enough," she said.
Then she remembered one particular photo set she had seen of a husband shaving his wife's head in anticipation of her hair falling out during chemotherapy treatment. Banwart, who is in the middle of six rounds of chemotherapy, knew she wanted to do that.
"Whenever they told me with the chemo that my hair would fall out, I knew I didn't want to wait for it to fall out in clumps, and I didn't want it to be scary for my kids," she said. "I wanted to do it on my own terms."
On Oct. 21, the day of the photo shoot, the Banwart family dressed in pink and sat for a series of family shots with photographer Andy Neher outside their home.
Then came the difficult moment: when Banwart seated herself at the vanity, which was decorated with pink flowers, and looked at herself once more with her wavy, chin-length hair. As her husband, her high school sweetheart to whom she's been married for 18 years, shaved her head, telling her how beautiful she looked, the tears flowed freely.
"I knew losing my hair would be the hardest thing for me because it makes it so real," she said.
Neher, who had previously taken some pictures of the couple's younger children, said he was "honored" to be asked to capture the moment for Banwart and her husband. He made time for the photo shoot in his schedule because he knew it was important to the couple.
"Before it was over, all three of us were crying, so I knew it was going to be powerful," he said.
Sense of control
Banwart said that for her, shaving her head before her hair began falling out was all about control, a way to regain some sense of ownership over a disease that had turned her life upside down.
"I feel like I have little control over what this is doing to my body at this point, and this is one way to have a sense of control," she said.
Once the tears dried and the hair was gone, the photos of the Banwart family reflect another emotion — happiness. There are pictures of Banwart grinning at her new image in the mirror alongside her husband and those of the mother hugging her young daughter tightly.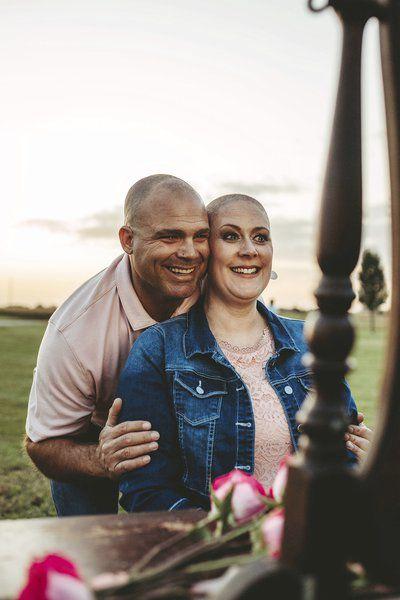 "In their eyes, nothing was really changing — it was just hair," she said. "All that matters is I'm still here."
A set of about 25 photos was posted to Neher's business Facebook page. Almost overnight, they were spread far and wide as people from all over the country found themselves connected to Banwart and her fight.
"While I do not personally know this family, I do know breast cancer," one commenter wrote on Facebook. "You can see the strength and determination that she has and the love and support that her family has for her."
"I don't know you, but these pictures were shared on a friend's Facebook page," another wrote. "I was diagnosed last June. ... I can't tell you it will be easy, but your attitude is everything I'm facing this battle."
Banwart said the attention her photos have received is "mind-blowing." She has been encouraged by the hundreds of responses — including many from strangers — offering their support.
"It's a very vulnerable moment to put yourself out there like that, not knowing how people are going to respond to it," she said. "But everybody has been so encouraging."
Neher himself also has received messages from people all over the country, including one from a woman who said she works in the factory that manufactures the clippers that Banwart's husband used. In a way, it doesn't surprise him — he says photos have the power to affect everyone.
"I think it brings out the empathy we have for each other," he said.
'Just a stepping stone'
Banwart purchased a wig but hasn't worn it much because her head it still sore and tender. On most days, she goes bald, and she says it's not as scary as she thought it would be.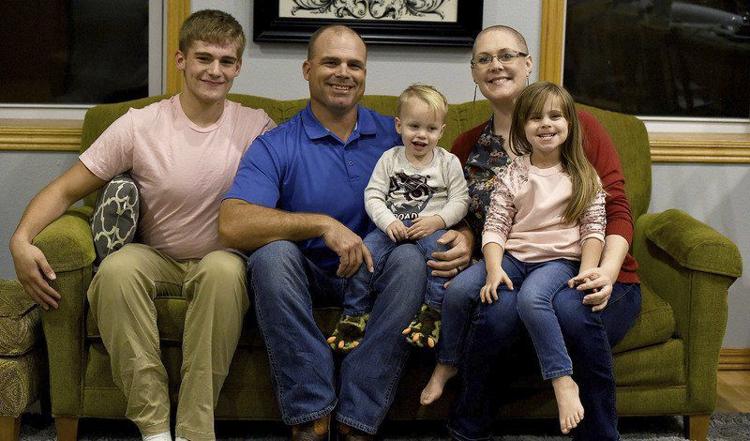 She's also looking to the future at the rest of her planned treatment: After chemotherapy, a mastectomy (or possibly a double mastectomy), and then radiation. The up-and-down emotions captured in the photo shoot — the sadness and tears, the joy and smiles — are likely to be felt throughout the entire process, she said.
But she's glad she has those photos — not only because they've touched so many people but also because they document what she hopes will be just a blip in her family's life.
"I'm sure a year from now, whenever we look back, we're going to think this was just a stepping stone," she said.