Local artist Eric Haun is looking to create and reflect Joplin's spirit one heart at a time through his Heart Joplin murals in the downtown area.
Standing on a ladder and a stack of wooden pallets, Haun was working last week on the seventh of his murals, located on the side of the Freeman Liquidators Warehouse building at 12th Street and Wall Avenue. The green and gold heart, painted in Missouri Southern State University colors, contains the word "Joplin" poured inside it.
Haun started the murals in June, and his goal is to spread them throughout town.
"Everyone has seen the iconic 'I Heart New York' design that was made by a graphic designer in the '70s," said Haun, noting his inspiration. "It's a pretty lofty dream of mine, but I got to thinking if I could create something for Joplin that can say more like that design. I like the idea of making a heart that says 'Joplin.' Also, if you make one, it's cool, but if you make 30 of them, it's going to be really impressive. I will continue to do these until I can't find any more spots to do them. That's my goal."
Haun has experience with painting murals and vintage signs around Joplin. He also created a map of downtown Joplin listing locations of public artwork. Drawing on these experiences, Haun sought to create an iconic logo for Joplin.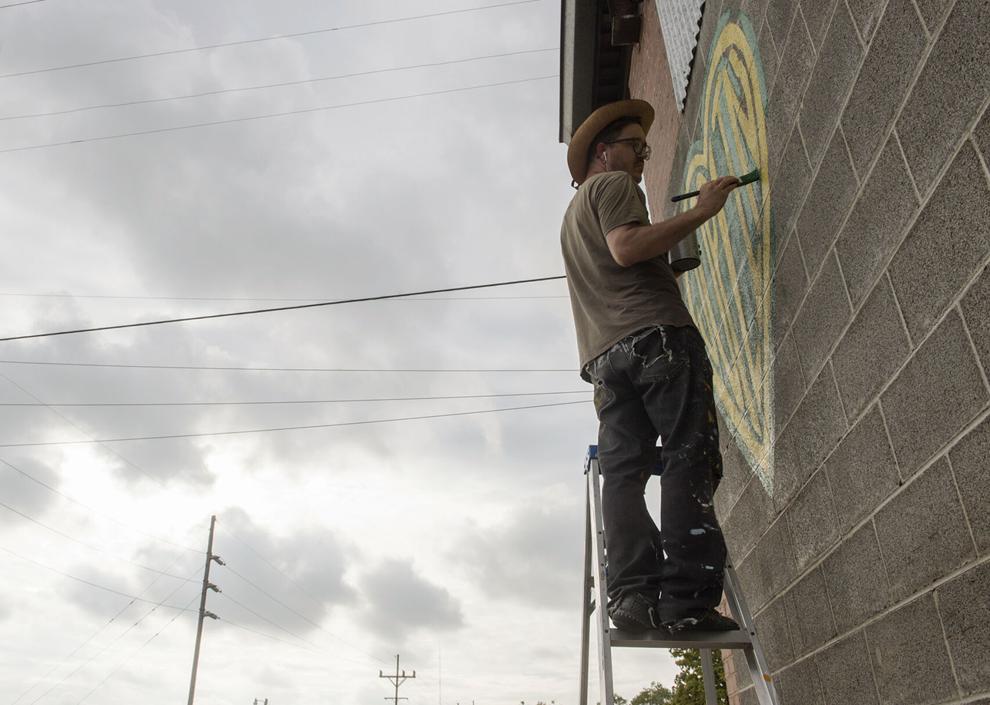 "I drew it out pretty quick on a napkin, and it was pretty rough," he said. "But then I did like 50 more creations of that same heart, cleaning it up and pushing it and changing it. In the end, I went back to the very first one I did, and all of its imperfections make it perfect."
The Heart Joplin murals are done in a variety of colors, which Haun hopes will reflect the inclusive culture of Joplin.
"I've done them in Missouri Southern colors, in pride colors and I've had people request a heart done in breast cancer awareness colors," Haun said. "I'm excited to be part of making something to create inclusion and love and happiness when people come into Joplin, and see these hearts. I want to create something that shows Joplin is a welcoming and loving town."
Haun started planning the Heart Joplin murals by driving around Joplin with his camera, scouting empty spots on buildings for potential.
"Then I went in a business with examples of the hearts, showing what I've done before. I would say, 'We could do something here; this is a great location,'" he said while showing photos of downtown buildings with empty spaces circled. "I'm going around trying to find what I think are the best places to do art."
As he knocked on the doors of building owners, Haun found the response to his questions overwhelmingly positive.
"I'm almost shocked at how welcoming people are of these hearts when I ask to put them on their buildings," he said. "I think art really helps form and shape a community; it's a major role. We have so many talented artists and projects going on, I feel lucky to be a part of it."
'We love Joplin'
Carolina Neal loved the Heart Joplin concept from the start, and had specific ideas on using the image on her building. She owns the former Carrier building at Second Street and Joplin Avenue, where Haun painted a Heart Joplin mural in rainbow colors on a blue background.
"I asked him to do one to represent the past and future of Joplin's citizens," Neal said. "The light blue represents the minerals that helped make Joplin and the rainbow colors show diversity. I wanted to show that we love Joplin, and Joplin is a welcoming place for people.
"I think art unifies people," she continued. "I hope the mural becomes a place for people to stop and take photos, to use them on social media. Using social media is a tool to communicate belonging, and also these hearts can be used to put Joplin on the map. The mural is simple in one sense, but it's also very powerful. I love what Eric does, and I want to support and promote the downtown community with it."
For Haun, he is inspired by the historic murals he sees around downtown — some that have lasted for decades. He hopes that the Heart Joplin murals will do the same.
"If you're doing paintings on brick buildings, these things will be preserved," Haun said. "These hearts will outlive me, will outlive you, will outlive your reader. The message of love will still go on and resonate."