U.S. Marine Corps veteran Charles Timothy Peay, of Joplin, described having his faith restored in humanity on Thursday when dozens of people turned out to celebrate the dedication of his first home that was built by community volunteers, businesses and organizations.
"It's an amazing feeling," he said. "All Marines get this heavy adrenaline rush come time for deployment because we go first. We volunteered to do whatever it takes for our country to maintain the freedoms that we have, and it comes with a rush, a body rush, an adrenaline flow. I came very close to that feeling with this house being built.
"It's hard to find people who show that kind of love nowadays," he added. "It's hard to find organizations that are donating time, as well as materials for a project."
From 1989 to 1991, Peay served his country with the Marines with duty in Operation Desert Storm. Peay was met with difficult challenges upon returning home from the military — post-traumatic stress disorder and depression.
But Peay said he was experiencing nothing but love from the Joplin community Thursday at the site of his new home and was proud that he never gave up despite debilitating struggles.
"It means so much more to me today," he said. "There was a time that I couldn't be around a lot of people and that's because my trust level was gone. I had learned to have a different mindset about people, but today, there's nothing in the world that can replace the feeling of having dozens of people come out and visit you and show their appreciation and to say thank you."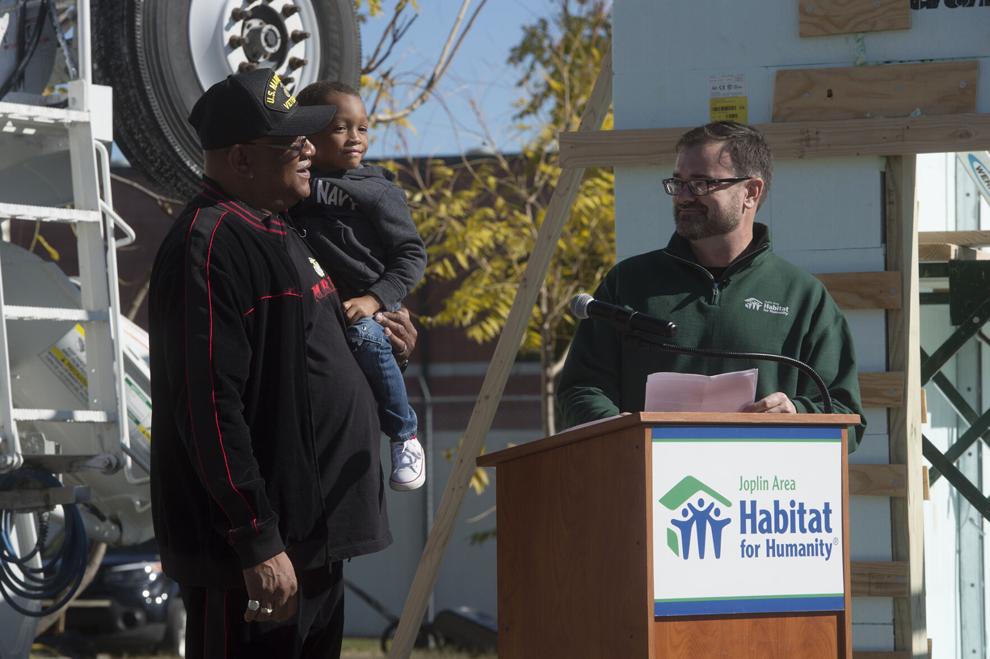 The Joplin High School ROTC Honor Guard presented the colors and led the Pledge of Allegiance during the ceremony.
The dedication marks Joplin Area Habitat for Humanity's 179th house after breaking ground earlier last month. The home is a joint effort by Joplin Area Habitat for Humanity, a coalition of the National Ready-Mixed Concrete Association called Build With Strength, and community partners Nudura, Joplin Concrete and other businesses.
"I think so often we can become so focused on our day-to-day grind and daily responsibilities that we don't stop to take intentional time to celebrate and honor the accomplishments and partnerships of our community and maybe even more importantly, celebrating the people who live and work in our community," said Alex Gandy, board president of Joplin Area Habitat for Humanity.
"Today, we get to remind ourselves that both private companies, nonprofit organizations and individuals in our community can come together to invest finances, to invest time and to invest hard work for the betterment of a veteran," he said.
The three-bedroom, two-bathroom house with a one-car garage and storm shelter is anticipated for completion soon after the first of the year. It will also be ADA accessible. Peay started the Veterans Build application process with habitat in 2018 and has volunteered with the organization on other projects.
The Veterans Build Program — established in 2017 — provides volunteer and homeownership opportunities to veterans, military service members and their families.
The dedication was an early birthday present for Peay, who is turning 59 years old on Saturday. Next year, he'll be moving into the 1,400-square foot house on Empire Avenue with his wife, Karen, and their 4-year-old son, Tim Jr. They just recently celebrated the official birthday of the Marine Corps on Wednesday.
"November of any year from now on is going to be grand for me," said Peay, smiling.
It was also the first home built by Joplin Habitat to have insulated concrete forms, which are essentially large blocks of plastic foam mixed with cement. The blocks connect together like Legos, and then cement is poured into the columns to create concrete walls.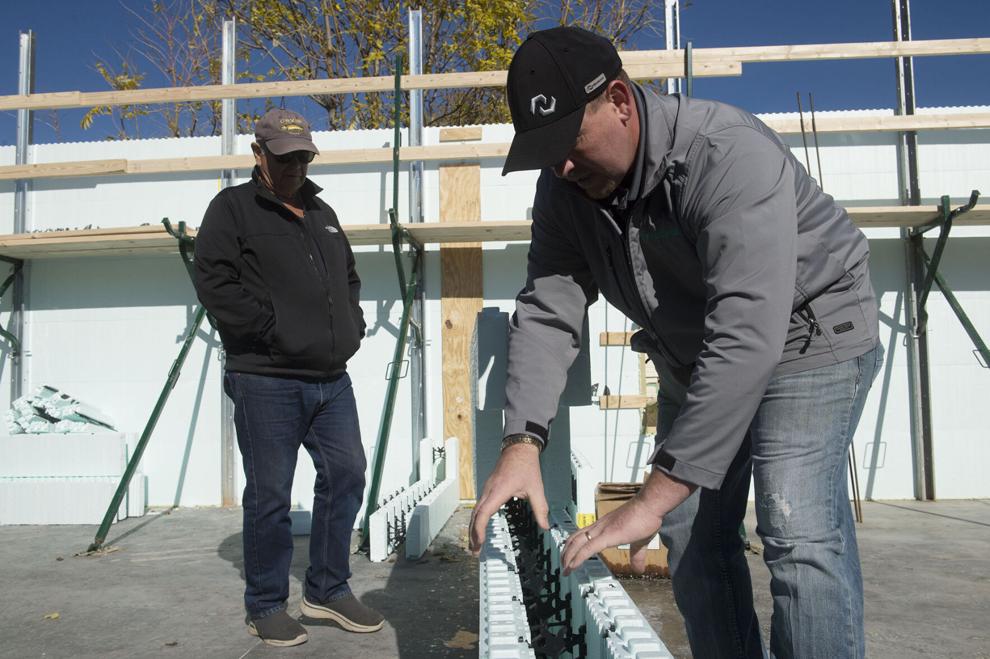 ICFs are an innovative, resilient and sustainable construction method. A portion of the concrete was donated by National Ready Mixed Concrete Association members.
"This is a leave-in-place form that is also insulation for your wall, so what you end up with is a much faster way to build," said Gregg Lewis, executive vice president of strategy at NRMCA. "A concrete wall with traditional forming, you have to build it twice. You're building the forming, putting the concrete in and you take the forms off. This stays in place and provides this tremendous energy performance over the life of the building."
Scott Clayton, executive director of Joplin Area Habitat for Humanity, said they've received a fantastic response from their volunteers who have worked with ICF because it's light and easy to use.
"A lot of times when you're building with wood, you have to have specialized people to make certain cuts," he said. "Anybody can do this. You're putting together the pieces and snapping it together."
Clayton said Habitat for Humanity International reached out to their organization in February and asked if they wanted to be involved in the NRMCA's Build With Strength Coalition. Joplin Habitat is one of 16 affiliates participating in the national effort to solve challenging housing issues.
Build with Strength is a coalition of the National Ready Mixed Concrete Association that works with communities, lawmakers, and industry employees to advocate for safer, sustainable building materials.
Check donation
During the dedication, General Mills also donated a check for $50,000 to Joplin Area Habitat for Humanity as part of the grant years 2020 and 2021. GM employees have also aided in construction of the new home.