When Joplin High School faculty reported to the Performing Arts Center on Wednesday for a faculty meeting, they thought they were going to hear Principal Stephen Gilbreth talk about the dangers of phishing.
What they got was the chance to watch one of their own get the surprise of her life as she found out she was one of five finalists out of more than 750 people nominated for a national award that honors outstanding educators who change the lives of young people.
Counselor Sue Day, who is retiring this year after 38 years with the district, is a finalist for LifeChanger of the Year, as presented by the National Life Group Foundation, and Marta Schroeder, a fellow counselor, couldn't be happier for her friend and co-worker.
"I am so tickled pink; I'm so excited for her," Schroeder said. "As she retires, to be recognized nationally like this and to be able to share a little bit of her with the rest of the country that we've seen is great.
"Sue has been my unofficial mentor for many many years. She has got the biggest heart, she is so caring and would do anything for anyone. That's the kind of person she is. She's very humble. She's never wanted any attention for what she's done."
Speechless
Day said she was shocked to find out she was a finalist. When she found out she had been nominated earlier this year, she figured she was one of about 750 people and that was as far as it would go. School officials say they are not sure when they will be notified as to whether Day wins the award.
"It's still 750 people, and I've never won anything," Day said after the meeting. "I'm the only person who's ever gone for 38 years to the Christmas party and never won even a hat, let alone a shirt or a jacket. So I was thinking it's a nice honor, but I'll end up where I always do on the table with a nice piece of cake. It is absolutely incredible, though. It's like a dream you still haven't woken up from."
Day said she retired from the district once about eight years ago, then came back to manage two programs she felt passionate about.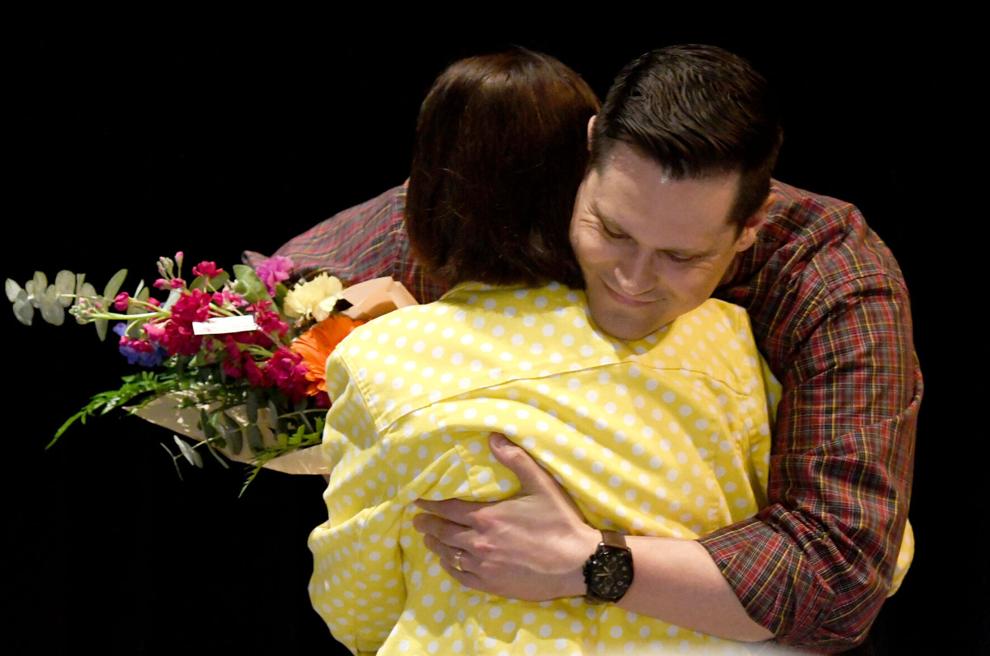 "We were at the mall after the tornado, and I retired because I had 30 years in education," Day said. "But I wanted to come back because we were starting an innovation campus program and the associate degree program, and it was something that I was really fired up about because I knew how much it would help kids, and I wanted to do as much as I could to get it off the ground. I never thought it was going to take eight years to get off the ground, but those two programs have just blossomed in the district, and I'm really grateful to have been a part of it."
'Perfect award for her'
Joplin Assistant Superintendent Kerry Sachetta, who supervised Day as principal at Joplin High School for 14 years, said she was deserving of the award and that it was a great capstone to a long and successful career.
"I think after a long career, this is a great award and the perfect award for her because Lifechanger is something she's done for a lot of people," Sachetta said. "For me, the first thing I think of with Sue Day is her leadership ability throughout the building. She's small in stature but probably one of the biggest leaders. She's involved with our kids to a significant degree when it comes to scholarships and getting into the best colleges and helping kids with their transition to work or into career education programs. You name it, she knows about it. She has experience with it, and she's very good with parents, to help students and parents together in understanding what postsecondary is all about."
Apparently dozens of other people agreed.
A total of 53 complimentary comments have been left on Day's profile page on the LifeChanger of the Year website.
The most recent comment, from H. Randall Craig, M.D., talked about what he called "her herculean effort to rebuild the counseling office" after the Joplin tornado of May 22, 2011.
"The entire high school and vocational school were reduced to rubble by the historic F5 Joplin Tornado," Craig wrote. "Five students and a staff member were killed and the entire school infrastructure was destroyed. During the subsequent three months Sue Day worked 14 hour days to help cobble together an entire high school from scratch in a large abandoned department store at a nearby mall, allowing the students to resume their education when the fall semester opened on time.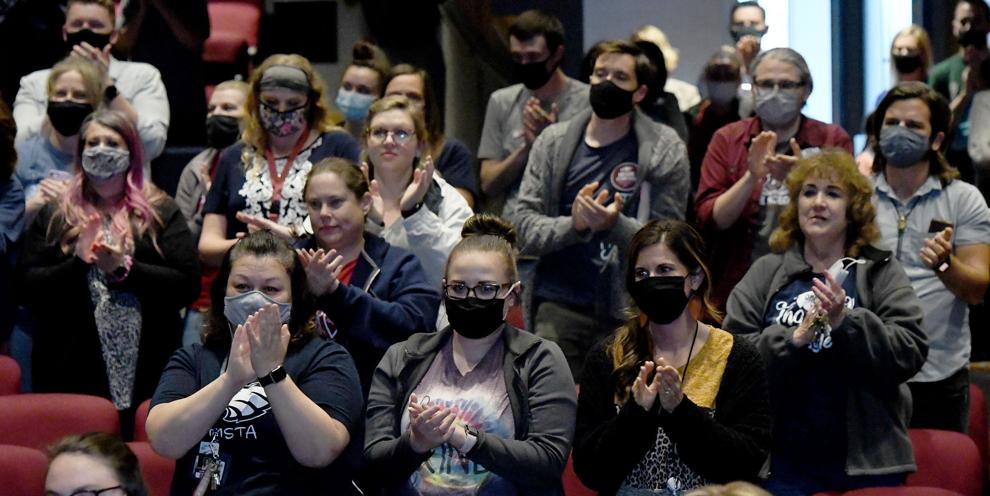 "Over the next 18 months, she patched together a fully functional counseling office on the fly, innovating office space, computer systems, piecemeal records, and urgent grant applications on a minute by minute basis, all the while counseling hundreds of traumatized students who had lost homes, family, and classmates."
Superintendent Melinda Moss said Wednesday that Day sees being a high school counselor not as a job but as a calling.
"I think Sue has consistently shown through her entire career a servant's heart for students," Moss said. "She's just as genuine and authentic from one day to the next as any person you'd ever know. To maintain that kind of attitude and service for more than 35 years is not possible in a job, but when it's a calling, that to me is the difference between a job and a career, and Sue has certainly exhibited that she is called to this work, and that's why I think she has continued to do it and to do it with such love and compassion from year to year to year."