Keep your eyes peeled for the bright orange and black hues of the monarch butterfly.
"They should be coming through at any time," says Kevin Badgley, manager of the Shoal Creek Conservation Education Center.
In celebration of the monarch butterfly and its annual migration through Missouri, the Missouri Department of Conservation will host its first Monarch Festival from 9 a.m. to 1 p.m. Saturday at the nature center, 201 Riviera Drive.
Visitors can view caterpillars and butterflies, participate in a science project to catch and tag butterflies, play games, go on a butterfly scavenger hunt and make a monarch headband. An educational program from 10 to 10:30 a.m. will teach visitors about the monarch's migration and conservation efforts to halt its population decline. All ages are welcome.
With their colorful wing colors and incredible migratory patterns, monarch butterflies frequently serve as the ambassador of the insect world.
"They're the one we kind of put up on a pedestal to represent all pollinators," said Brent Vandeloecht, an agriculture liaison with the department. "Truthfully, monarchs are not the best pollinator, but they do perform an important role in the ecosystem."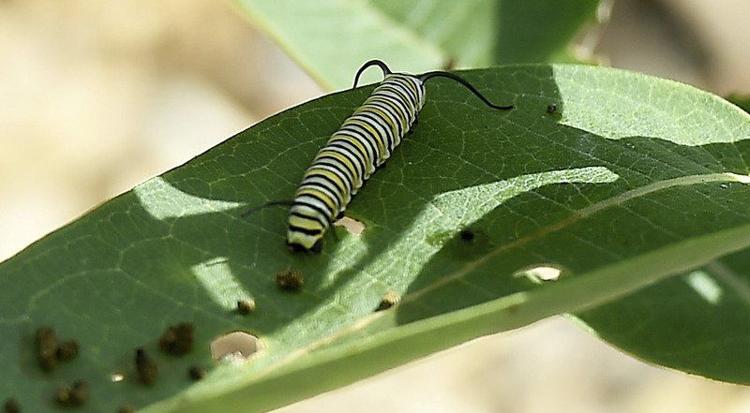 Migratory monarchs
Monarchs go through four stages during their life cycle: egg, caterpillar, pupa (chrysalis) and adult butterfly. They are well known for their migration to and from their winter sites in Mexico up to the northern parts of the U.S. and into Canada, eating nectar from plants and laying their eggs on milkweed along the way, said Robbie Doerhoff, a forest entomologist with the Missouri Department of Conservation.
"The monarchs we are seeing now through mid-October are mostly the ones that are heading to the winter roosting sites," she said. "Their main goal is to get to Mexico before it frosts in their breeding grounds, aka Missouri and other central U.S. states. In the early spring, these same butterflies will leave Mexico and begin heading north. ... Missouri is fully within the heart of the monarch migration and breeding zone, so we are a pretty important place for supporting monarch habitat and ultimately keeping the species from becoming endangered or even extinct."
Monarch numbers have "decreased significantly" over the past 20 years because of habitat loss and fragmentation, pesticide use and climate change, according to the U.S. Fish and Wildlife Service, which has been working to assess the monarch's status in response to a petition to list the species under the Endangered Species Act. That decision is due by December 2020.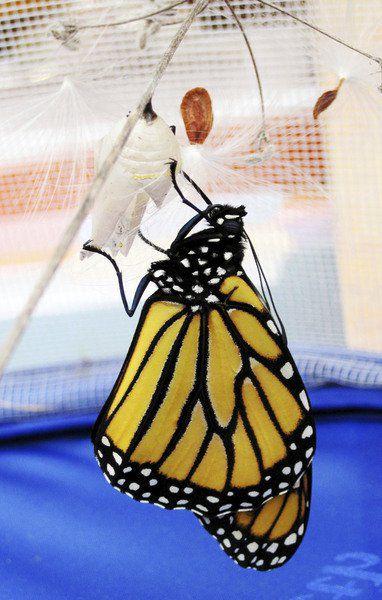 To help shed light on the issue locally, Joplin signed on to the Mayors' Monarch Pledge, an initiative of the National Wildlife Federation, several years ago and has since installed pollinator-friendly gardens in Humphrey, Leonard, Ewert and Cunningham parks, said Val Frankoski, a Missouri master naturalist with the Chert Glades chapter.
"Its objective is awareness of the plight of the monarch butterfly and the migration dwindling possibly to the point of disappearing because of changes we have made in the landscape," she said.
Frankoski said the pledge, which boasts hundreds of signatories across North America, helps give the master naturalists involved in the Joplin gardens' upkeep a platform for increasing awareness of monarchs and other pollinators, which face similar issues in terms of habitat loss and climate change.
"Everything is connected; we do one thing in the environment and it helps something else," she said. "We may sneak a monarch butterfly in there, and we end up encouraging native species of bees. All of this is good."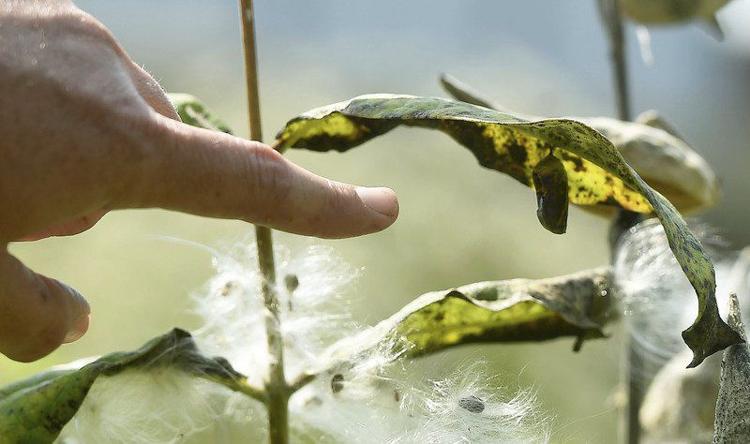 Planting milkweed
Doerhoff agrees. It's those types of plantings — of milkweed, New England aster, prairie blazing star or several native sunflower species — that can help monarchs and other insects and can be easily accomplished in a backyard, she said.
"Anyone — whether you own a quarter-acre or 1,000 acres — can help monarchs just by planting milkweed and/or native wildflowers," she said. "Pollinators are extremely important to maintaining healthy ecosystems, so by doing something to help one charismatic species — the monarch — we are hopefully increasing the health of our local prairie ecosystems and benefiting a diverse array of species over time."
Badgley, the Missouri Department of Conservation specialist who manages Joplin's nature center, said a 10-foot-by-10-foot patch of native plantings is ideal; the nature center itself has several such areas that are conducive to monarchs and other pollinators. But any planting of a host plant or nectar plant will help, he said.
"We've really wiped out some of the small tracts with milkweed in them," he said. "There's a push to re-create that and make a checkerboard of spots the monarch can use during the migration."
For information on available programs and best management practices for monarchs, go to the Missourians for Monarchs Collaborative at moformonarchs.org. The Missouri Department of Conservation's guide to backyard habitats can be found at mdc.mo.gov/wildlife by clicking the "Attracting Wildlife" tab.