With a plump, golden brown turkey as the centerpiece, Missouri Southern State University invited international students over the weekend to take part in an American Thanksgiving meal. While the usual traditions of food and fall were celebrated, students said they were most grateful for the opportunity to gather together as an university family.
MSSU President Dean Van Galen and his wife, Mary, hosted the event for 27 international students Sunday at the school's North End Zone Facility. Students from Japan, Brazil, Spain, Italy, Kenya, Haiti and many other global locations were in attendance. Members of the MSSU Board of Governors served as table hosts, inviting conversations and sharing each table's international traditions.
"We thought it would be enjoyable and meaningful for international students to experience a traditional American holiday: Thanksgiving," Van Galen said. "It's an opportunity for our international students to come together with members of our Board of Governors and others to learn about Thanksgiving, to think about the idea of gratitude and to share a bit about their cultures as well. While many countries around the world have harvest festivals or celebrations of thanks, Thanksgiving is uniquely American and Canadian."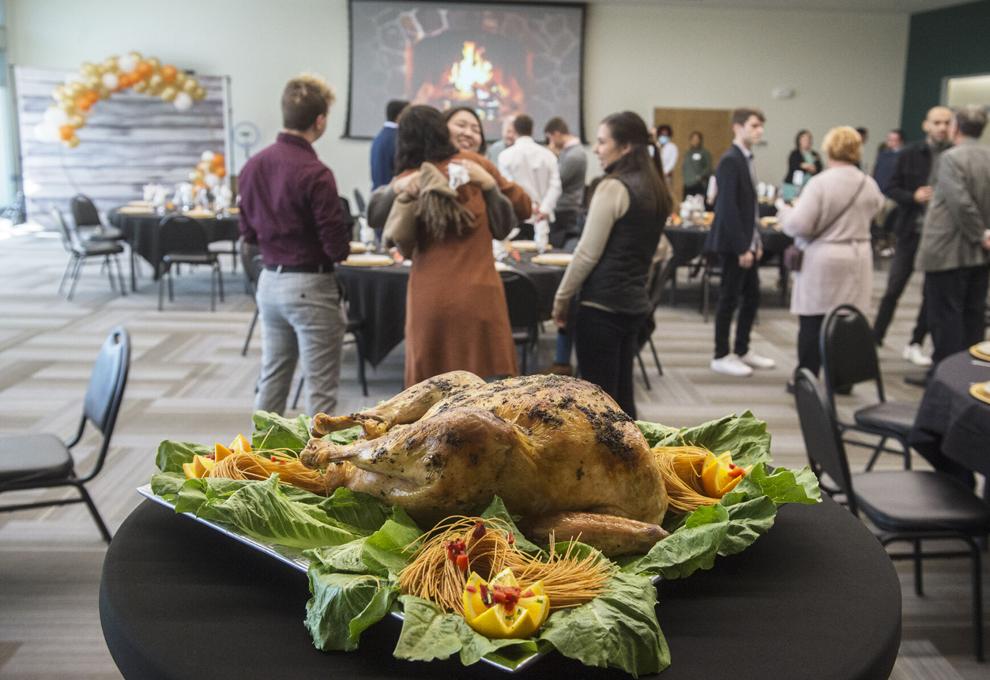 The traditions of American Thanksgiving were central to the luncheon. In addition to the turkey, the Fresh Ideas food service served a meal of potatoes, both sweet and mashed; green bean casserole; cranberries; stuffing; and pies. Boxes with leftovers were provided with instructions on how to serve cold turkey sandwiches. In honor of another American pastime long associated with Thanksgiving, the North End Zone Facility gave a prime view of the Fred G. Hughes football stadium.
After the meal, the turkey lethargy began to kick in.
"They've all loved the turkey; as it's starting to digest, they're all starting to understand the napping part of the Thanksgiving tradition," said Stacey Clay, international student services coordinator. "A lot of people have heard of Thanksgiving, but they have no idea what it is or how we celebrate it. It's another insight into what we consider to be normal and traditional."
Van Galen shared the history of Thanksgiving with students before the meal. He talked about the history of the first Thanksgiving in the 17th century, and when the holiday was officially set by law on the last Thursday in November in America in 1942. Students said they particularly enjoyed the story of the pardoning of turkeys by United States presidents. That tradition continues to this day, with President Joe Biden earlier this week pardoning two turkeys named Peanut Butter and Jelly.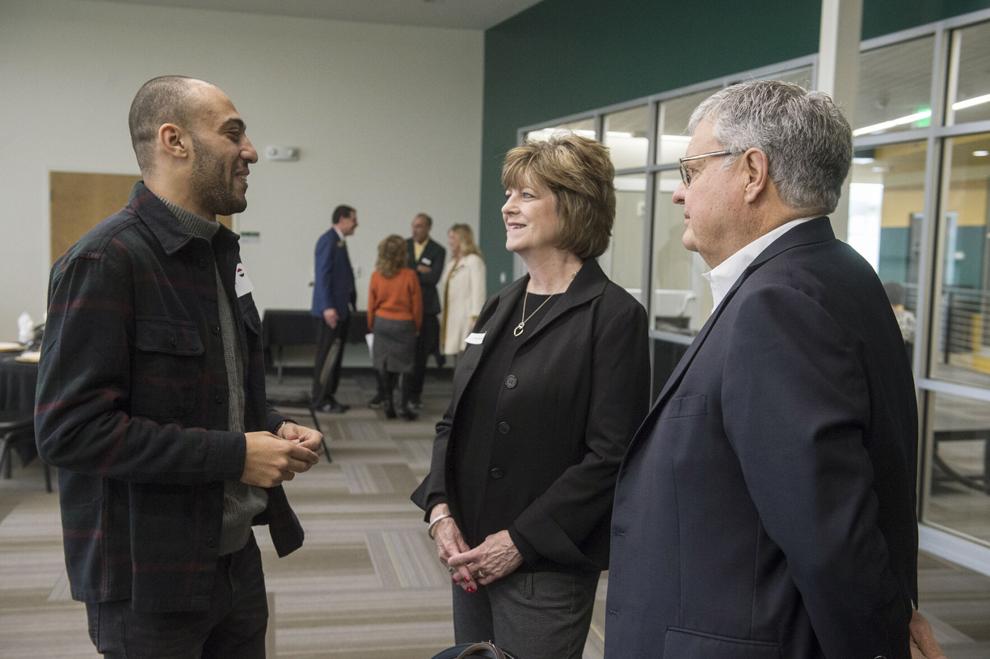 "The overarching theme of the day was the importance of gratitude and being thankful," Van Galen said. "It was also an opportunity for the students to learn the history of this unique American holiday. We also spoke about how it's very much a family holiday in the United States, with the idea that today we brought them together as members of the Lion family."
Reaction from students
Students said they most appreciated this Thanksgiving tradition of togetherness, especially because they are away from their family and friends this holiday season.
"That's one thing they all have in common, that they're all experiencing the same thing," Clay said. "It gives them that feeling that you are welcome here. When the dorms and campus are closed, we don't want that isolation for them. We want them to know that Missouri Southern is a welcoming campus. That's what we're here for, to make them feel at home."
Eslam Sharif is a student from Cairo, studying industrial engineering technology at MSSU. Although this wasn't Sharif's first Thanksgiving, he said he was thankful for the invitation to share the company of other international students during a holiday that he would normally spend alone.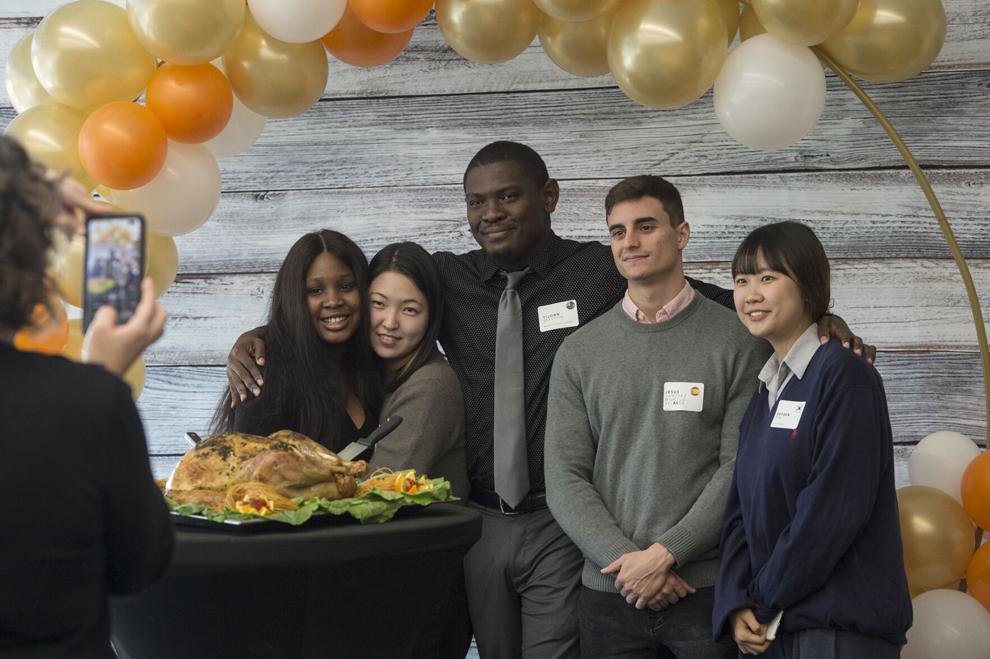 "Last year, an American family invited me for Thanksgiving, and it was a good time," Sharif said. "It was something different for me. So this is my second time at Thanksgiving. I became a little bit more familiar with Thanksgiving this time, and I love it. It's good to meet different people here. You get different perspectives when you interact with people from different cultures, countries, languages. You should not limit yourself to people who are like you. You should see what's going on."
Ropafadzo Nyakutya, a pre-med student from Zimbabwe, is studying biochemistry at MSSU. Sunday's lunch was her first experience with Thanksgiving and its assortment of foods.
"I'm not used to eating with so many people for Thanksgiving," Nyakutya said. "Thanksgiving is a good tradition; there's a lot of food. But in African culture there's a lot of food too, so I like that. Overall the food was so good because there was a variety, and it all tastes different. It was my first time having any fruit pie, and apple pie was the best."
Nyakutya said the Thanksgiving experience encouraged her to start a tradition of her own. Thankful for the university's hospitality during Thanksgiving, she said she wants to continue to share the traditions of the holiday with her friends.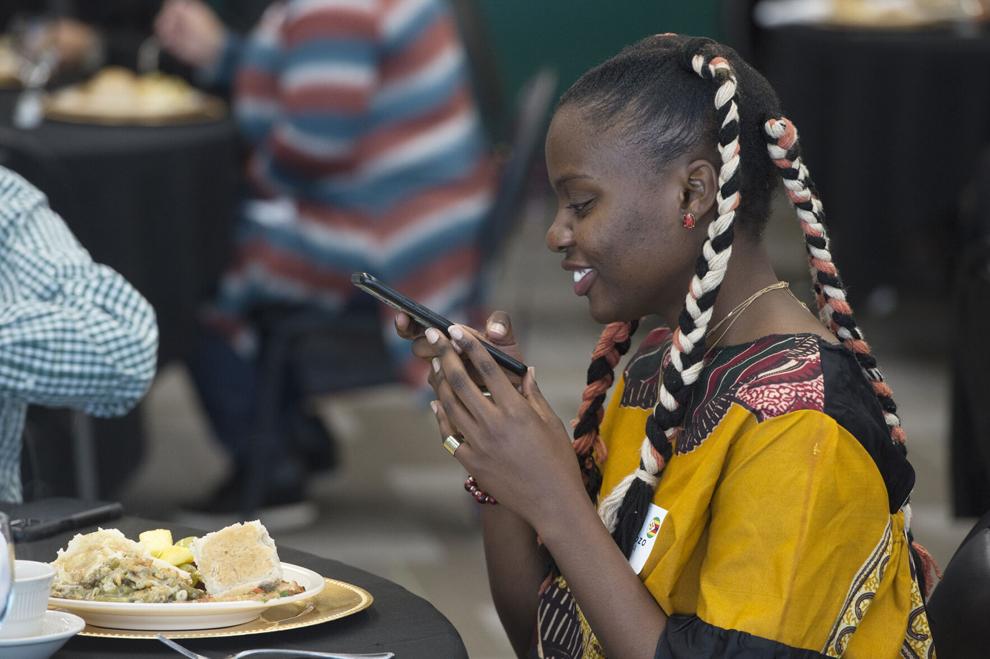 "The important part is being with your friends; you want to be with people that you're grateful for," Nyakutya said. "This has inspired me to have our own Thanksgiving with friends later on. I'm probably going to have a friends' Thanksgiving meal later on because international students don't have their families here. You just need to have Thanksgiving with friends. I'm thankful for having people around me to not feel alone during this holiday."