CARTHAGE, Mo. — When Thomas Zapletal was growing up, he, his dad and other relatives would go fishing at Kellogg Lake Park, and from time to time they'd see a snake swimming in the water.
Zapletal never dreamed that his college career would bring him back to that lake, this time catching snakes instead of fish.
"That's one thing I never thought I would do would be to just openly grab a snake," said Zapletal, now a 21-year-old senior biology pre-med major at Missouri Southern State University. "It was a Graham's crayfish snake. I saw it hanging on a tree and I just grabbed it. We identified it, realized it wasn't a venomous snake and it was safe to grab, so I grabbed it."
Zapletal's instructor, assistant professor David Penning, specializes in herpetology — the study of amphibians and reptiles. He helped start a herpetology program in Southern's biology department after coming to MSSU in 2016.
But it was a chance discovery while walking his dog during the pandemic that encouraged him to take a deeper dive at Carthage's Kellogg Lake Park.
"We had never been to Kellogg Lake before," Penning said. "My wife and I, especially myself, I kind of consider myself a homebody, so if I'm not at work working in my lab, we don't do much other than go to the movies, which is largely dead because of the pandemic. So we just wanted to go for a walk, and we went out to Kellogg Lake."
Little Foot's role
"I've got to give credit to our little dog, Little Foot," he said. "She saw the snakes first. The reason I saw the snakes at all is because they were mating. The female Graham's crayfish snake is probably five times the size of the male, so there were five or six males wrapped around the female, so she couldn't swim away very effectively, which is why I was able to see them. She took off and the males floated to the top, so I grabbed one of the males. I was looking at him and said ... 'This is not what I expected to find here at all.'"
Penning said the Graham's crayfish snake gets its name from its diet.
"It specializes in eating crawdads that have recently molted," he said. "It's basically like soft-shell crab for a snake. The crawdads molt and they give off a very specific smell, and the crayfish snake will go and find them and eat them tail first so the pinchers can't hurt them."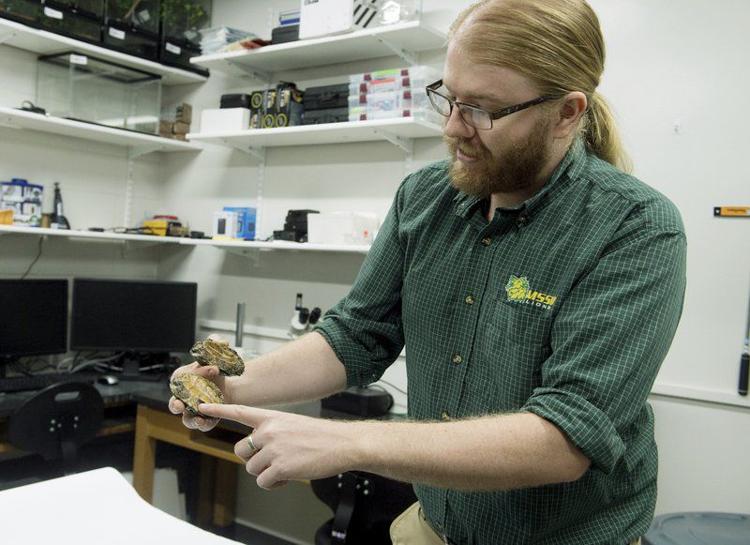 Although relatively common in other parts of the country, one hadn't been seen in Jasper County by scientists in more than a century, according to the Smithsonian Institution.
Penning talked his wife into walking all the way around Kellogg Lake and made a second find that surprised him.
"We're on the same walk, and I look down and see a little stinkpot turtle, and I just grabbed it out of the water," Penning said. "Same with that one, I found a book from 1911, and it literally says, 'Found one in Carthage.' That's the totality of what we know about that turtle in Jasper County. So in a 30-minute walk around Kellogg Lake I had one of the coolest days of accidental field research I've ever had."
Penning posted what he had found on his Facebook page, and it piqued the interest of some of his students, including Zapletal, one of Penning's former students.
Penning rounded up the necessary research permits from the state, and he got permission from the city of Carthage to work in the park.
"So we got together there one Saturday and went for about six hours and found quite a few different species of snakes and turtles," Zapletal said. "Kellogg Lake is more diverse in its ecology that I ever imagined it was. I didn't even know half these species were there, let alone as many as there were and the dense population."
Penning said the students not only get the chance to learn how to conduct research in the field, they could have their research published in regional scientific journals.
"I basically told the students, if you're interested, I will see you through this from start to finish, from no experience to hopefully an author on a publication where you get to talk about the diversity of a region where you might have lived your whole life," Penning said. "We get to be some of the first people to talk about some weird and rare diversity that isn't quite known very well around here."
Carthage presentation
Penning also met with Carthage's Kellogg Lake Advisory Board last week about the work he and his students have done so far. He presented four options to continue the surveys, with budgets ranging from $500 to $2,000.
The board voted unanimously to provide Penning with his largest request — $2,007.75 for three turtle traps, 30 minnow traps to catch the snakes, dip nets and equipment to build more custom traps.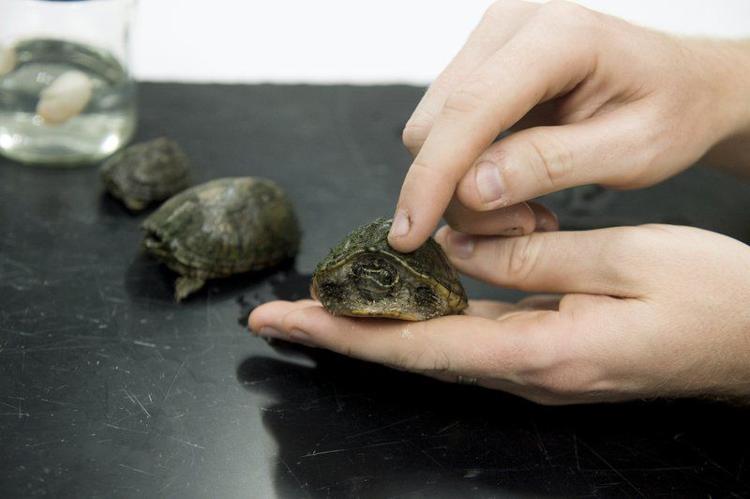 Penning agreed to hold public events to bring residents and possibly students from local schools to the park to learn about the animals he and the other MSSU students are studying, and he also agreed to create content for signs the board could place at the park to describe the diversity of wildlife there.
Board Member Don Kittrell, who made the motion, said he thought Penning's program would generate a high level of public interest.
Penning said he was shocked when the board decided that night to give him the largest amount he requested.
"I've been doing this for 12 years, and I've never had a group be excited about nature at a level like this, so that's really neat for me personally," Penning told board members. "Thank you all."
David Lawhon, president of the Kellogg Lake Board, said: "It's a learning experience for me to learn that there are more species of animal than what we see on a regular basis. I guess sometimes I get complacent and think, 'Yeah, there's a snapping turtle' ... and don't think anything about it. I'll see an old water snake out in the water and not think anything about it. Now come to find out there's a special snake here or a special turtle here that hasn't been seen for a while."