If you head toward Liberty Utilities-Empire District's plant at East 32nd Street and Kodiak Road, your eyes might glaze over at what appears to be an unkempt field of wild prairie land.
But look closely and you'll see a butterfly-shaped sign that proclaims the area is under the protection of the utility's Power to the Pollinators initiative.
And get down at eye level with the plants and you'll discover a world of bees, butterflies, moths and other pollinators, all doing their part to keep America's lands fertilized and productive.
"There's a lot we can do to manage (our lands) and encourage more pollinators," said Jason Grossman, manager of transmission and distribution of vegetation for Liberty.
As more pollinator species become imperiled across the world, individuals and businesses like Liberty-Empire are beginning to include them in their landscape management plans.
Even the federal government, since the mid-2000s, has prioritized the health and conservation of pollinators: Today caps the end of National Pollinator Week, which exists for the "recognition of the importance of pollinators to healthy ecosystems on public and private lands and their value to the nation's economy," according to David L. Bernhardt, U.S. secretary of the interior.
Most pollinators, about 200,000 species, are insects such as flies, beetles, wasps, ants, butterflies, moths and bees. A small number, about 1,000 species, are birds, bats and small mammals, according to the Pollinator Partnership, a nonprofit behind the launch of National Pollinator Week.
Pollinators in peril
Many of the headlines about pollinators in recent years have centered on the plight of wild bees. Bees have been on the decline for more than a decade across the globe, and scientists have blamed a range of factors including insecticides called neonicotinoids, parasites, disease, climate change and lack of a diverse food supply.
A new study released in April further identified the downward spiral. Researchers found that 14 bee species found across New England were on the decline by as much as 90 percent.
"We know that wild bees are greatly at risk and not doing well worldwide," said Sandra Rehan, the senior author on the study, in a statement. "This status assessment of wild bees shines a light on the exact species in decline, besides the well-documented bumblebees. Because these species are major players in crop pollination, it raises concerns about compromising the production of key crops and the food supply in general."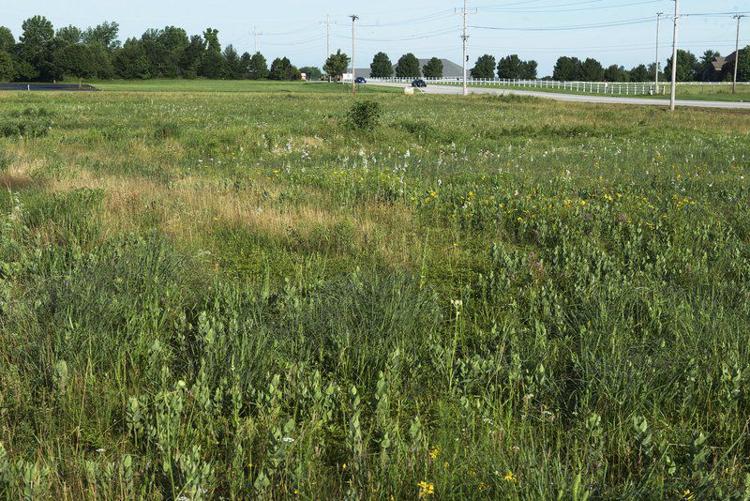 But the risk of decline extends well beyond bees to most pollinator species, and for many of the same reasons — habitat loss and fragmentation, pesticide use, nonnative invasive species, parasites and climate change, according to the National Park Service.
Insect pollinators that are currently listed as endangered or threatened in the U.S. include the Blackburn's sphinx moth, Taylor's checkerspot, Delhi Sands flower-loving fly, Lange's metalmark, Myrtle's silverspot, Pawnee Montane skipper, rusty-patched bumblebee, St. Francis' satyr and Miami blue butterfly.
The decline in pollinators could have significant repercussions across the globe. About 75% of all flowering plant species require the help of pollinators to get their pollen grains from plant to plant for fertilization. That amounts to more than 1,200 food crops and 180,000 different types of plants that help stabilize soil, clean the air and support other wildlife, according to the Park Service.
In other words, pollinators play a vital role in the economy. Pollination of agricultural crops is valued at $10 billion annually in the U.S. and $3 trillion globally, according to the U.S. Forest Service. More than 150 food crops in the U.S., including almost all fruits and grains, depend on pollinators.
Liberty's initiative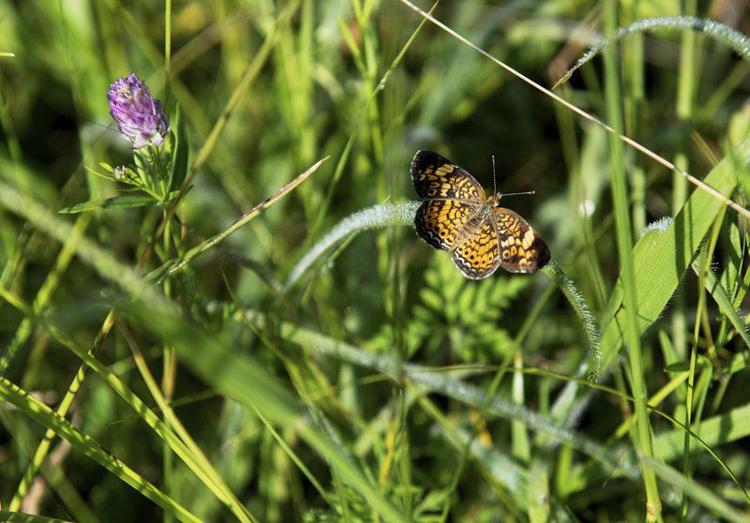 Liberty-Empire owns about 10 acres of field next to its Kodiak Road operation, and in March, officials completed a prescribed burn on the front half of the property. The burn kicked off the utility's new Power to the Pollinators initiative, which seeks to promote and protect pollinators while helping the utility better manage the vegetation in its rights of way.
Like most prescribed burns are designed to do, this one singed all of the grass and several invasive species that had taken over the field and provided room for long-dormant seeds to sprout. Within a week, the first flowers — trout lilies — popped out of the ground, Grossman said.
"Ever since then, there's been a consistent succession of plants blooming, which makes a great pollinator habitat," he said. "This is what was here originally, and the fire just cleaned the canvas."
Armed with a field guide of wildflowers to help in identification of blooms, Grossman said the field now is home to a variety of flowers including the sensitive briar, wild hyacinth, aster, coreopsis, brown-eyed Susan, sunflower, rattlesnake master, Queen Anne's lace, wild bergamot, purple coneflower, prairie poppy and goat's rue. The blooms have attracted bees, butterflies, moths and even some small birds such as killdeer, snipe and turtledoves.
The experiment has gone so well, Grossman said, that he hopes to burn the back part of the property sometime this fall. Even now, he said, observers can see the difference between the two — the front part is full of wildflowers and a diverse array of species, of both plants and animals, while the back part is heavy with grasses.
The field isn't the only piece of Power to the Pollinators that Liberty has tackled. It maintains an arboretum in its right of way in Joplin's Landreth Park. It also in recent months has installed pollinator-friendly plantings in Baxter Springs and Columbus in Kansas and in front of its corporate office in downtown Joplin, said Jillian Curtis, a communications coordinator.
Liberty-Empire also hopes to work with homeowners who want to transform their yards into a pollinator-friendly habitat. The results, Grossman said, would be a win for all involved.
"We'd love to work with property owners to help them achieve something like this too," he said, gesturing to the field of wildflowers. "We get to see reduced management, and they get to see something year-round that looks like this."
The Associated Press contributed to this story.