PITTSBURG, Kan. — After five years in the making, state and local leaders on Friday launched the final component of Block22 in downtown Pittsburg with a grand opening celebration of the new makerspace, the Pitsco Idea Shop.
Located next door to Root Coffeehouse & Creperie on North Broadway, the Pitsco Idea Shop serves as an innovative and educational resource in Southeast Kansas. The shop features technology and equipment such as 3D printers, a band saw, laser engravers and more giving innovators things they need to think up, make and bring ideas to life. Memberships are available to community members.
The Pitsco Idea Shop was formed downtown by a joint partnership between Pittsburg State University and Pitsco Education, a provider for hands-on kindergarten through 12th grade science, technology, engineering and math solutions.
The grand opening celebration drew special guests, including Kansas Gov. Laura Kelly, Secretary of Commerce David Toland, Kansas Manufacturing Solutions CEO Tiffany Stovall, Pittsburg Mayor Dawn McNay, Pitsco founder Harvey Dean and PSU President Steve Scott.
"The energy in this region is a testament to what we can accomplish when we support programs and services that keep our students in our communities and encourages business development," said Kelly.
Block22 is a collaborative project among PSU, the city of Pittsburg and the Vecino Group, a Springfield, Missouri-based real estate developer. The group has invested approximately $18 million to restore and renovate four historic downtown buildings — Commerce, Baxter, National Bank and Opera House Hotel.
The Block22 project features a unique mixed-use living-learning community that features residential, commercial, dining and entertainment spaces. It serves as an innovative hub for area entrepreneurs, as well as students.
Originally, architects and developers aimed to provide a resource to university students and community members, but it soon blossomed into an outlet for students in grades six through 12 as well when Pitsco became involved with the project.
"The Idea Shop is going to be unmatched, I think, anywhere, certainly in this region, and I believe nationally, it has implications there too," said Dean. "I brought this idea up to Dr. Scott once about the need for more opportunities for younger people to make things."
PSU Chief Strategic Officer Shawn Naccarato, who led the development of Block22 on behalf of the university, said they were approached by the city about the Block22 idea in 2015. They brainstormed how to save, preserve and resurrect the first four buildings in Pittsburg. He said Friday's grand opening celebration of the Pitsco Idea Shop is a culmination of five years' worth of work and planning.
"Early on, the notion of a makerspace became very clear that it was something we wanted to include," Naccarato said. "If we were going to have an entrepreneurial ecosystem, we needed a makerspace."
Toland said Block22 was creative and effective in revitalizing a commercial corridor and, by extension, revitalizing the community.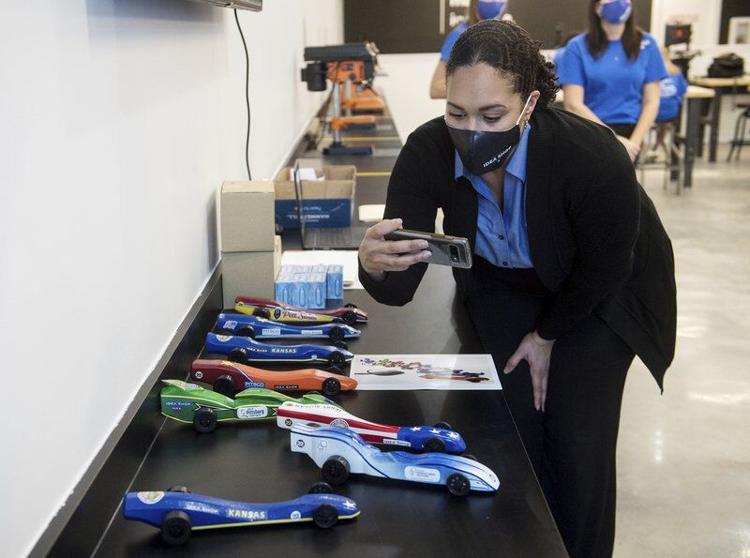 "With a far-reaching catalog of ways to turn ideas into successes, the Idea Shop will be an incredible resource for the city of Pittsburg, the region and the state as a whole," said Toland. "We all look forward to seeing how the Idea Shop helps foster the next generation of Kansas innovators and Kansas entrepreneurs."
Dragster races
And what better way to celebrate a grand opening than with CO2 dragster races? CO2-powered dragsters are one of Pitsco's first products, offered to teachers and students in kits starting in 1970. The hands-on learning experience is designed to teach basic engineering concepts, from Newton's laws to identifying and minimizing friction.
The special guests even participated in the races, with the wooden cars traveled along 80 feet of track within a matter of seconds. Students in grades six through 12, who built the cars after school and on weekends, also participated in the Idea Shop's first race competition, which was sponsored by Kansas Manufacturing Solutions, later in the afternoon.
"Our motto is 'Think. Make. Innovate.' and that's exactly what this competition for students is all about," Matt Frankenbery, vice president of education at Pitsco and a PSU graduate, said in a statement. "The greatest success stories — including Pitsco Education — all begin with an idea."
Frankenbery's son, Abram, 15, a freshman at Frontenac (Kansas) High School, heard about the dragster project through his father, then created his own black car. Abram said the project taught him about aerodynamics and gave him useful hands-on experience. He aims to one day become a mechanical engineer.
"It was fun, and it gets your heart rate going when you watch them go down the track," he said. "They give you a rectangle piece of wood, and you have to trace it on graph paper and then design it. I like how mine turned out."