PICHER, Okla. — Three theater artists from New York hope to capture the spirit, essence and story of Picher in a way that's never been done before — in the form of a musical.
Lauren Pelaia, Alex Knezevic and Quentin Madia are collaborating on "The Picher Project" as a way to not only highlight the rise and fall of the mining town but also to remember the lives of the people who lived there and to illustrate the environmental impact of the mining era.
"I think this (environmental) problem is everywhere, and it's only getting worse," Pelaia said. "And the fact that this is one of the most toxic places in the country and no one's ever heard of it is why we wanted to do this."
Picher, now considered a toxic ghost town, was once a thriving community that served as the Tri-State leader in lead and zinc mining, producing more than $20 billion worth of ore between 1917 and 1947.
The lead and zinc mines closed in 1967, leaving behind more than 1,000 abandoned mine shafts, colossal chat piles and environmental devastation that has turned portions of Tar Creek orange from heavy metals. Picher is part of the Tar Creek Superfund site, one of the largest and most complex sites in the country. It was added to the U.S. Environmental Protection Agency's Superfund program in 1983.
An EF4 tornado in 2008 killed six people and destroyed most of what was left of the town. Federal and state governments, deeming the town uninhabitable over fears that the ground beneath it could collapse at any moment, offered buyouts to all residents in June 2009.
Developing an idea
Madia said he first discovered Picher in 2017 after perusing a photo series by Seph Lawless, who documents abandoned places.
"To me, the photos were haunting and the pictures spoke a million words," Madia said. "I called Alex and Lauren separately and I told them, 'I found these things, and I think it's a musical.' I knew that this was a project I really wanted to do, explore and dedicate a lot of time to."
The trio will write the script and songs to capture the soul of the town and create original music to go along with the numbers. Knezevic and Pelaia will serve as the musical composers, and Madia is the curator and director. They began working on the production over the summer and hope to tour around the country once it's completed.
"One of the songs is set at an auction house, which is a place we saw in a lot of documentaries where people were selling things that they didn't need anymore," Madia said. "This idea struck me that everyone is selling, essentially, their memories here in Picher. We have blended those two ideas together and included this auctioneer-type figure."
A majority of the characters in the show will be based on real people, and the scenes will follow real events leading up to the former town's present state of disrepair.
"We want to bring back as much authenticity as we possibly can, both in the sense of factual details but also how people will see this and be able to connect with the characters," Knezevic said. "We don't want this just to be a cautionary tale — this is something that's happened to people and what they had to experience."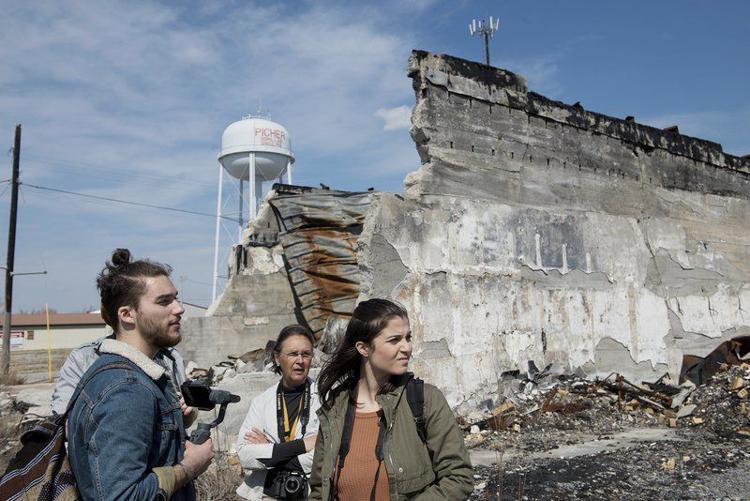 'Absolutely unbelievable'
The trio arrived in Northeast Oklahoma on Tuesday and plan to spend a week conducting interviews, gathering research, sharing ideas and collecting feedback from locals to make sure they give the story of Picher justice before returning home. Their goal is to have the project completed and produced by The Dare Tactic — a New York-based theater company founded by Madia and Vinny Eden Ortega — by December.
Upon their arrival in Picher, the group was met by Rebecca Jim, the director of the nonprofit Local Environmental Action Demanded, for LEAD, in Miami. Jim served as their tour guide, answering questions and noting different environmental sites.
"I really want to make it real for you," she told the artists Tuesday. "It's one thing to see it in books or see it in video, but this is a real place. It's not really haunted, but it will haunt you. I don't want to scare you, but I want you to know what enduring means in a place that you love but isn't good for you. It's a special place."
A few of their destinations included the Gary Building, the old park, Douthat Bridge — where the water runs orange — and even on top of a chat pile. Taking photos and video, the artists said they were rendered speechless by what they saw.
"This is absolutely unbelievable," Pelaia said, standing on top of a chat pile. "There's no way I could ever explain this to somebody."
Sherri Mills, who was born and raised in Picher, said she's comfortable with the idea of a musical about her hometown if it's done tastefully.
"I lived there all my life, and as long as it's going to be something that's good for Picher and not make fun of it, then I think it's great because you don't want your town to be forgotten," she said.