Thanks to 10-plus hours of hard labor Monday in humid September heat, the Rotary Sculpture Garden at Joplin's Mercy Park is now coming together.
Sculptures, each with their own stone foundation, were carefully set into place alongside the park's walking trail. There are nine sculptures so far, with more to come in the future.
"It was a shock to see (the sculptures) this morning," said Sam Dillard, who added that she was "pleasantly surprised" at their sudden appearance along the trail as she walked her dog Tuesday morning.
The work was slated to take between two to three days to complete, but John Kinkaid and his team of workers from the National Sculptors' Guild managed to install all nine sculptures by dusk on Monday. Based in Loveland, Colorado, the group specializes in the installation of heavy works of art — more than 500 at this point.
"I have traveled all around the country, and we have never put in nine sculptures in one day," Kinkaid said Tuesday during a media-only event at the park. The closest project was the installation of six sculptures to the Clinton Library 12 years ago in Little Rock, Arkansas, he said.
To put the size and weight of the bronze sculptures in perspective, Branson-based artist Tim Cherry's "Rabbit Reach" weighs 400 pounds. The lightest piece weighs 180 pounds.
"I now have a really worn-out crew," Kinkaid said with a chuckle.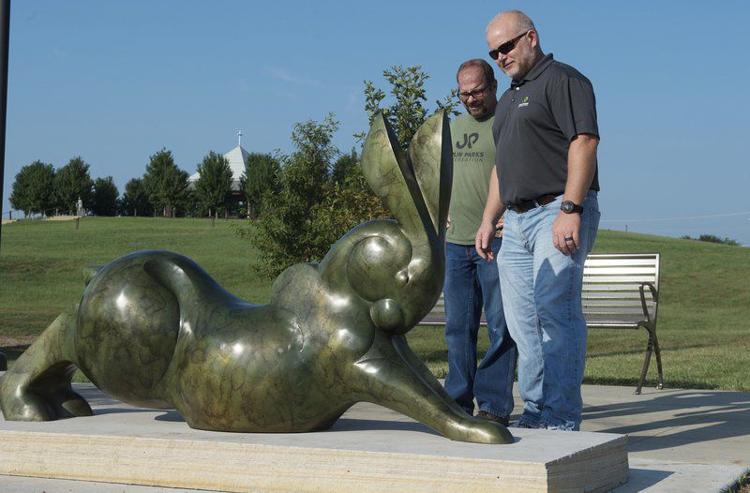 Two years in the making, the sculpture garden is the latest addition to the park that also features a reflective pond with water fountains and a butterfly mural. It has been a joint effort of Joplin's two Rotary clubs.
"We want this to be a destination not only for our community but for visitors to our community," said Bob Headlee, chairman of the Rotary Sculpture Garden board. The board includes representatives of the Joplin Rotary Club and Joplin Daybreak Rotary Club, the city of Joplin and the local arts community. "Mercy Park is already a well utilized park — this is just going to add to it."
The idea for the sculpture garden came about after Headlee visited and grew fond of the Benson Sculpture Garden in Loveland. That garden displays 164 sculptures of all shapes and sizes. He wanted to see a similar garden established in Joplin. And he wanted the project spearheaded by Rotary Club members.
"I was pretty adamant that this would be a Rotary project and that it would involve both Joplin Rotary clubs," Headlee said. "We've done this in the past — most recently with the Will Norton Miracle Field. When we do get together to work on a project, it's a major project like this one."
All nine sculptures have been donated — one by Sharon and Lance Beshore, one by Barbara and Jim Hicklin, and seven by Harry M. Cornell Jr., an art collector and chairman emeritus of Leggett & Platt Inc.
"I'm very excited for Joplin to have a sculpture garden and where there is public art to be enjoyed by so many," said Sharon Beshore, a member of the garden board.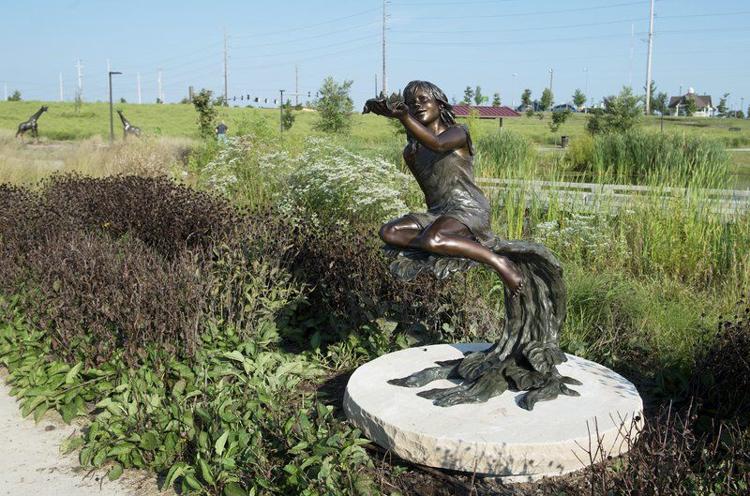 The goal is to fill in the gaps between the nine sculptures with additional pieces down the road. Board members will soon be "talking to individuals, companies and corporations about placing additional sculptures in the garden," she said.
Over the next 30 days, signs will be placed at each sculpture, detailing the name of the piece, the artist who created it, the material used to make it and who the donor was. In all, the nine pieces are valued at just under $200,000, Headlee said.
Creating and constructing a sculpture garden doesn't just happen overnight, Kinkaid said.
"It's not an easy task to pull something like this off," he said. "I am so impressed at what's been done here. Eventually, there will be something here for everybody.
"This is an opportunity to let the public have their own art collection. You can't always have all of these things in our own backyard, but this can become everybody's backyard in Joplin. It will be appreciated forever."
A formal public ribbon-cutting for the Rotary Sculpture Garden will be conducted on Thursday, Oct. 3, at Mercy Park at 26th Street and McClelland Boulevard.