A community vision more than a decade in the making took a step toward construction Monday when officials broke ground on the multimillion-dollar Harry M. Cornell Arts & Entertainment Complex at 212 W. Seventh St. in Joplin.
A crowd of 75 to 100 people braced against the cold to witness the groundbreaking ceremony on land that has served as the parking lot for Memorial Hall.
The grassroots initiative started in the mid-2000s when members of the local arts community addressed the need for a local visual and performing arts center that could serve as an anchor destination for downtown Joplin, said Sharon Beshore, president of the Harry M. Cornell Arts Complex and chair of Connect2Culture.
"It's thrilling to be able to have reached this milestone," she said. "We did envisioning sessions back in 2007. The Joplin tornado (in 2011) put a hold on everything, but we developed Connect2Culture as a community arts agency during that time. We took a break from moving forward with the complex in some way but grew in other ways."
Connect2Culture, a Joplin based not-for-profit organization, was founded in 2009 to help bring the idea for such a center into reality. Beshore described the day of the groundbreaking as a dream come true.
"We've been very fortunate through the years that mayors, council members and city managers have understood our vision ... and have provided leadership and supported our efforts," she said. "This project would not be possible without the city of Joplin, which donated this land that sits in the heart of downtown Joplin. We hope that this building will generate a sense of pride in the community and that it will be filled with daily activities. It will become a significant architectural landmark and destination on Route 66."
The 37,000-square-foot visual and performing arts center will feature a 470-seat performance hall with theatrical seating, new and expanded gallery spaces for Spiva Center for the Arts, an outdoor amphitheater and a festival plaza capable of accommodating up to 2,000 people.
'The place to be'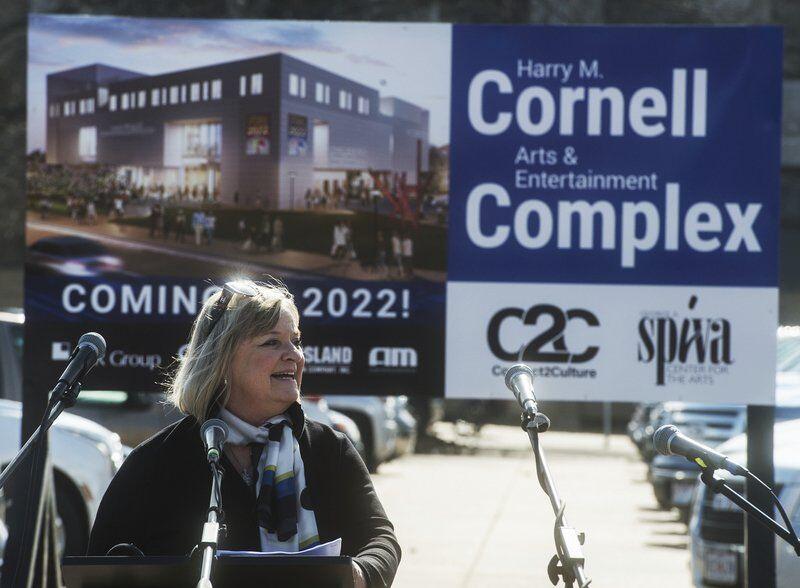 Once completed, it will be the shared home of Connect2Culture and George A. Spiva Center for the Arts, which has presented visual arts experiences since 1947. Spiva will manage the gallery and classroom spaces, while Connect2Culture will manage all performance venues. The goal is to have the complex open to the public in late 2022.
Emily Frankoski, director of Connect2Culture, said Joplin has been in need of an arts and cultural destination where art can be experienced and celebrated.
"The arts are worth that," she said. "Yes, they enhance and make life more vibrant, but they're also a positive, powerful economic driver."
Susan Adams, interim executive director of Spiva Center for the Arts, said the organization would not be here today without the forethought and commitment of visionaries championing the arts.
"Spiva's new home right there will allow us to bring a broader and more diverse range of visual arts to Joplin and to expand our education and community outreach programs," she said. "We will have the opportunity to partner with even more arts agencies in the region, and can't you just picture crowds of people gathering on the green for art shows and fairs?"
Harry M. Cornell Jr. was one of the guests in the crowd at the groundbreaking. Cornell, former president and CEO of Leggett & Platt Inc., donated $5 million to establish the complex that bears his name in December 2017. He also has committed some funding over the next 15 years to support sustainability of the building.
"I'm thankful to be a part of it and to have lived this long to have seen it come to fruition," Cornell told the Globe. "Hopefully, it will serve the community well for years to come in the region."
Christina Williams, Joplin City Council member, assisted in designing the Cornell Complex and is among many Joplin residents who are excited to see a growth of art appreciation in the area. Williams feels the Cornell Complex will be a welcome addition to downtown Joplin's artistic culture, attracting many residents.
"The Cornell Complex will be the place to be," she said.
Another Cornell Complex enthusiast, former Mayor Melodee Colbert-Kean, was in office during the early stages of the complex's development. Colbert-Kean believes Joplin residents from different backgrounds will find a niche in the Cornell Complex.
"The complex needs to offer a variety of inclusive and culturally diverse content while remaining affordable for different demographics," she said.
Educational impact
The space may also have advantages for students who are interested in pursuing a career in the arts. Williams believes there is a wealth of opportunity as students could volunteer, join an educational program or use the performance space.
Colbert-Kean hopes that one day it could create a partnership with Missouri Southern State University.
"Hopefully through internships and employment, students could witness firsthand how an operation like this works," she said.
Joplin resident Ann Leach said art is necessary during tough times. It is never too early to begin appreciating the healing powers of art, she said.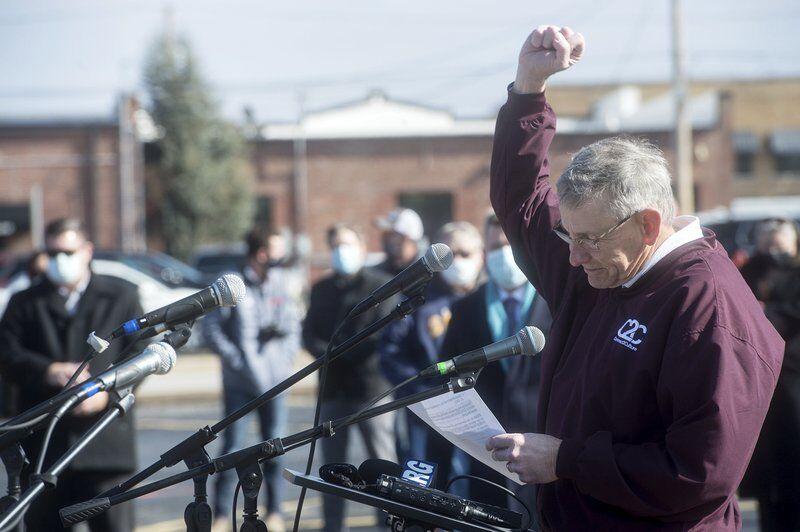 "If just one family can come and introduce their children to the value of art, the Cornell Complex will be a success," she said.
Clifford Wert, treasurer of the Cornell Complex and president and CFO of Connect2Culture, said $16,367,545 has been committed to the project by 277 individuals, businesses, foundations and organizations. Now that the $16 million goal has been surpassed, the goal has been raised to $17.5 million, which is 93% complete.