With the Nov. 3 election less than three weeks away, officials are reminding residents that political signs must conform to local regulations and that vandalizing or stealing signs is illegal.
The city of Joplin has an ordinance on the books that governs political signs. It prohibits signs larger than 8 square feet in area and more than 5 feet in height. It also restricts signs from being placed closer than 15 feet to curbs, sidewalks or edges of streets and in any public right of way.
Keegan Stanton, Joplin city planner, said the objective of the ordinance is to limit the size and placement of political signs to help ensure the safety of the community.
"The ordinance arose a few years back in response to those large political signs being put up along our busy corridors, and they were causing safety issues with impeding people's visibility, from seeing cars and intersections and pedestrians from crossing the street as well," Stanton said. "We have a fairly lengthy code on signs, but this, we do have a specific ordinance on political signs since they're temporary. They do tend to be quite large, and oftentimes they're erected where the property owner may not be familiar with our sign code."
Stanton said the city has begun to receive complaints regarding political signs. Once a complaint is filed, city staff will investigate the sign to determine whether it's in violation of the ordinance. The city also gathers tips from staff and neighborhood services.
"We do use a tape measure to make sure it's no taller than 5 feet and it's set back from the property lines," Stanton said. "We follow the basic protocol that we have for our other code violations. We'll send out a code violation to the property owner and to the tenant if we believe it's a rental property. In the notice, we list that they have 15 days to comply with the ordinance."
If 15 days have passed and the violation hasn't been rectified, the city may remove the sign and hold it. Stanton said signs aren't destroyed or thrown out, and they can be picked up by the owner.
"We haven't had to take any yet," he said. "Thus far, we've only mailed out two notice violations."
Sign thefts
Local law enforcement officials also are reminding residents that vandalizing or stealing political signs is illegal. Such offenses in Missouri are considered misdemeanors that can result in a year of jail time and a fine of up to $2,500.
Capt. William Davis said the Joplin Police Department has received 11 reports of election sign thefts or vandalism since April.
"And there's also the issue of going on private property, which can be trespassing," Davis said.
When a political sign is reported to have been vandalized or stolen, police will look for any suspect information, such as vehicle descriptions or surveillance video, Davis said.
"Ultimately, it's up to the victims and their willingness to want to prosecute if a suspect is identified," he said.
Officials from both political parties say they've received reports of signs being stolen during this election cycle.
Krista Stark, executive director of the Southwest Missouri Democrats, said signs supporting former Vice President Joe Biden and Sen. Kamala Harris have been stolen from area residents over the past few weeks.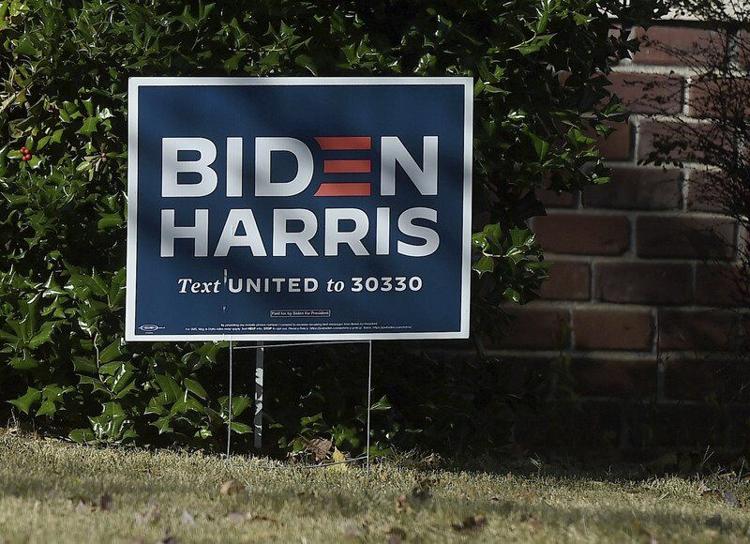 "It looks systematic and organized because across the state, there will be a day where all of the Biden signs go missing at once over a couple-day period," she said. "We have a 'Biden-Harris for Missouri' Facebook page where people post things. I started to see a pattern. The signs in my yard even disappeared."
Nick Myers, chairman of the Newton County Republican Central Committee, said he also has heard of yard signs supporting President Donald Trump and Vice President Mike Pence going missing.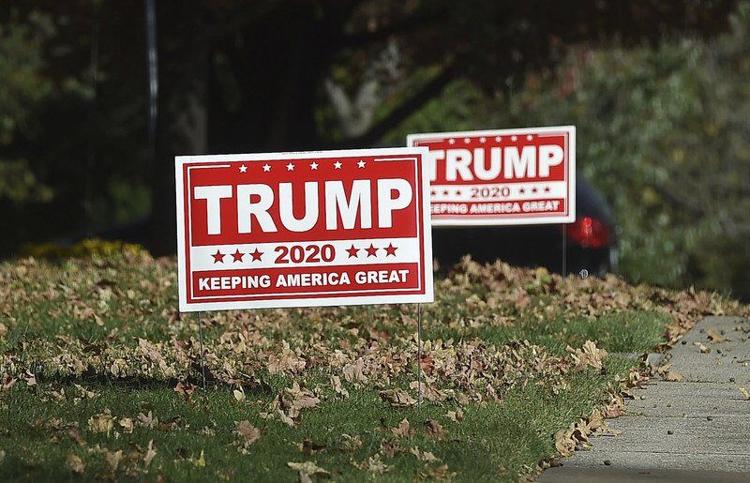 "More people are wanting signs this year," Myers said. "We've had to reorder Trump-Pence yard signs three different times during this campaign season. We've even had people stealing the 4-by-8 signs."
Other states have reported similar issues with theft or vandalism, and some individuals are finding new and dangerous ways to ensure that their signs stay put. A Massachusetts man installed an electric fence around his Trump-Pence sign after six signs were taken from his yard, and a building inspector in Michigan who was tasked with removing a Trump 2020 campaign sign that was too close to the road had to get stitches after slicing three of his fingers on razor blades taped along its bottom edge.
The Associated Press contributed to this report.